Plain chicken breast can be boring even if done right. But stuffed chicken breast, that's another story. This spinach stuffed chicken breast recipe is tasty, moist, and versatile, and it is an easy family favorite chicken dinner.
We had three different meals out of it, and all three were perfect. If your chicken is pastured raised and you use a plant paradox compliant cheese, the whole meal is a lectin-free meal prep staple.
The ingredients for spinach stuffed chicken breast
You need pasture-raised boneless skinless chicken breasts, Pecorino Romano cheese, aged Italian cheese made with sheep's milk, and lots of spinach.
I would recommend using more mature spinach instead of baby spinach. I got two bunches of local spinach, removed the stems, and steamed them before adding the chopped spinach to the chicken.
The third ingredient of the stuffing is avocado mayonnaise. I used the one from Primal Kitchen, which is compliant, but you can also use a homemade one.
A meal that keeps on giving
I love this spinach stuffed chicken breast dish because it is an excellent item for meal prep, and there are so many ways you can serve it.
On the first night after I cooked it, we had it for dinner with a cabbage and carrot salad side dish (just cabbage and carrot dressed with apple cider vinegar, extra virgin olive oil, salt, and pepper) and a white herb sauce made with avocado mayo, goat yogurt, dijon mustard, lime juice, fresh tarragon and chives, pepper.
On the second day, we used one of the chicken breasts, chopped into small pieces, to make chicken quesadillas. It makes for a perfect filling because it has the cheese and mayo, and the spinach will warm up nicely in between two almond flour tortillas from Siete Foods. We had them with chunky guacamole, cauliflower rice, goat yogurt, raspberry salsa, and curly lettuce leaves. I had many questions about how I make this salsa. It's simply red onions, cilantro, raspberries, lime juice, extra virgin olive oil, salt, and pepper. If you want it a little spicy, you can add a compliant hot sauce.
The third time, I had the last chicken breast for lunch (which is also my break-fast meal because I do intermittent fasting) with baked Brussels sprouts, some leftover chunky guacamole, and raspberry salsa from the previous day, and coleslaw.
And in case you are wondering, the quesadilla was my favorite.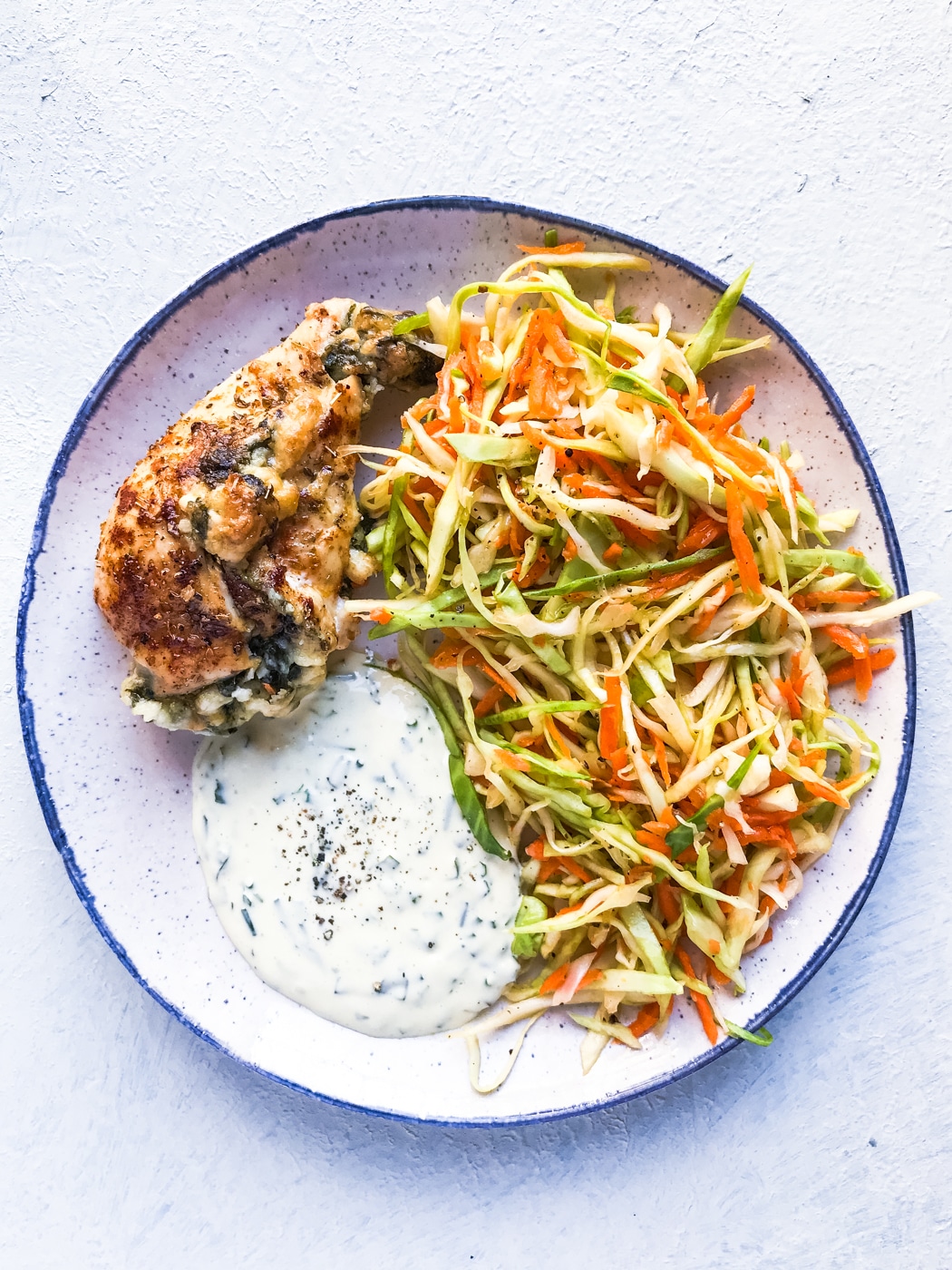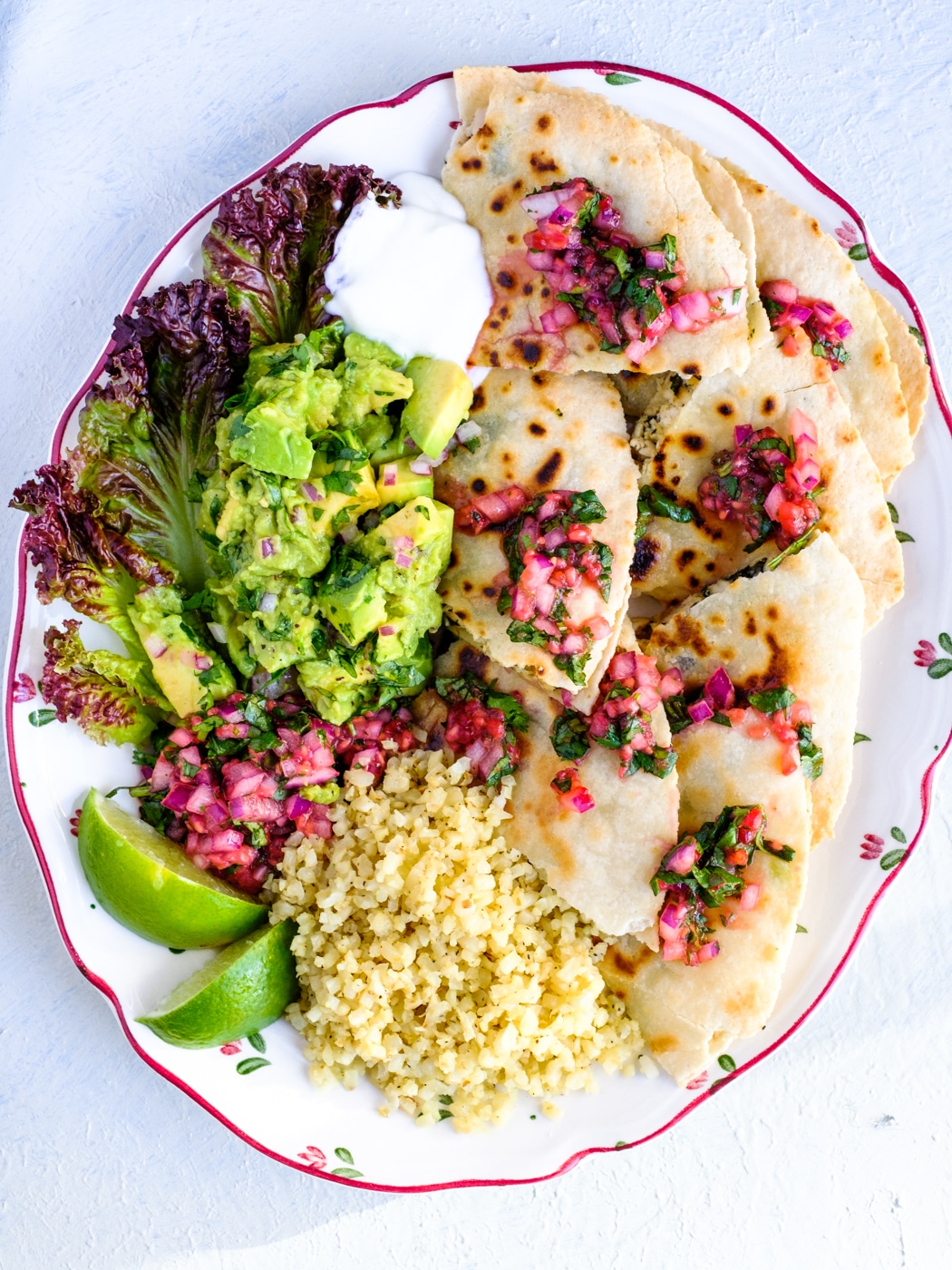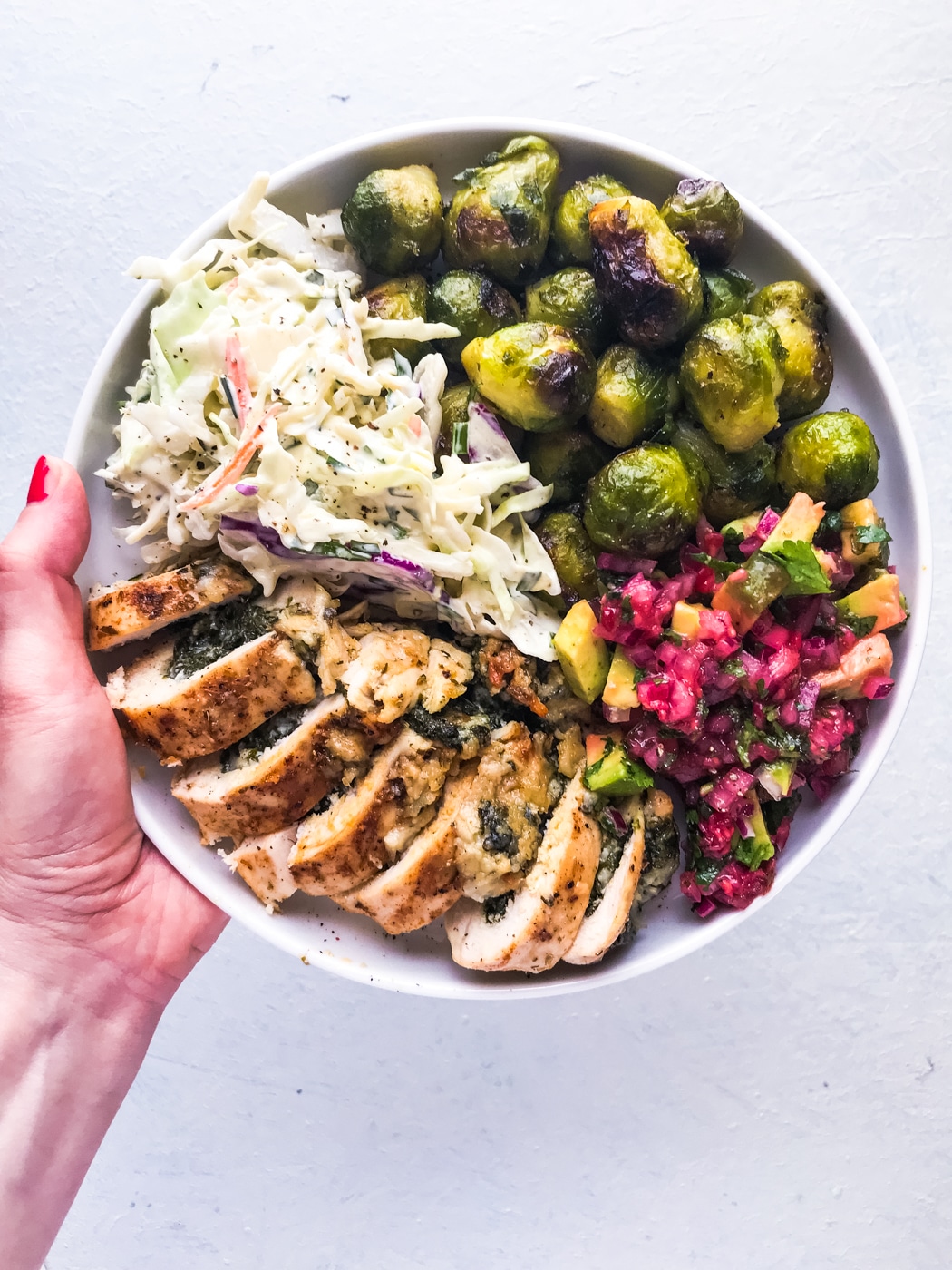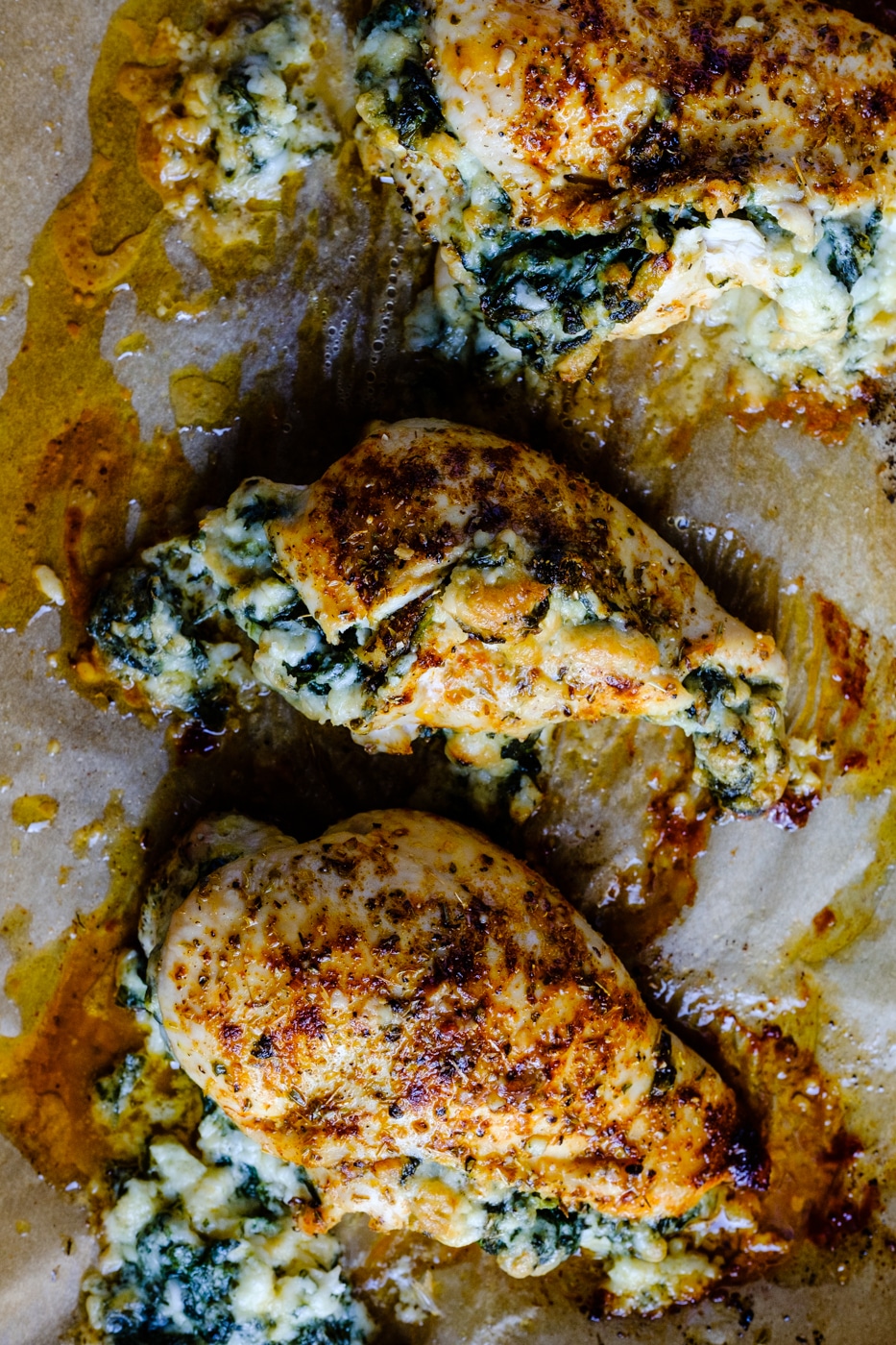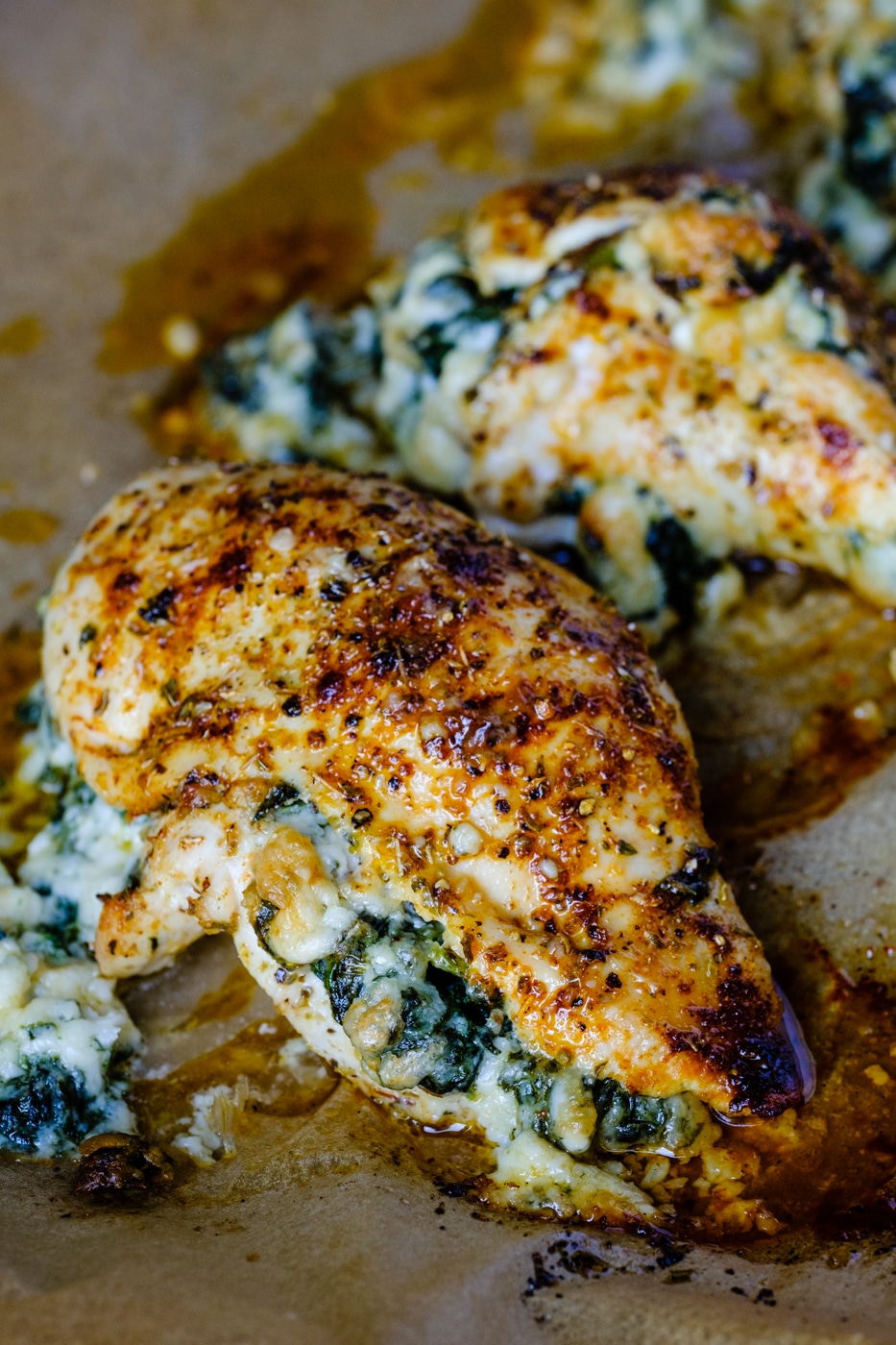 *This post contains affiliated links, which means I get a small commission if you choose to purchase something via one of my links, at no extra cost to you.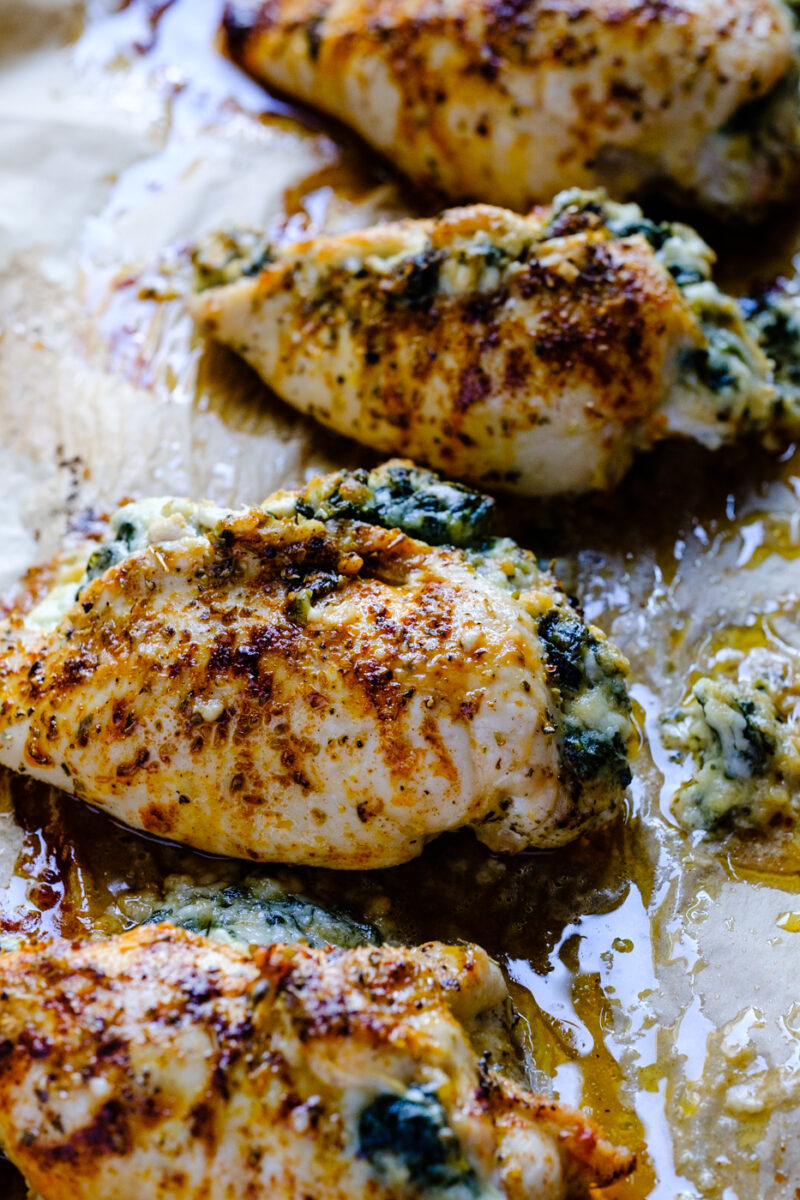 Print Recipe
Spinach Stuffed Chicken Breast Three Ways
A super versatile dish that is ideal for meal prep and work lunches and will be loved by the entire family.
Ingredients
4 pasture-raised chicken breasts

2 bunches of spinach (about 1 heaped cup of chopped raw spinach per chicken breast)

1 cup grated Pecorino Romano cheese

3 heaped tbsp avocado mayonnaise (Primal Kitchen or homemade)

2 tsp Italian herbs mix

1-2 tsp Hungarian paprika

1/4 tsp garlic powder

1 tsp oregano

salt and pepper

avocado oil
Instructions
1
Preheat the oven to 375F.
2
Wash and steam the spinach for just a few minutes, until it's wilted. Take out and drain, trying to squeeze as much water as possible (without burning yourself). Finely chop.
3
Add the spinach, the grated Pecorino Romano and mayonnaise to a bowl and mix well together.
4
Arrange the chicken breasts on a parchment paper sheet (as big as the baking sheet you are going to use), on a cutting board, and with a sharp knife make a pocket in each chicken breast. Don't rush this part as you don't want to make additional holes in the chicken (please watch a tutorial online before you do this if you are not familiar with the method).
5
Once the pocket is done, season inside the pocket with the Italian herbs, salt and pepper. Add the stuffing to each chicken breast and close the pocket. You can close it with some toothpicks if you feel is too open.
6
Transfer the parchment paper with the chicken to your baking sheet.
7
Season on top with more salt and pepper, garlic powder, paprika and oregano, drizzle with avocado oil and bake for 30 minutes at 375F. After 30 minutes turn your oven to broiler at 425F and broil for 5 minutes.
8
Take out and let them rest for 10 minutes before serving.
Notes
Store the leftovers in a glass container in the fridge. You can reheat n the microwave but my favorite way is in the oven.