One of the first recipes I tried almost a year ago when starting the Plant Paradox program, was almond crackers. It was a total disaster. They came out chewy, soft and they didn't even taste good. Since then I figured out how almond flour works and how to make crispy and tasty grain-free, lectin-free crackers. These rosemary almond crackers are simply delicious.
Life is so much better when you can eat crackers
Isn't it? I absolutely love dry cranberries, firstly because they are red (yes, you read that right, because when on a lectin-free diet there is not much red-colored food we can have) but also for their taste and nutritional value.
Now, don't even attempt to find them in stores, because all the dried cranberries available in stores, even in healthy ones, are loaded (and I mean LOADED) with sugar. So, if you don't already have unsweetened dried cranberries at home (most of the plant paradoxers have bought them already) this is where you can buy them. This is a big, 1 lbs pack, I freeze them and I only take out the amount I need to use.
Ingredients for the rosemary almond crackers
So, for these crackers, you need blanched almond flour, fresh rosemary, dry unsweetened cranberries, flax meal, hemp seeds, extra virgin olive oil and salt. They are really easy to put together unless you want to go with a fancy shape as I did. I used a cookie cutter but it requires a little bit of patience. If you don't want to impress anyone with a flower-shaped cracker, just go with the usual rectangular shape and it will go much faster.
Serve the rosemary almond crackers with hummus
I like to have crackers with cheese and veggie platter, with an olive tapenade, or a cauliflower and artichoke hummus.
More crackers recipes
And if you want to try my other lectin-free crackers recipes, you can find them here:
PS – This recipe was inspired by Danielle Walker, from the book Against All Grain.
*This post contains affiliated links, which means I get a small commission if you choose to purchase something via one of my links, at no extra cost to you.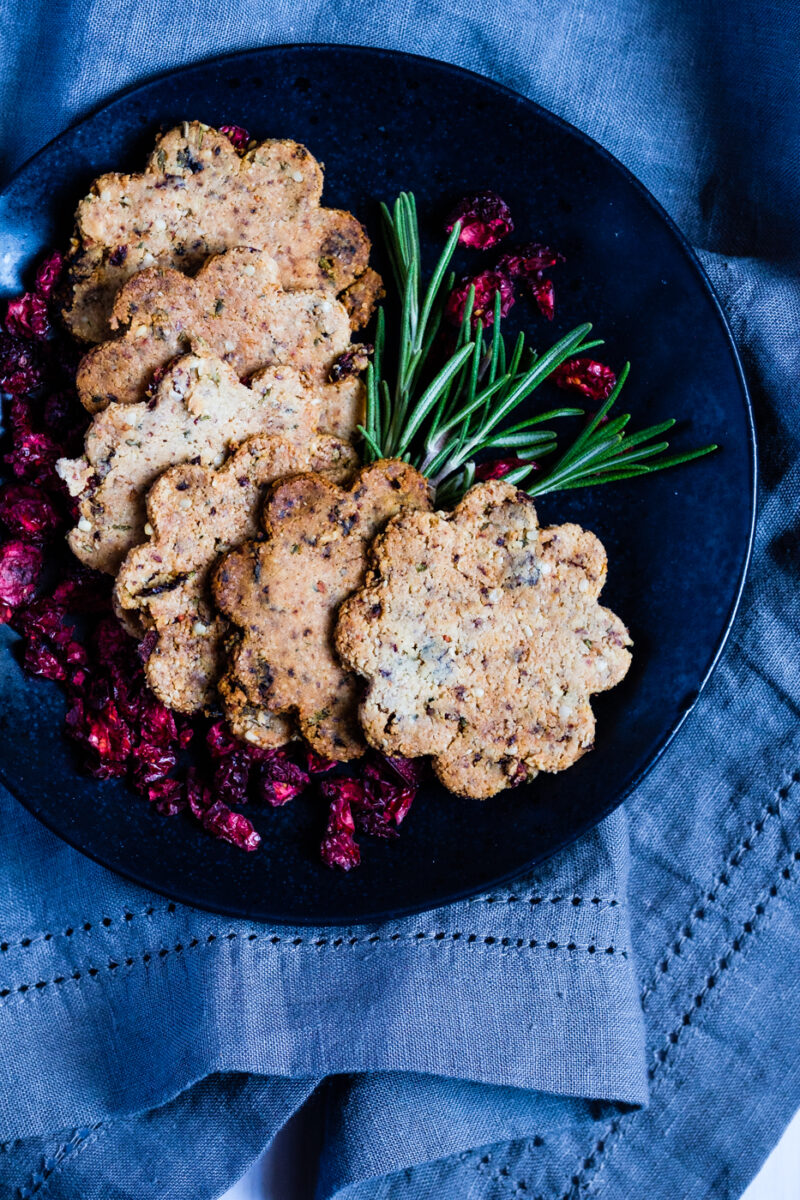 Print Recipe
Rosemary Almond Crackers with Cranberries and Hemp Seeds
Grain free, lectin free savory crackers
Ingredients
1 cup blanched almond flour

1 tbsp flax meal

4 tbsp unsweetened dry cranberries

2 tbsp hemp seeds

1 sprig fresh rosemary leaves

2 tsp extra virgin olive oil

2 tbsp cold water

pinch of salt
Instructions
2
Add all the ingredients to a food processor, except for one tbsp of hemp seeds. Process until all mixed well. Add the rest of hemp seeds and just pulse one more time (this is just to have a little bit of texture, but not necessary step).
3
Shape the dough into a ball, and roll it in between two parchment paper sheets. If you feel like the dough is too dry, wet your hands with water and work it a little bit more. Roll it until you get the thickness of a cracker, remove the top parchment paper and gently lift the bottom paper with the rolled though and put it on a baking sheet. Cut it rectangular shapes with a sharp knife or a pizza cutter, or use a cookie cutter for different shapes, but this step may take more time and patience.
4
Once cut, add the baking sheet to the oven and bake until golden, but be careful because they can burn very fast. Since you are rolling them by hand, the thickness won't be consistent on the entire surface, some may be ready to remove before others (usually the edges cook faster).