Disclosure: this cake started as a Peach Breakfast Cake, but since my first attempt with peaches, I made some improvements to the batter, and I couldn't find organic peaches anymore. One day I saw fresh rhubarb in stores (it's popular here in Denmark), and I felt it could be a good fit. And oh wow, that was perfect. So a gluten-free rhubarb cake it is.
However, I know that peaches season has started (oh, Texas peaches!!), so feel free to replace rhubarb with peaches. In fact, what is so great about this cake is that it can be made with different fruits. I only tried peaches, apples, and rhubarb, but I think cherries and plums will work well.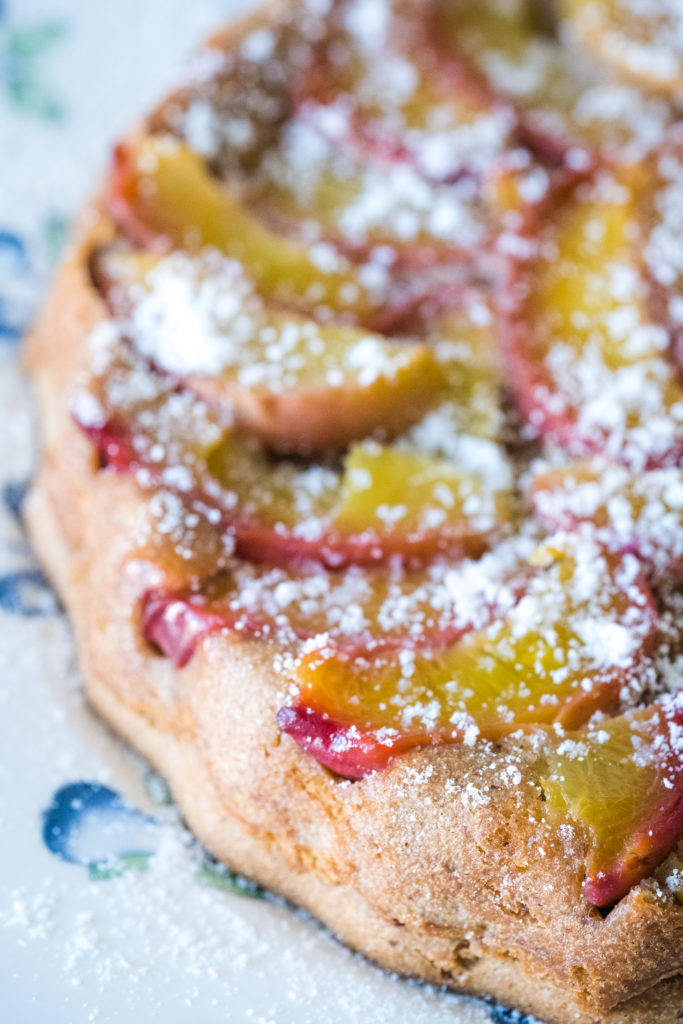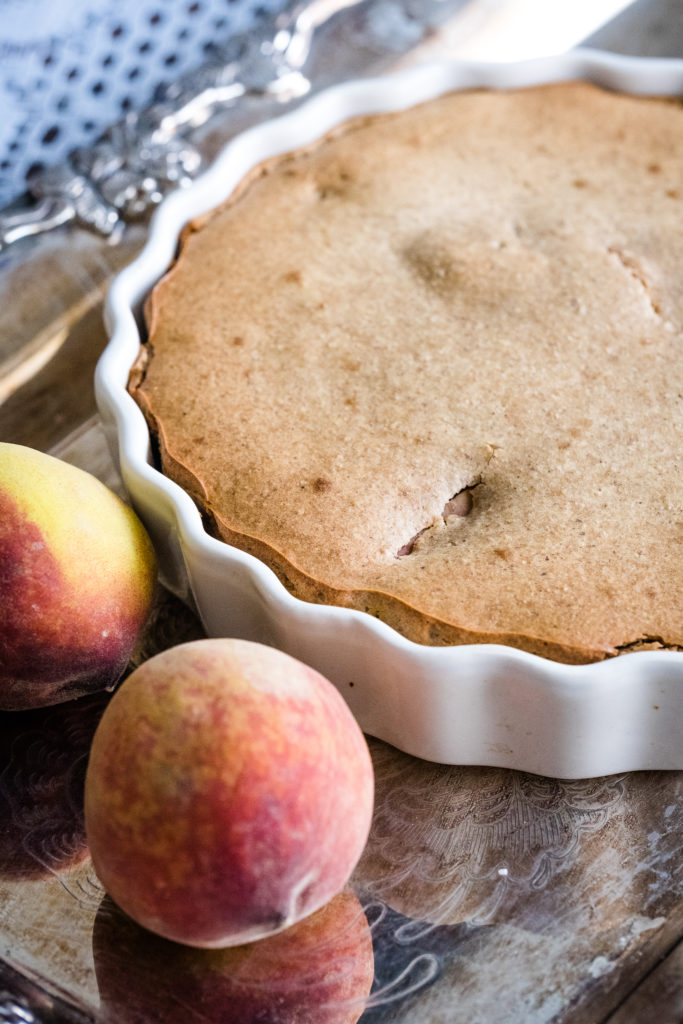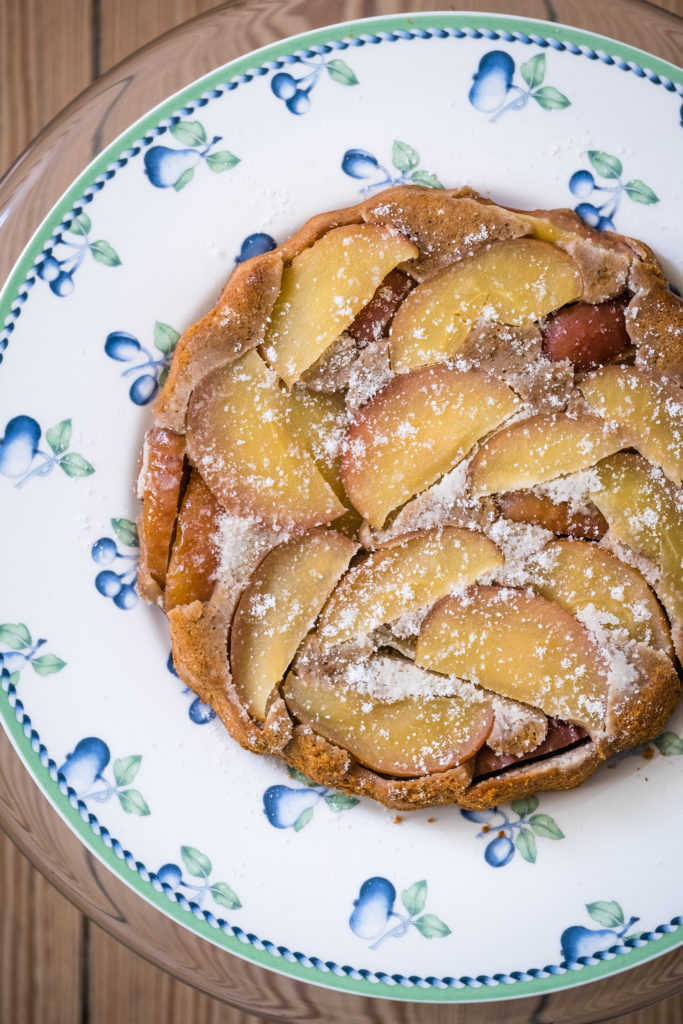 The mix of lectin-free, gluten-free flour for the rhubarb cake
The flour mixture I used for this rhubarb recipe without sugar is made of chestnut, tigernut, and coconut. I know chestnut is a bit of a pain to find in the US, but Amazon sells it and Nuts.com. It might be a little more expensive, but you will save on sweetener because chestnut flour is sweet. It's worth it.
In Europe, chestnut flour is common in gluten-free baking, so that it can be found more easily in supermarkets or specialty stores. It's also less expensive because the one you usually find in the US is imported from Italy – where chestnut flour is common and used in specific dessert recipes.
I guess you are much more familiar with tigernut flour. In the US, I love Organic Gemini brand (no affiliation). Despite the name, tigernuts are not nuts but small tubers. Both chestnut and tigernut are very nutritious, albeit a bit carby. Again, in my world, totally worth it.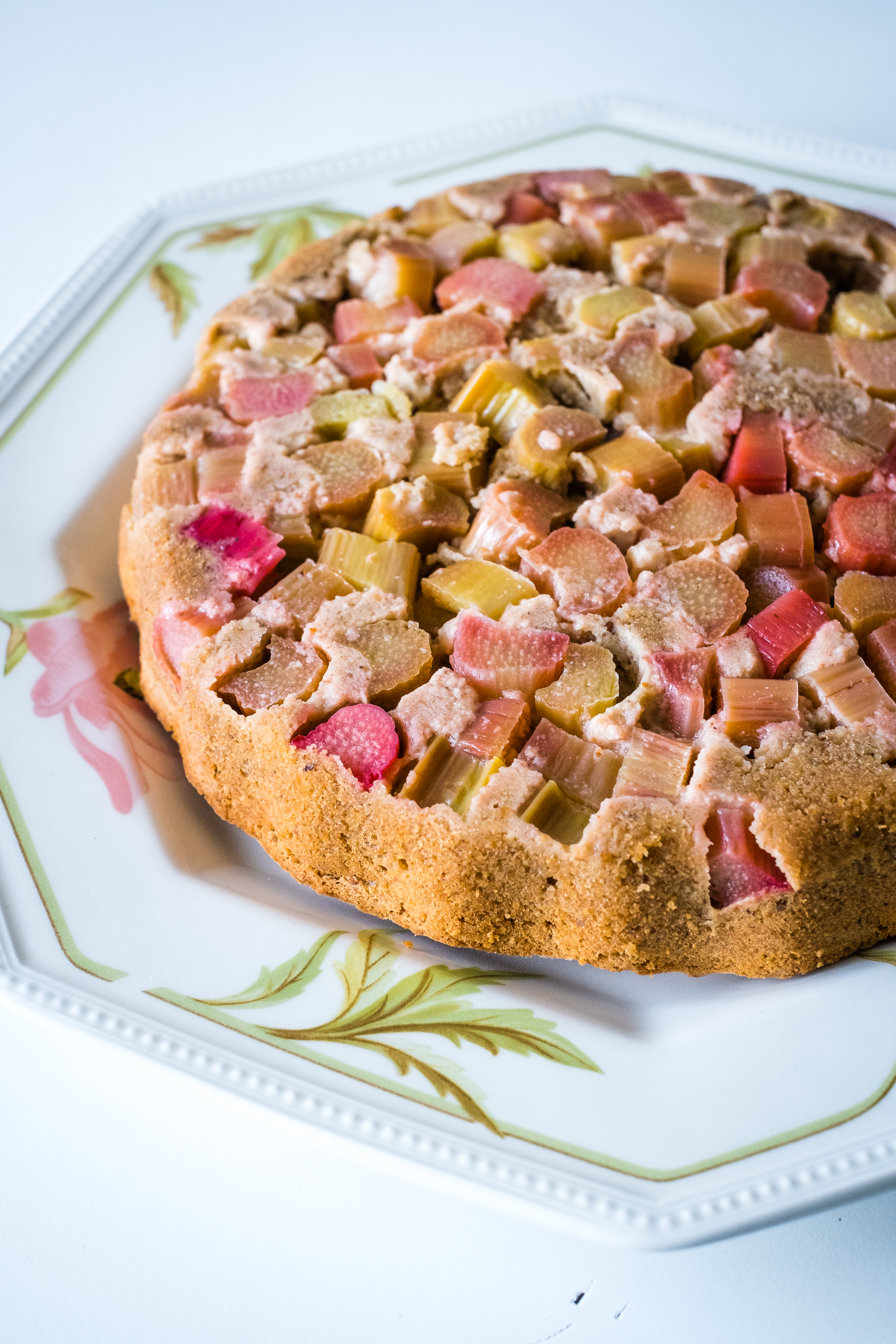 Chestnut flour and tigernut flour are naturally sweet and very flavourful. So there is not much need for added sweeteners or flavors. I did use one teaspoon of local honey, but you can use yacon syrup or another sweetener. I call this a rhubarb breakfast cake for a reason. It doesn't have to be extremely sweet.
I also recommend reading my article Quick guide to lectin-free, gluten-free flours for more information on the different types of flours available.
What are the nutritional benefits of rhubarb?
Rhubarb is not even a fruit. It is a vegetable, is very low in calories, and is packed with nutrients such as vitamin B, C, and K protein dietary fiber, magnesium, manganese, potassium, calcium, beta-carotene, zeaxanthin, and lutein. I think that's another reason a breakfast rhubarb cake makes total sense.
If you have ever tried rhubarb before, you know it has a sour taste profile. Very fresh and crisp, I would say. So traditionally, a lot of sugar is added to rhubarb in desserts. In Denmark, rhubarb jam is very popular but made with granulated sugar.
That's why I love combining all these types of flours with an earthy, sweet taste profile and the tanginess of rhubarb. However, if you want more sweetness, you can always drizzle some yacon syrup or even local honey on top.
Other ingredients are coconut milk, coconut flour, shredded coconut, and hazelnut butter, so everything is tasty and naturally sweet. If you don't find hazelnut butter, you can use pecan or any nut butter you have. Or even make your own.
Substitutions
I get a lot of questions about substitutions. While sometimes substitutions are easy to make, I develop a recipe with a certain combination of flour because I choose the types of flour based on the taste and texture I want to get. I can't personally recommend a substitution in this case, but a reader told me she made the cake with hazelnut flour instead of chestnut flour, and it worked well. However, someone else told me they tried almond flour, and it didn't work so well. Feel free to experiment and leave a comment, so other people get inspired to try (or not).
The size and the dish
This gluten-free rhubarb breakfast cake is about 6, 7in diameter, making about four portions. I use a ceramic tart dish, similar to this one. For me, it makes four servings. You could also use small, individual dishes. You can make it in the full-size pie or tart dish if you double the quantity. But since this cake should be flipped after being cooked, I'd recommend a smaller size to ensure the cake doesn't break.
So far, I have made this cake three times, and I have never had a problem flipping it. Just make sure you add a generous quantity of coconut oil to the dish before adding the fruits and the cake batter.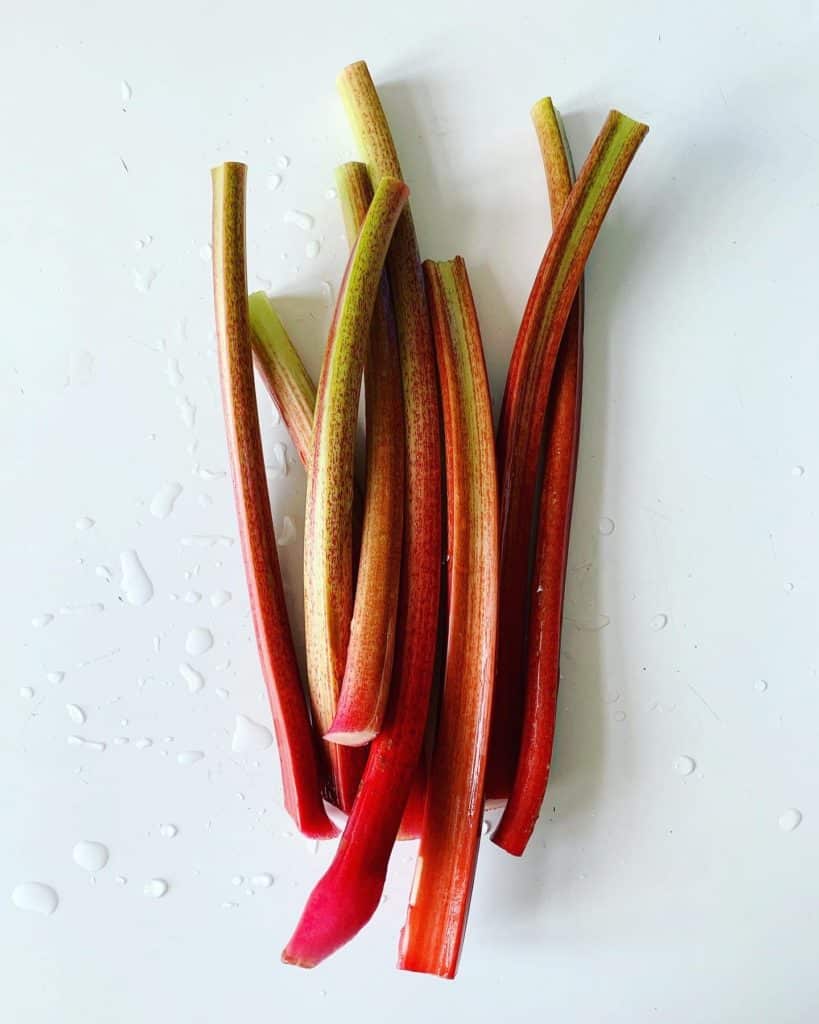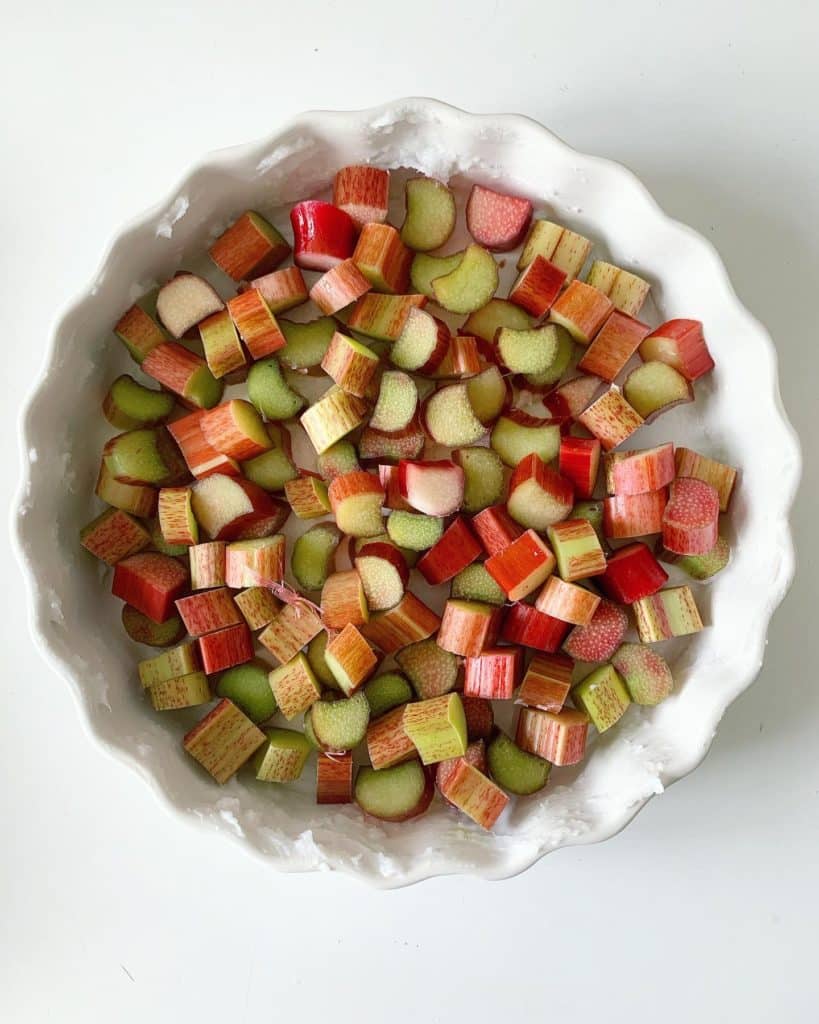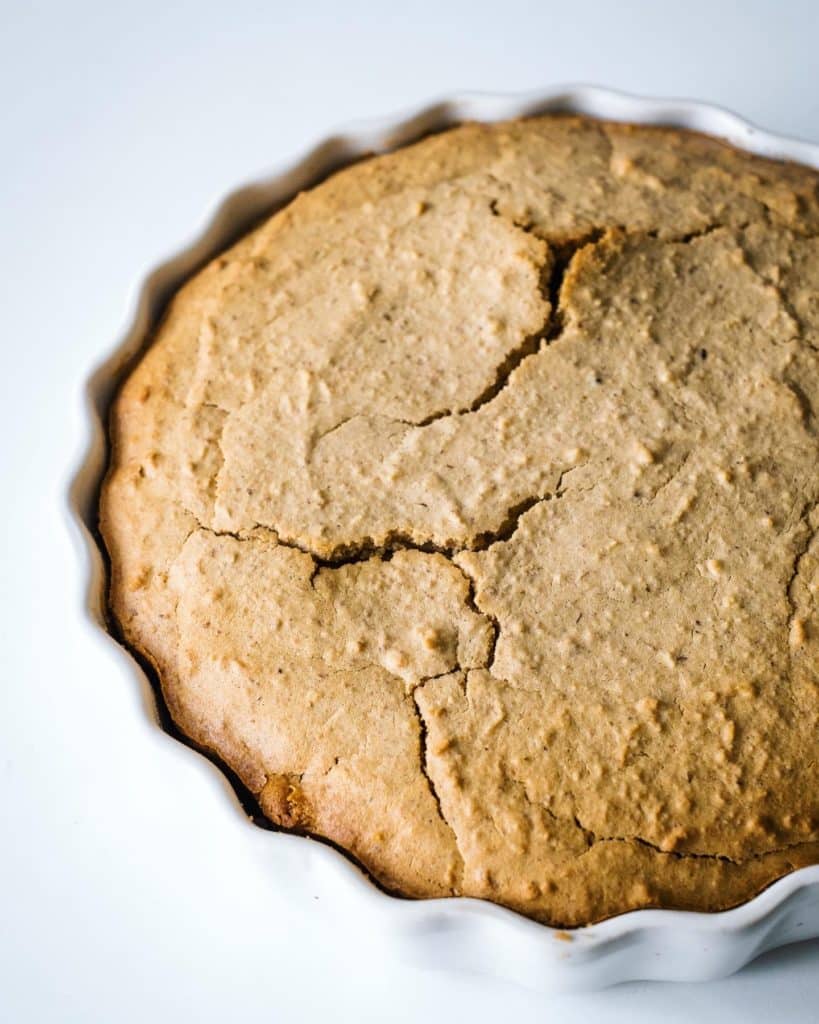 About measurements
Now about measurements. Forgive me, but now I'm in a camping type of living situation. We just relocated from Dallas to Denmark, and although I have a fully equipped kitchen (thank God!), things are basic and more… well, European. I don't have measurement tools yet, and I won't buy any since I have mine coming in a container in about a month.
The measurement cup I have only has grams, and I don't feel like giving you measurements in grams without a scale, as different gluten-free flours tend to have different weights. So I went the old style (what my mom used to do) and used a soup/teaspoon, like the one you use to eat soup or the one to eat dessert or stir a tea. This works well because the quantities are so small that it would be hard to measure with a cup. Luckily, this recipe is pretty forgiving. If you have too much flour, you can always add more coconut milk. I created this image to have an idea of what I consider one tablespoon in this case.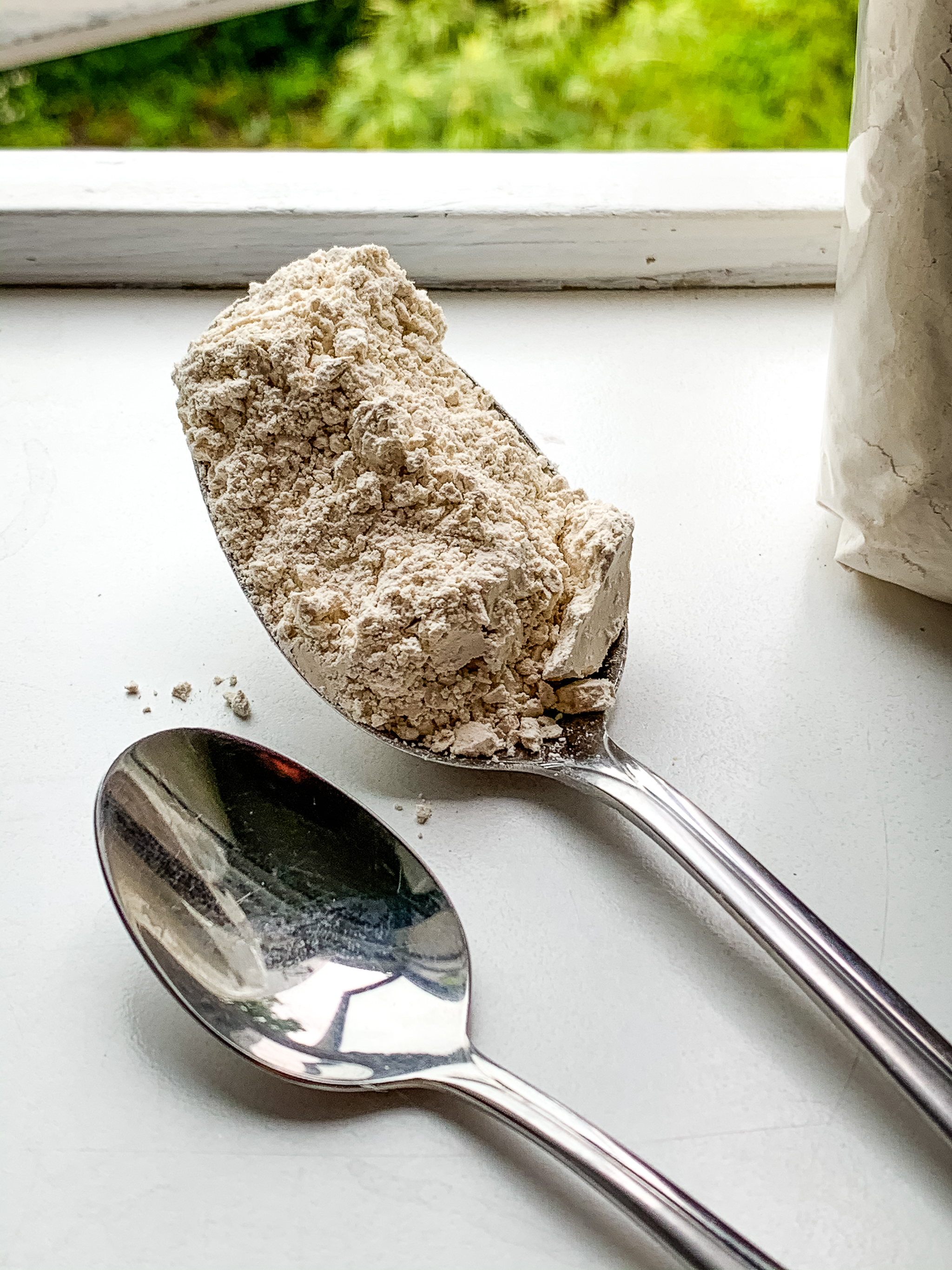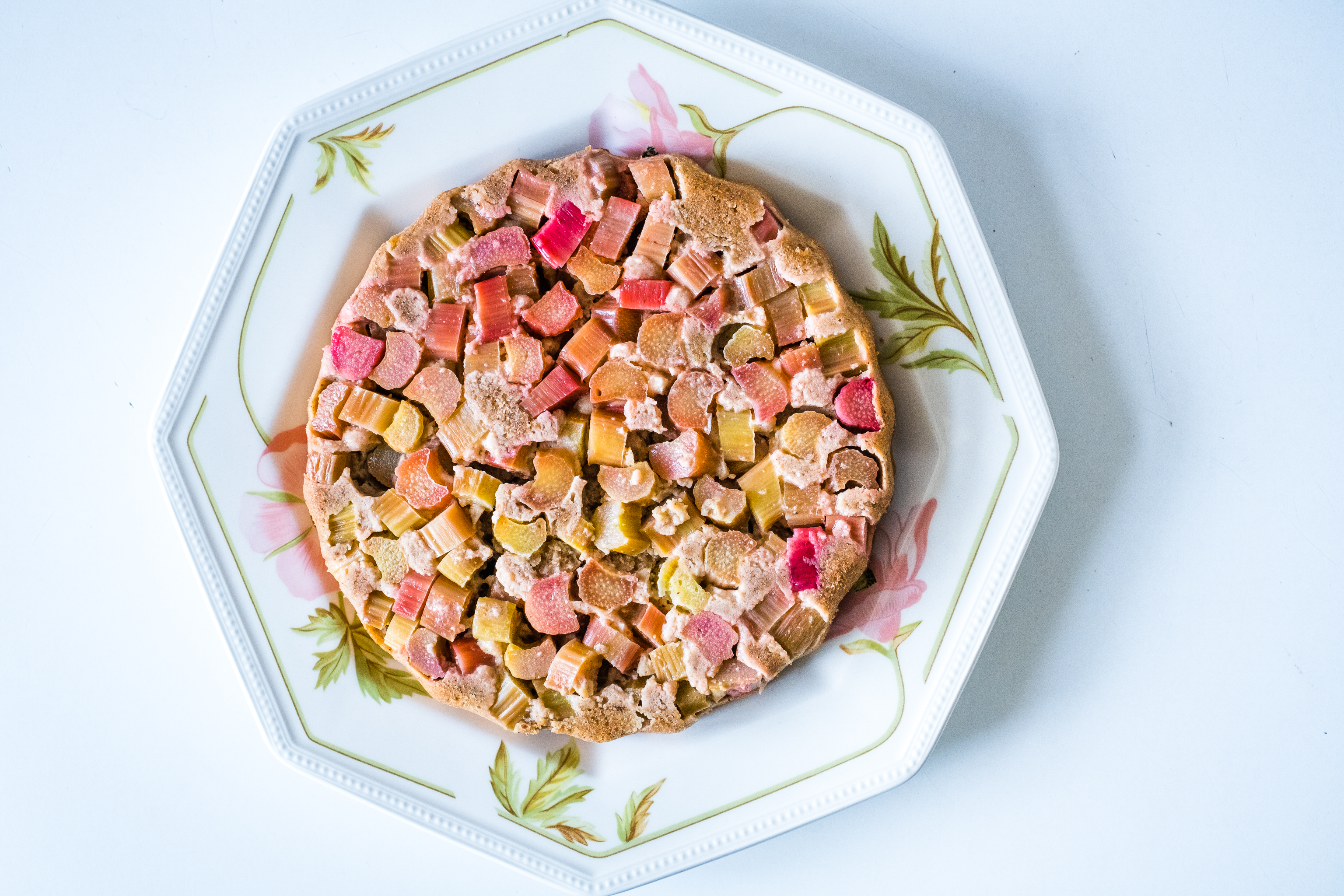 *This post contains affiliated links, which means I get a small commission if you choose to purchase something via one of my links, at no extra cost to you.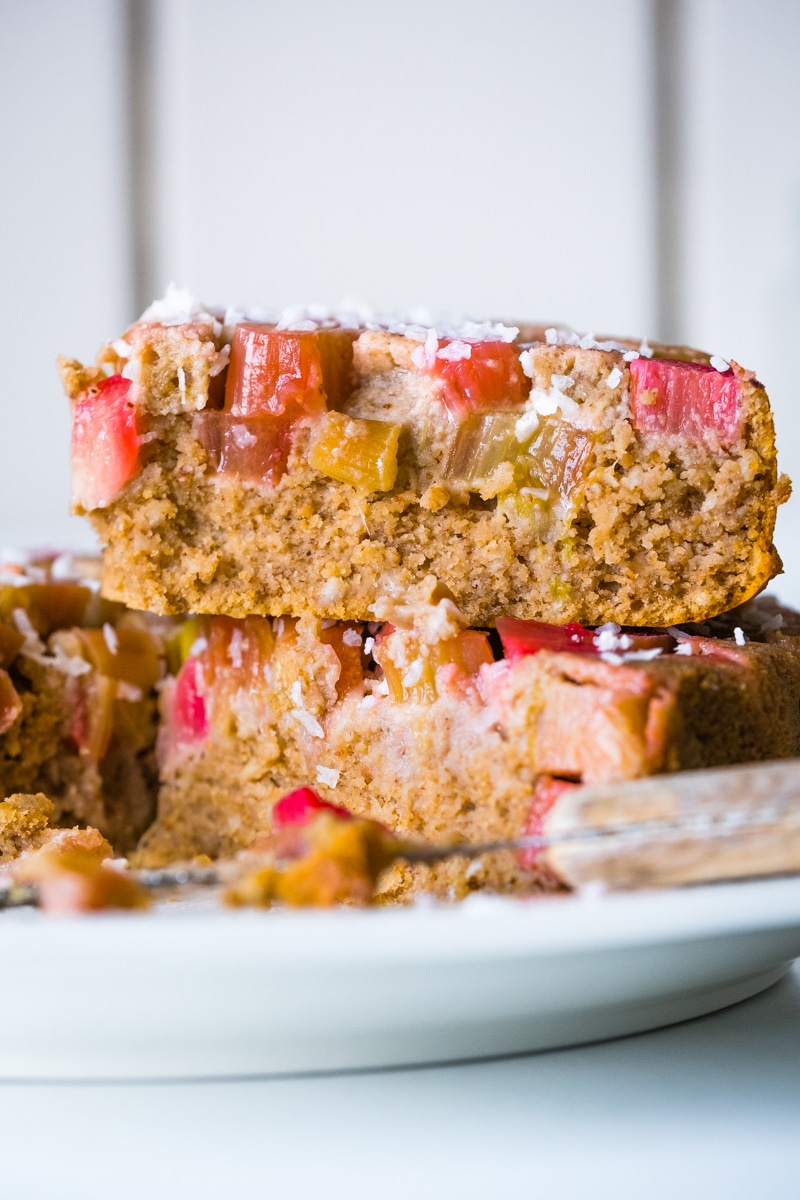 Print Recipe
Rhubarb Breakfast Cake (Gluten-free, sugar-free)
A delicious morning treat that is easy to make using a variety of seasonal fruits.
Ingredients
1 tablespoon coconut oil, for greasing the dish
about 6 rhubarb sticks, chopped in 1/2 inch pieces (or more to fully cover the bottom of the dish)
4 tablespoons chestnut flour
4 tablespoons tigernut flour
1 tablespoon coconut flour
2 tablespoons shredded coconut
3/4 teaspoon baking powder
pinch of salt
1 big pastured-egg
2 tablespoons hazelnut butter
1 teaspoon honey (or another sweetener of your choice), more if you have a sweet tooth
1 teaspoon vanilla extract
12-15 tablespoons full fat coconut milk
Instructions
1

Preheat the oven to 350F.

2

Prepare the dish by generously coating it with coconut oil and arrange the rhubarb pieces on the bottom of the dish to fully cover it.

3

Mix the dry ingredients in a small bowl.

4

In a bigger bowl, combine the egg with the nut butter, honey and 10 tablespoons of the milk and mix well with a hand blender. Start adding the flour and incorporate it into the liquid. When you are done with adding the dry ingredients, you can add more of the coconut milk and combine well until you get a creamy batter that won't be easy to pour but it won't be too solid either. You can pour from the bowl in the dish with the help of a spoon. Level the batter and bake the cake on the middle rack for about 30 minutes.

5

Let it cool for about 20 minutes before you turn it upside down, with the help of a plate. Check first the sides to see if there is any resistance. Place a flat plate on the top of the cake and turn everything upside down. Lift the baking dish carefully. This cake should come out easily from the dish if the dish is well greased. Serve warm or cold, I love it both ways.
Notes
Please read the entire post before you start.