This post was inspired by all the nutritious and low lectin meals I created during the Covid lockdown, while in Dallas. I noticed there was a pattern in the way I was preparing my meals. And I thought that would be useful for some of you out there trying to stay healthy and not spend too much time (or money) cooking. So in this post, I will share how to prepare nutritious meals in a few easy steps.
It's interesting, but for me, the lockdown didn't inspire me to cook more, even though I had more time at home. I guess it was the stress and uncertainty, especially since we were in limbo with our international relocation from the US to Denmark. Now I'm finalizing this post in Denmark, so in the end, even if with some delays, things worked out.
Prepare nutritious meals easy, Plant Paradox phase 3 compliant
I almost didn't write this post. Most of the time I assume that making easy, nutritious, and delicious meals doesn't need a recipe or instructions. But I should know better by now, from all the feedback I get.
My dear friend Kristi, who is an amazing cook and makes most of my recipes, always asks me: "Tell me what to do". If I taste any of my recipes made by her, I always feel that hers tastes better, and even looks better. But she is not comfortable with creating them, she just wants to follow the instructions. Some people are just more comfortable with cooking with instructions and I totally understand that.
So I decided to put together this post and share how I prepare nutritious meals in a few easy layers or steps. I've been making tens of variations of this meal so I'll share the template and options you have to build your own version. The whole idea is not to get stuck if you don't have one specific ingredient. If you follow these steps using what you have available and you season well, you and your family will love these meals.
If you follow the Plant Paradox diet, these are mostly suitable for Phase 3 because I use pressure-cooked beans and legumes, but it is easy not to use the beans and will give you some options for Phase 2.
Meal prep. Healthy, low lectin and safe for low histamine diets.
Even though I am not exactly a meal prep kind of cook, and I go more with the spur of the moment, there are a few things I do that make my life so much easier. This way of meal prep is friendly for those on a low histamine diet.
When I started eating low histamine in April 2019, I rapidly learned that I had to cook every single meal from absolute scratch. And even for me, who loves cooking, it was not an option. And along the way, I learned how to prepare things in advance and keep it low histamine. For example, any kind of animal protein leftover is high histamine, but freezing stops the build-up of histamine forming bacteria.
So, these steps are part of my meal prep. However, I don't do it regularly or have a specific day dedicated to meal prep, but I always have any of the below items in my freezer, ready to use.
I pressure cook beans, lentils or chickpeas and freeze them
I first soak them overnight (about 18 hours) and change the water several times (except for lentils, which I usually just soak for a couple of hours, otherwise they'll go to mush).
French Green Lentils are actually the green lentils variety that holds shape really well, so choose that if you don't want a lentil puree. Yellow lentils will become a soup if you pressure cook them, but that's great if you want to make a creamy lentil soup.
Black beans are some of my favorites and I pressure cook them for 25 minutes, always adding a sprig of rosemary to the water (for taste and the nutritional properties of rosemary). I take the stick out but leave the little rosemary leaves in, they are very soft and you won't feel them when you eat.
Chickpeas are also a favorite, I love how well they keep their shape. I pressure cook them for 20 minutes.
Freeze in Souper Cubes or Stasher bags
After cooking I drain the water and add the beans in serving-size portions (1 or 2 cups) in silicone molds and freeze them (I use these Souper Cubes, they are perfect). Sometimes I freeze them in Stasher bags, which makes it a little easier and faster to thaw because they don't stick together in a block.
Alternatively, you can use canned beans, they are pressure cooked, but better to choose a BPA-free and organic brand, like Eden. However, they won't be low histamine if they are canned.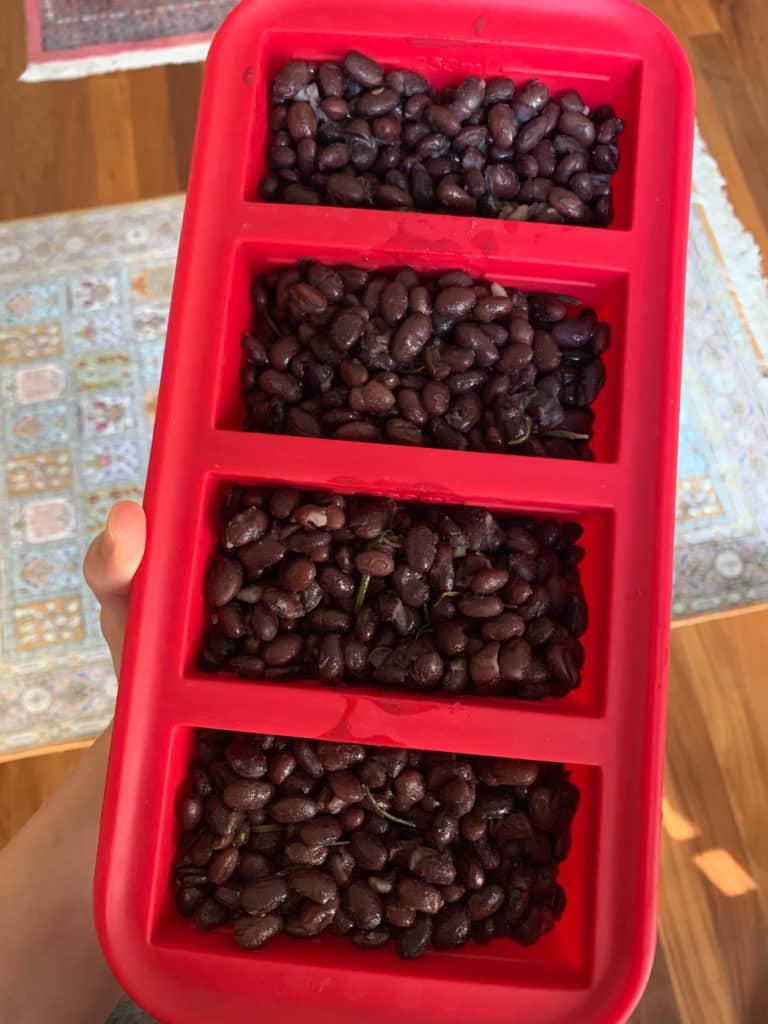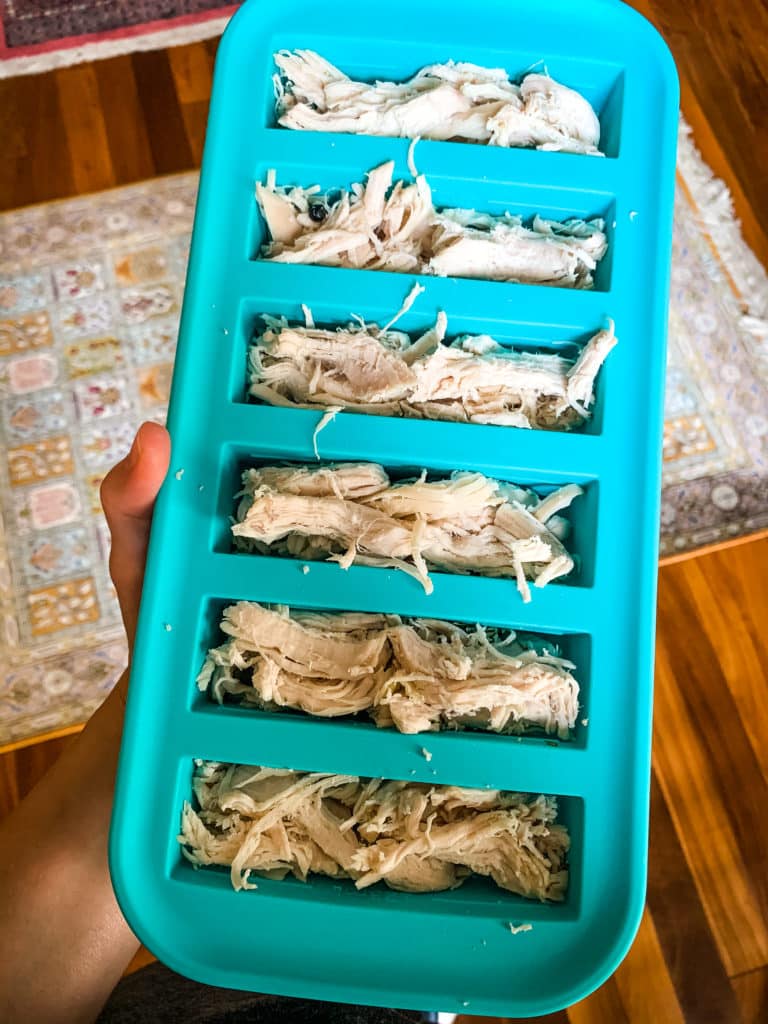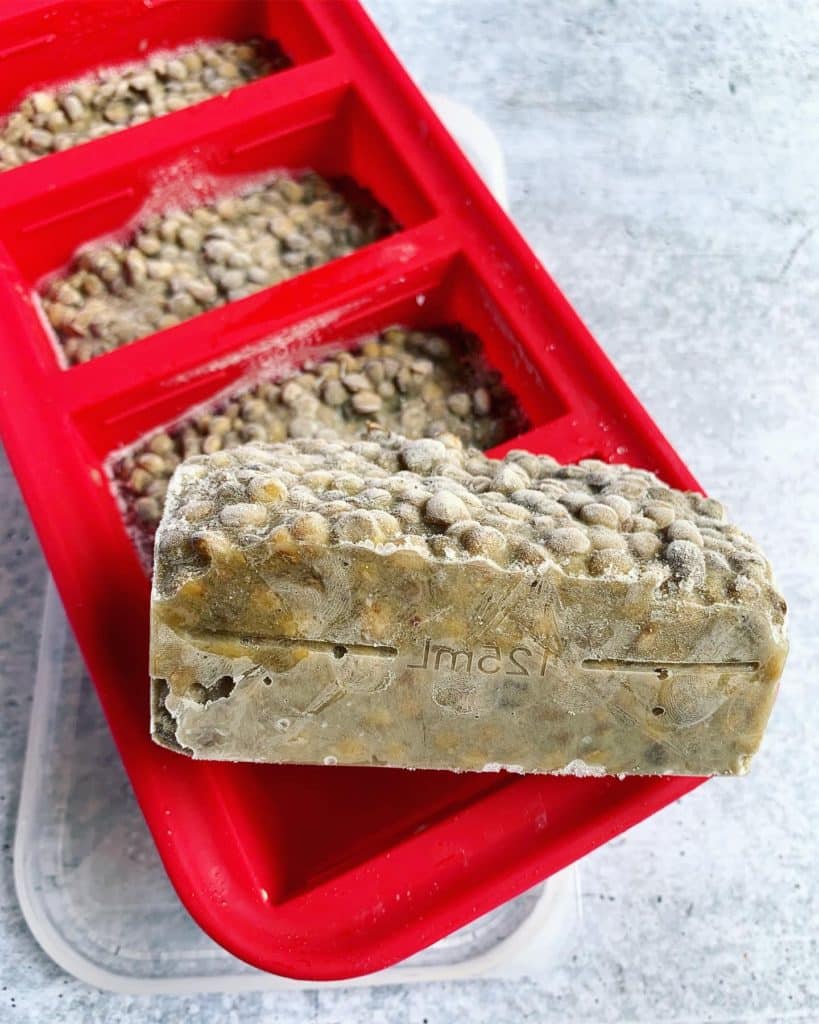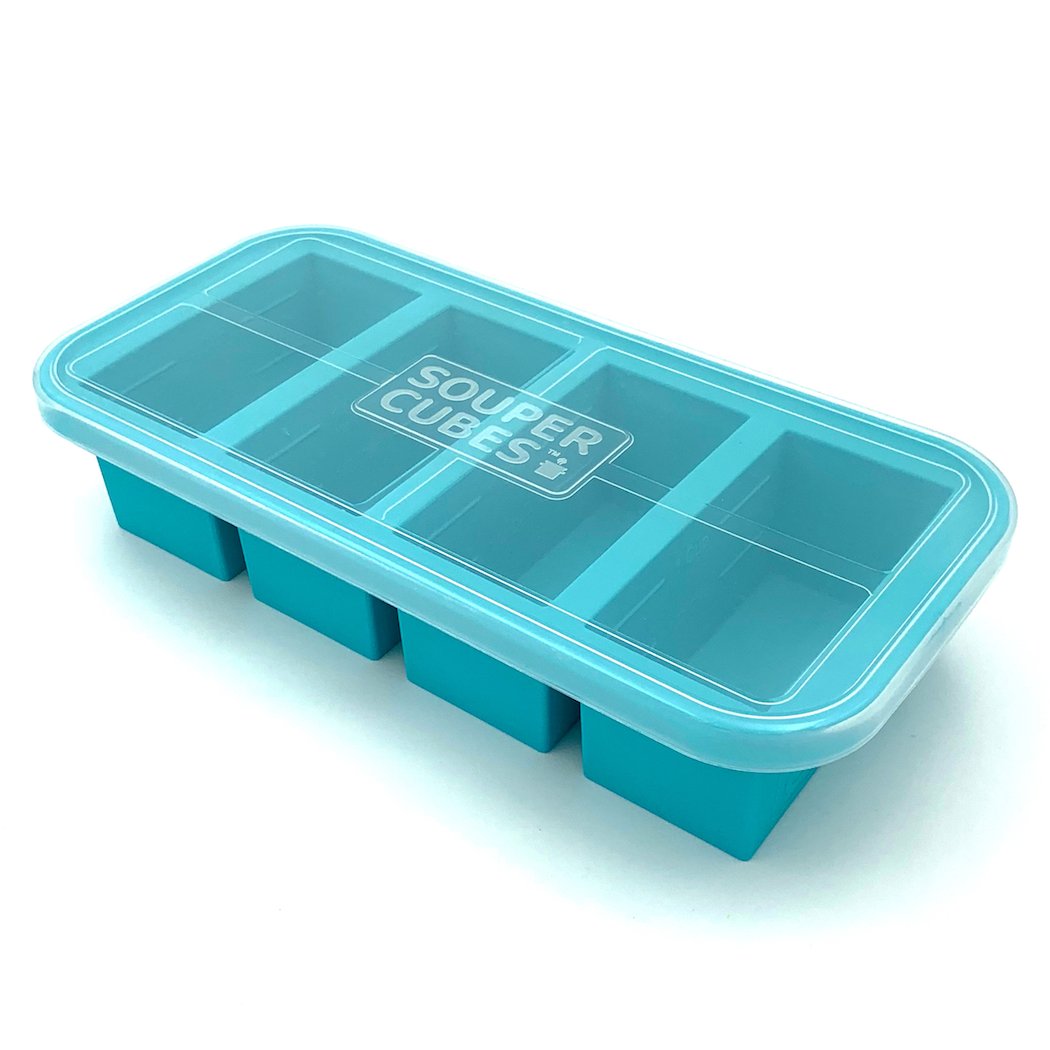 FREEZING stops the histamine triggering bacteria from forming. My favorite ways of freezing food are with Souper Cubes. You can buy the Souper Cubes here.
'Take out a frozen cube, warm it up in the microwave, on the stove, or bake in the oven. Warm your food up the way that works best for you!'
I make shredded chicken and freeze it in individual portions
You can pressure cook a whole chicken, or any part you want, but the easiest way is with chicken breasts. However, the other parts of the chicken are more forgiving when overcooked, so you may get more tender meat when you make a whole chicken.
This is how I make the chicken breasts: I roughly chop whatever stock veggies I have around such as celery, onions, garlic, fennel, carrots. I place the thrivet in the Instant Pot, add the four chicken breasts on top, add all the veggies. Also add peppercorns, bay leaves, a sprig or two of fresh rosemary, salt. Add one cup of water, seal the pot and set on pressure cooking, high, for 10 minutes.
When the time is done, let the pressure release naturally for five more minutes and then release the rest manually. Shred the chicken and whatever you don't eat on the spot, let cool and freeze. I freeze it in Stasher bags or Souper cubes.
I make pesto, or what I called herb concoctions
When I go to the farmers' market on the weekends, I buy a lot of herbs and since they won't last for too long in the fridge, I blend them and freeze them.
There is no limit to creativity when it comes to combining herbs, and it depends on individual taste too, so I recommend you experiment with different combinations and find out what you like more.
Some of my favorite combinations are: basil + arugula, parsley + cilantro (funny I didn't think it would work but it does and I love it), Lacinato kale, alone or combined with other herbs; if in season, you can add sorrel. I love to add arugula just know that if you buy the one from the farmers' market it can make the pesto a little bitter. I love it but my husband is not a fan. But I noticed that if mixed with the food and not used plain as a dip, the bitterness will not be noticed.
First clean and wash the herbs or greens
So, the first step is to clean and wash the herbs or greens. Sometimes I use a salad spinner, but I still find them too wet for pesto so I have special towels for herbs to dry them on. Once they are dry, chop them roughly, add them to the blender and blend as much as possible without liquid, scraping the walls if needed. Once they are chopped, add the extra virgin olive oil. I usually start with 1/2 cup and add more if I want a more liquid consistency. It is also possible to add some water if you want less olive oil or more drizzling consistency. I tried and it worked well, but I prefer just adding olive oil. You can add some salt and pepper. I freeze it in 4oz glass jars or silicone ice cubes molds (with a lid).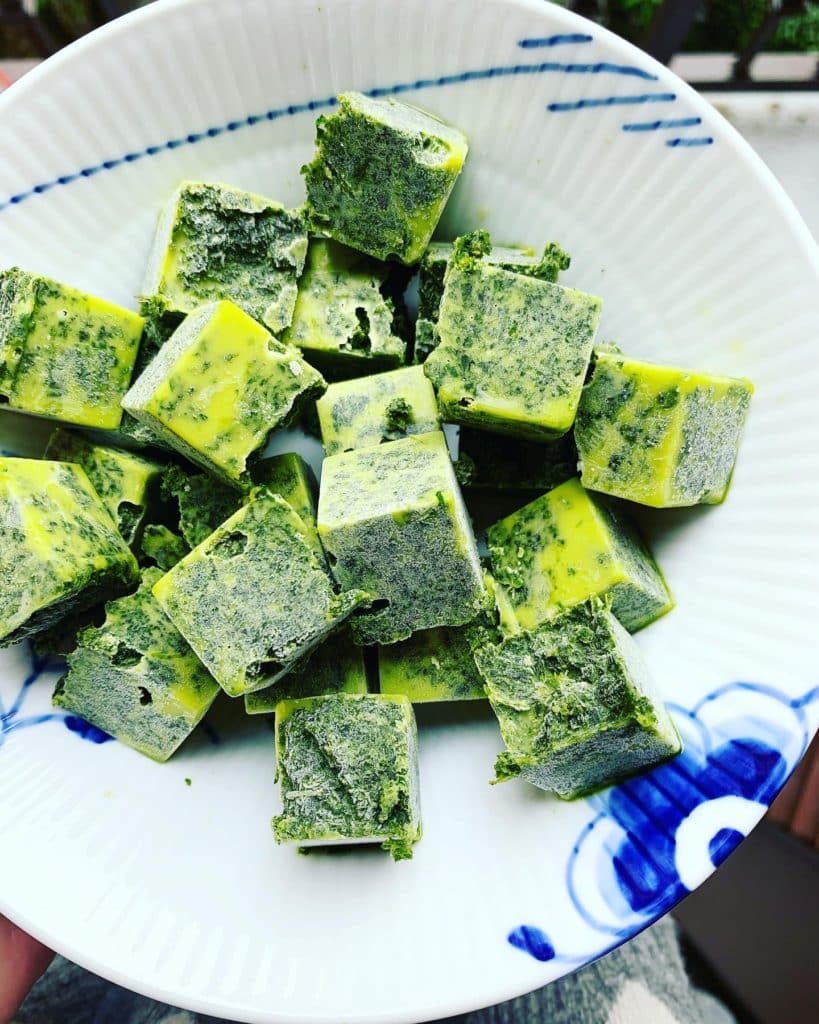 I make garlic and ginger paste
You can find the recipe in this post, and a way to use it for a hearty meal: Food in times of Coronavirus… A recipe, vegan, affordable, nutritionally dense. But really, to make this paste you just have to smash the ginger and garlic in a mortar and pestle, or in a small food processor, however is easier for you. Grating them is an option, or a blender if you make a bigger quantity. Once all smashed, add some salt and pepper, extra virgin olive oil and mix well. Store in the fridge in glass containers what you are using for the day or the next, and freeze the rest, using ice cube silicone molds.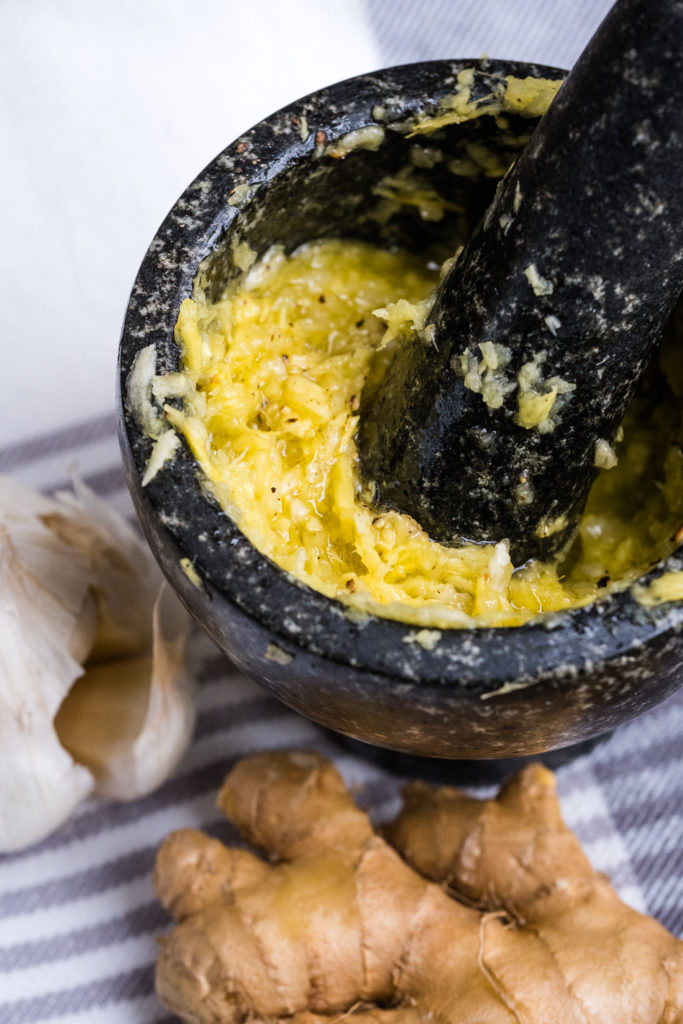 Put together delicious and nutritious meals in no time
The aromatics base for nutritious meals
I start with onion and garlic (I'm generous). Sometimes I add fennel and/or ginger. And a good quality extra virgin olive oil. I like to generously coat the pan. Avocado oil could be used too. Sometimes I add spices like coriander seeds or all-spice. Sometimes I add fresh herbs, like sage and thyme.
The idea is to use what you have available, and not get stuck if you don't have something specific. The meal will be delicious anyway. I sauté them in olive oil, on medium heat, until fragrant; usually, this step takes about 10 minutes.
The frozen stuff / the protein
I add the frozen beans/chickpeas/lentils and the frozen chicken or meat (both in small quantities, the idea is to have a little bit of everything). You can also use only beans if you are vegetarian. I let everything warm up. Most of the time I use a lid for this step and low heat. You can also use canned beans, drained and rinsed, and in this case add the next step immediately. If you are interested to make this type of meal but don't eat beans or legumes, you can use cooked sorghum or sweet potato and add extra veggies in the next step.
THIS IS THE PERFECT PAN FOR THIS TYPE OF MEALS

The green leaves and/or other nonstarchy vegetables
When the frozen stuff is thawed, I add the green leaves, finely chopped. It can be anything. I use dandelion greens, kale, mustard greens, radish tops, Swiss chard, collard greens, basically any green leaves that I find at the farmers market or at the store, usually, I love everything that is in season.
I don't eat spinach at the moment but spinach is an option too. Chop them really small, add them to the pan and add a little bit of water. Cover and cook for a few minutes (depending on the type of greens, more or less than 5 minutes). I finish with fresh herbs or, if I don't have them, I use frozen pesto or any herbal concoction I have in the freezer.
You can replace the green leaves with broccoli or broccolini, cauliflower, or asparagus, or mix them with the green leaves. If you chop them small or slice them thin, they don't need a long time to cook.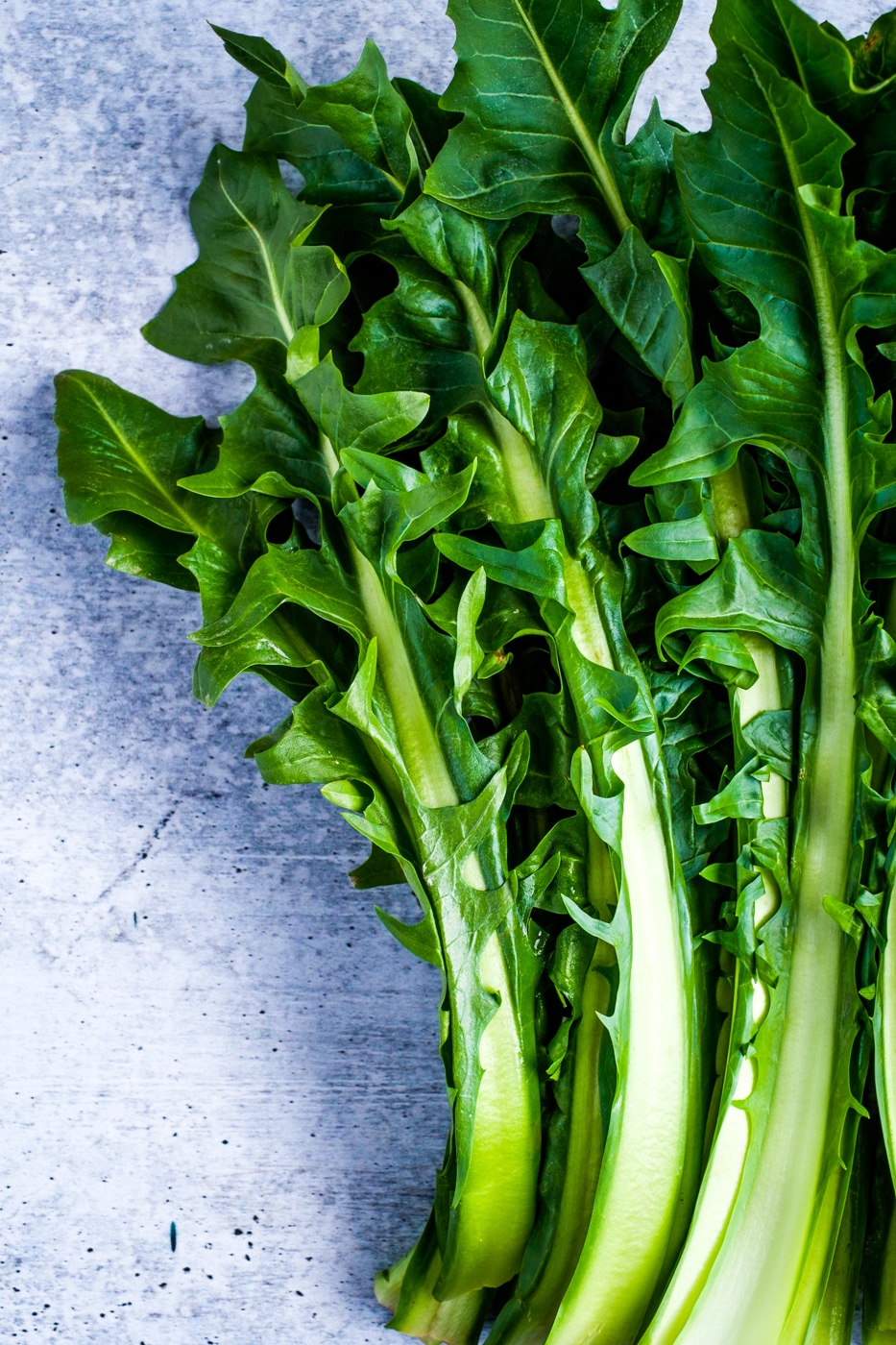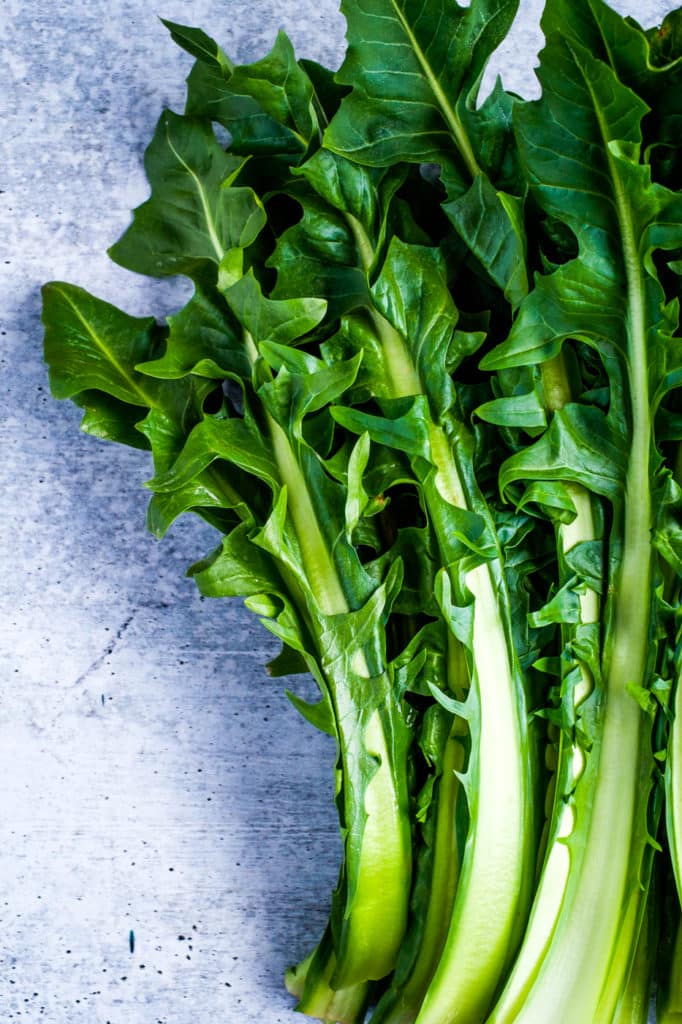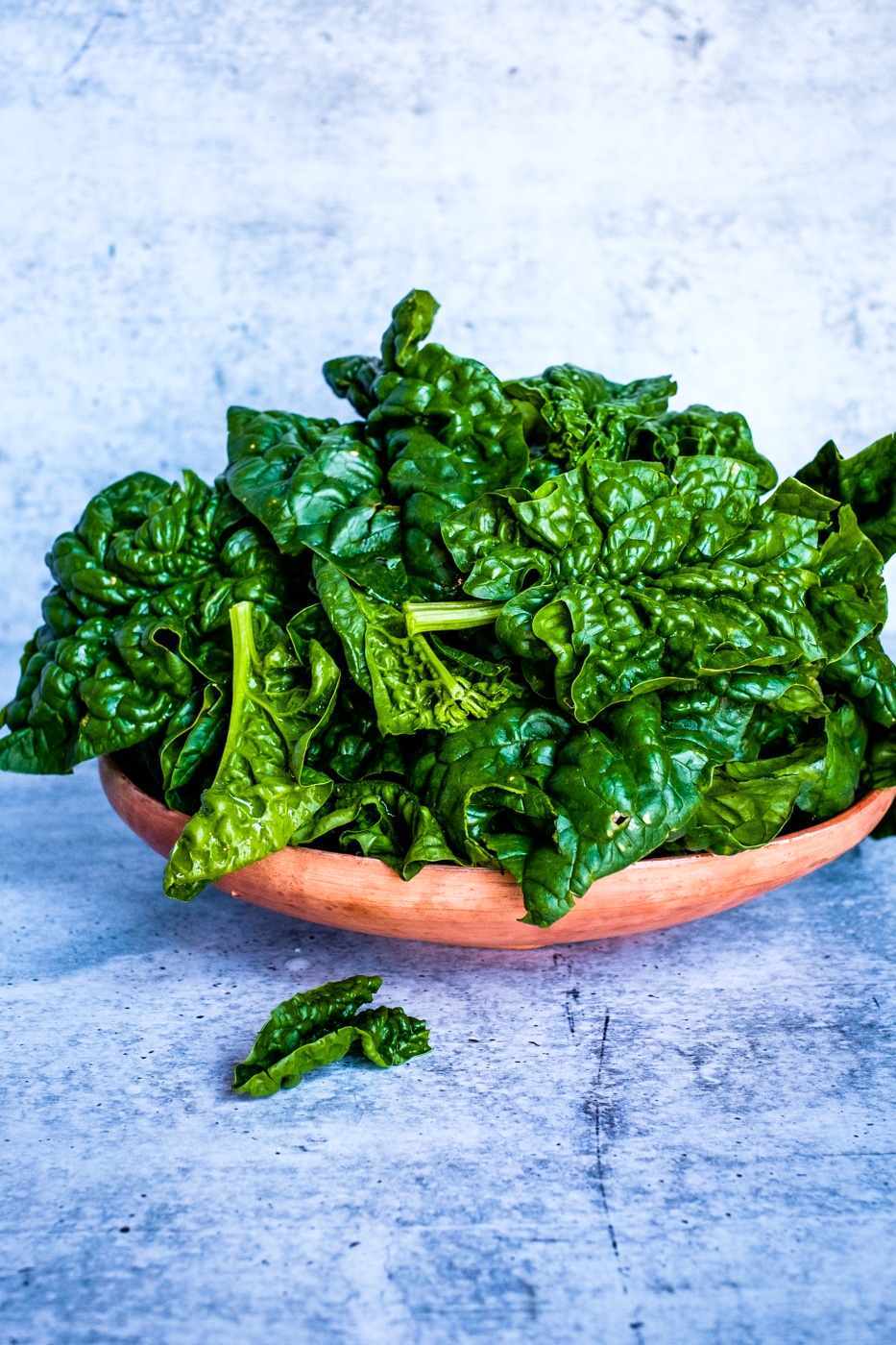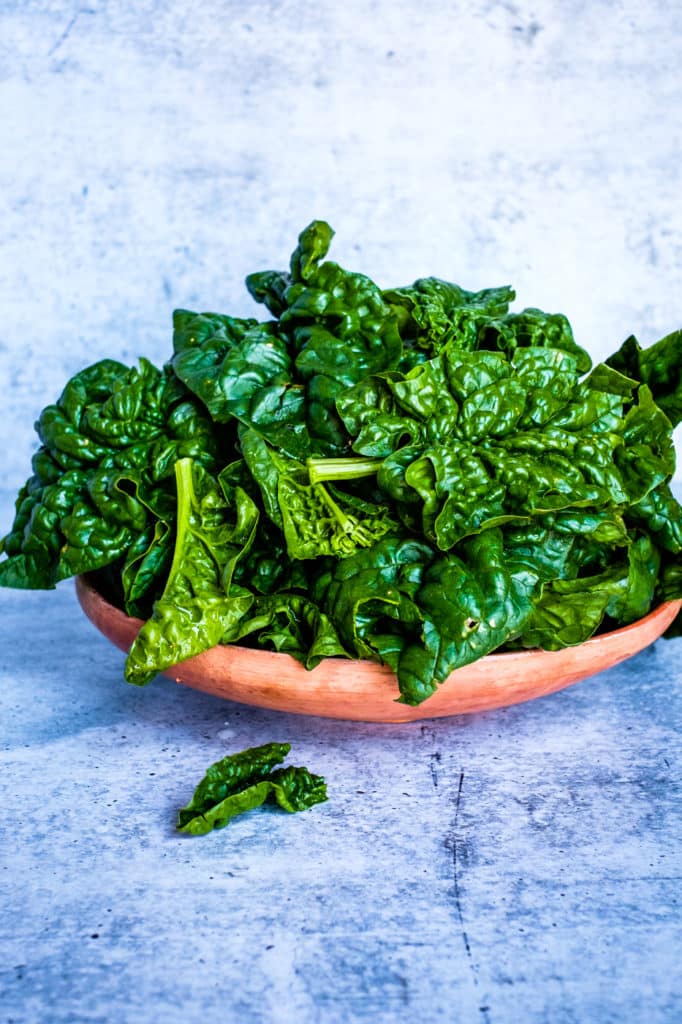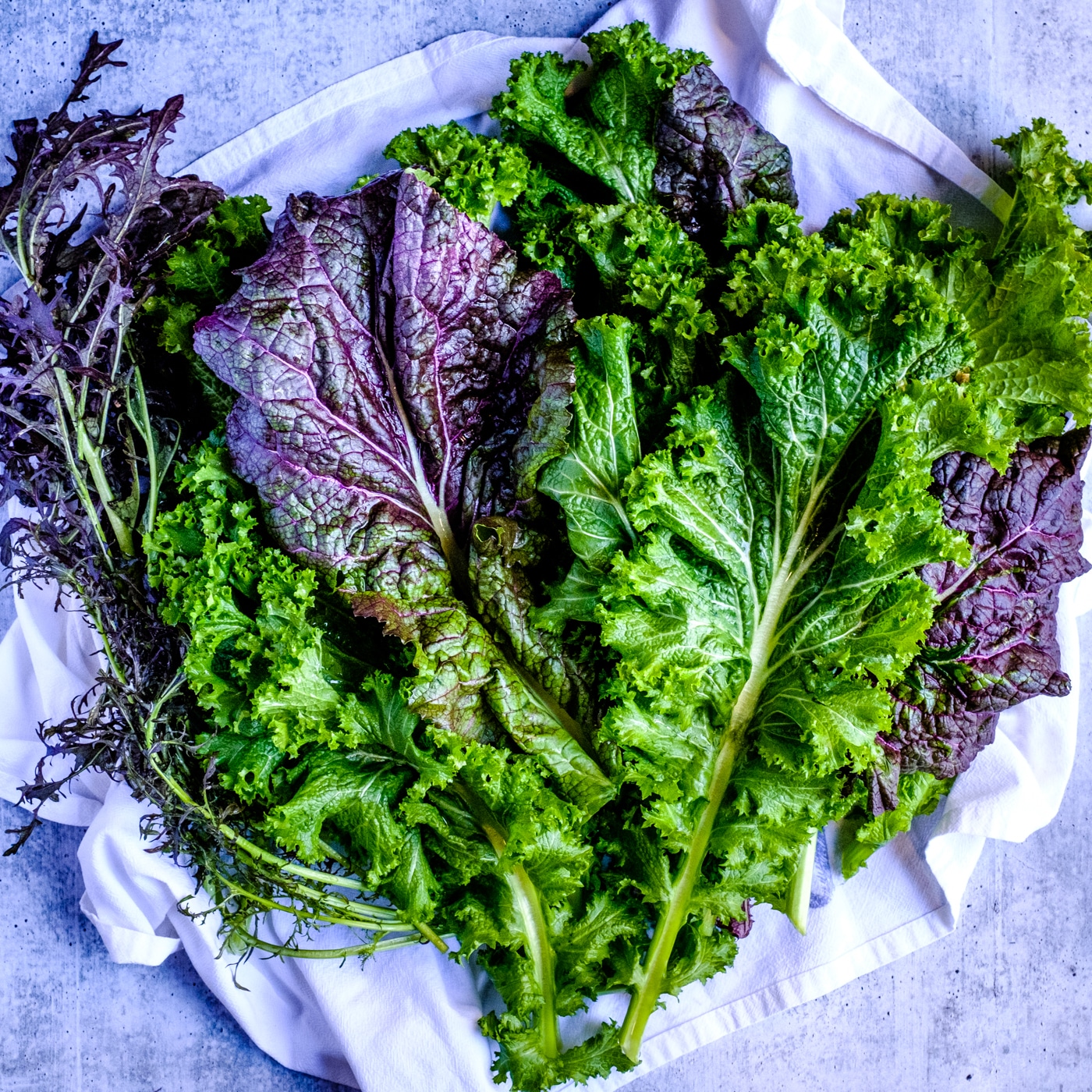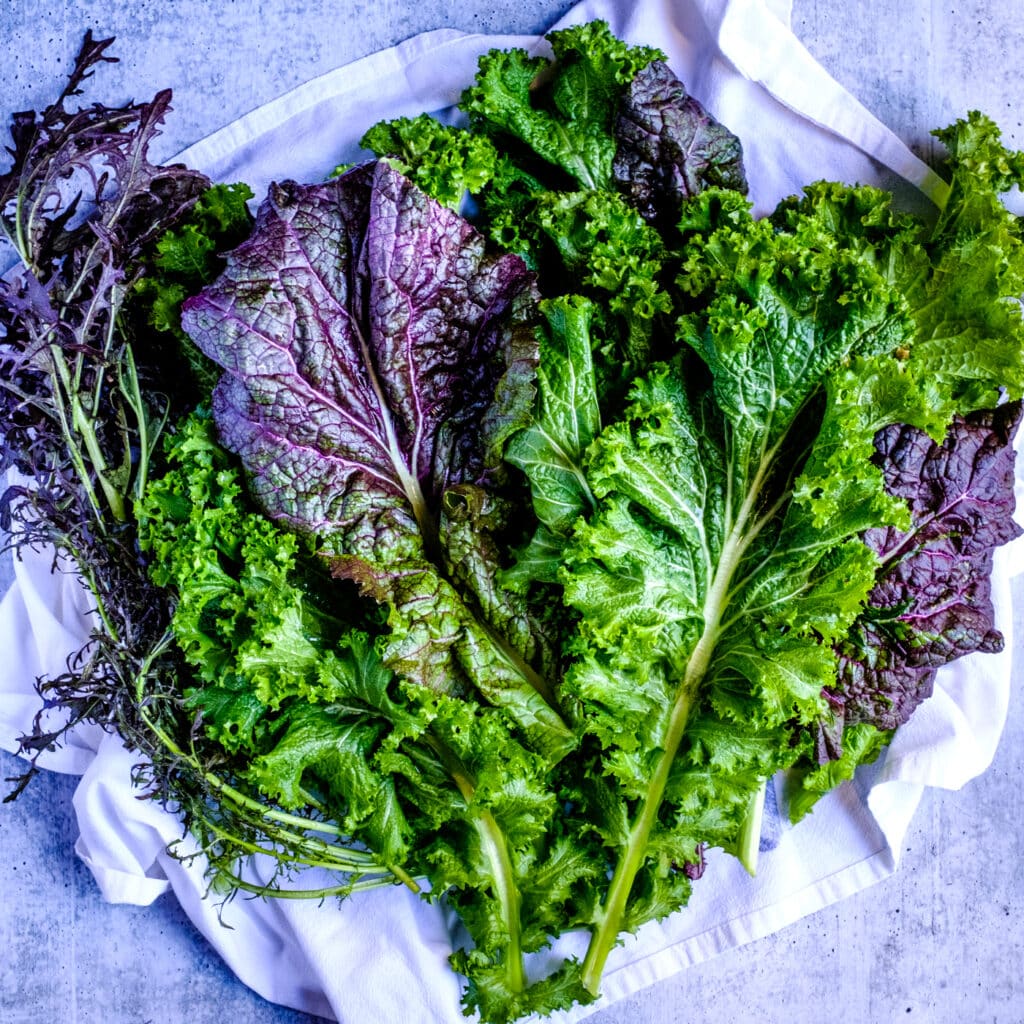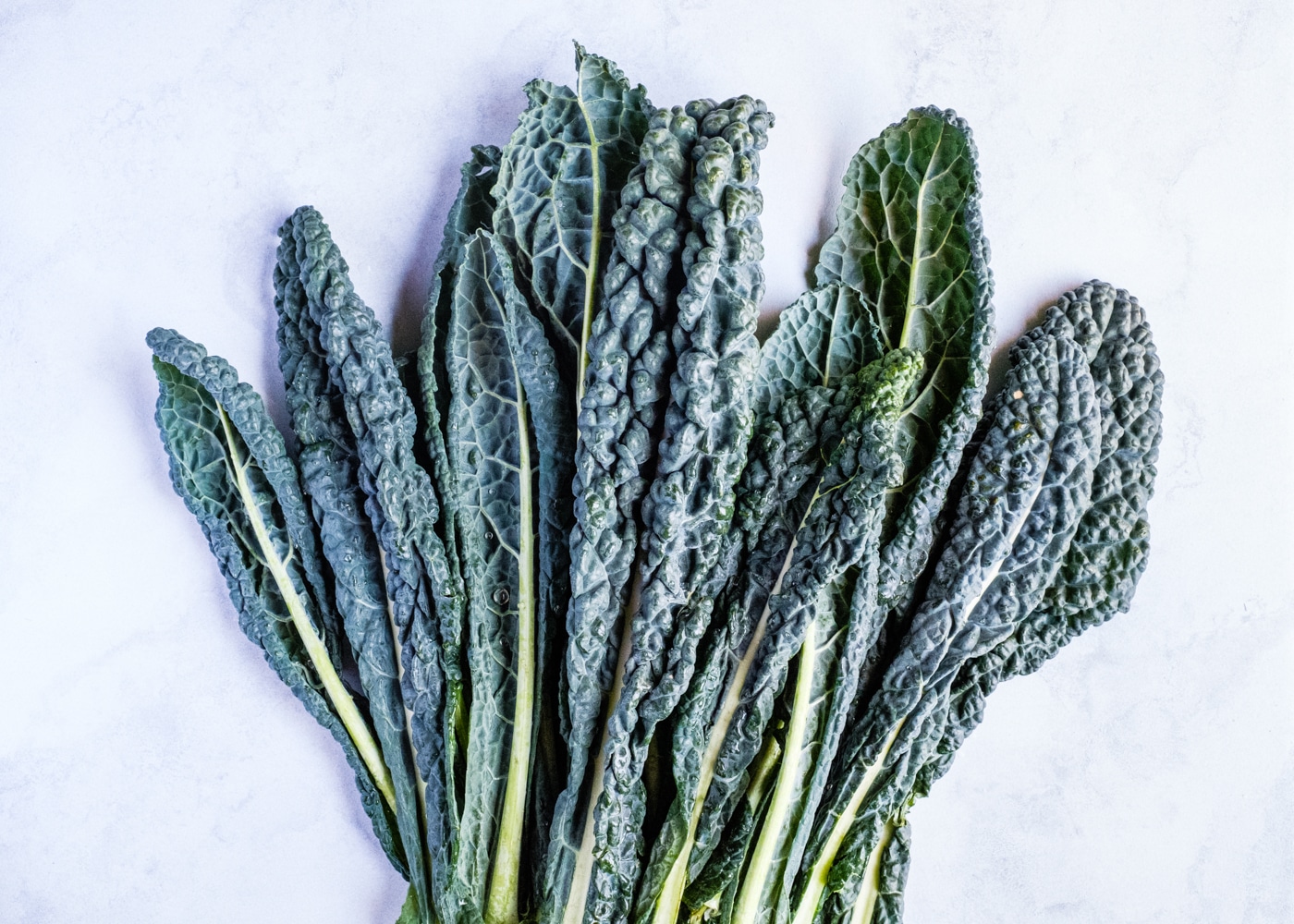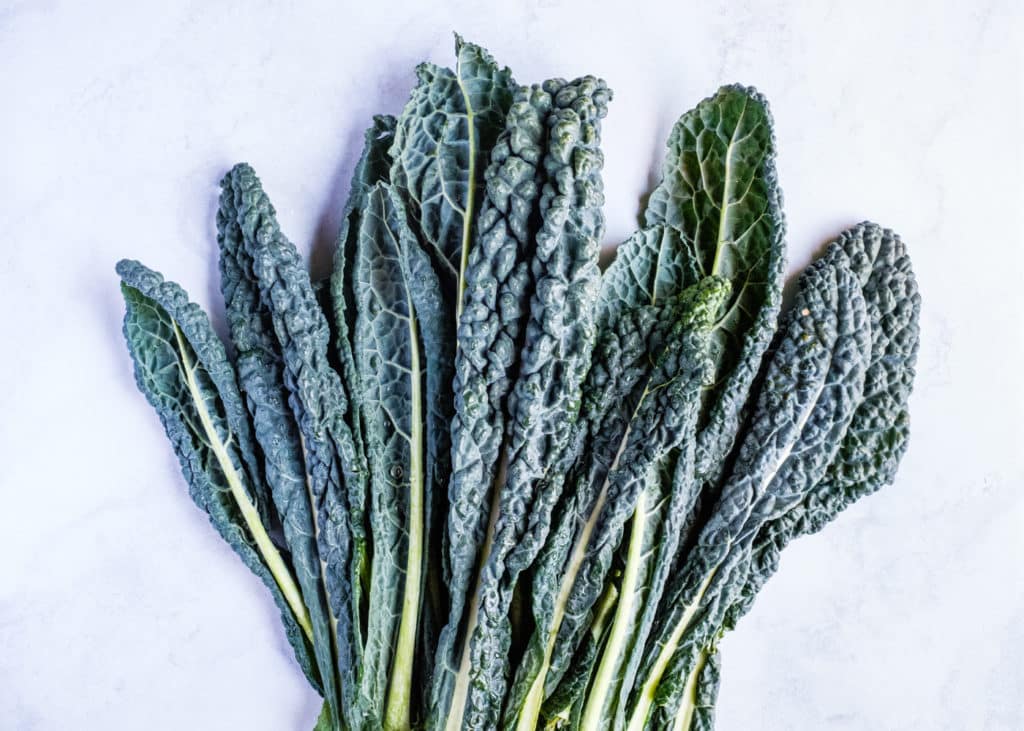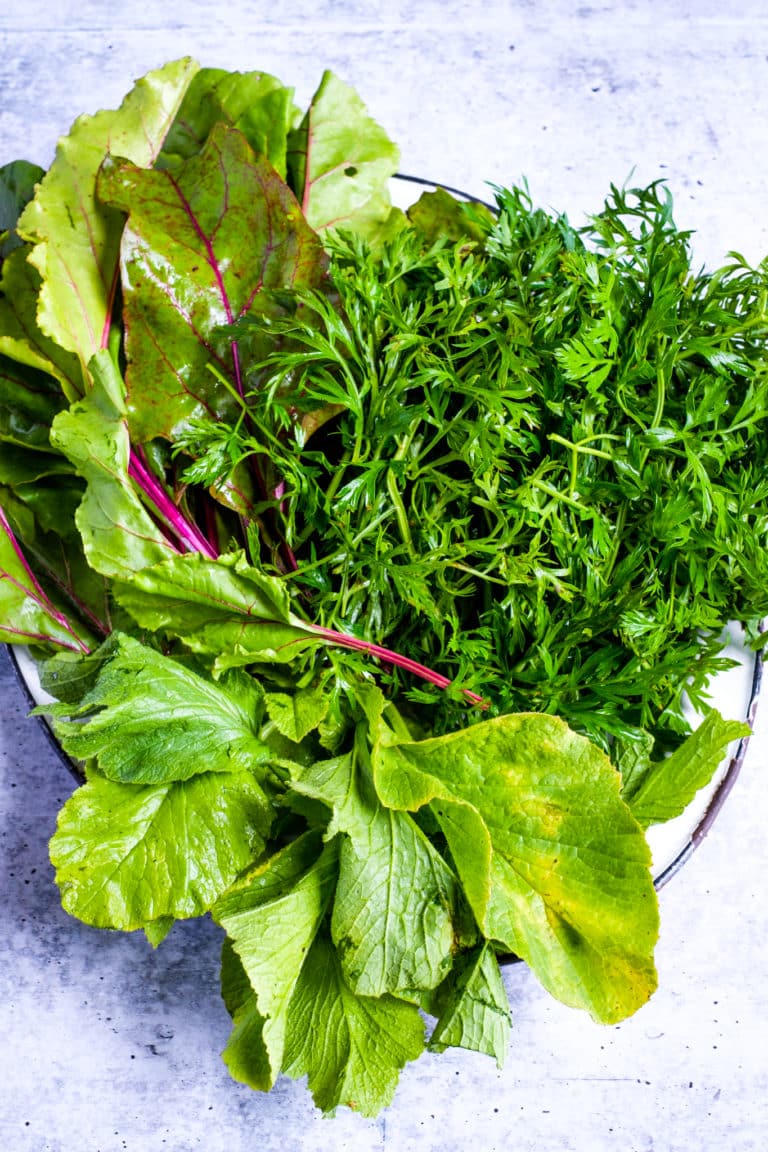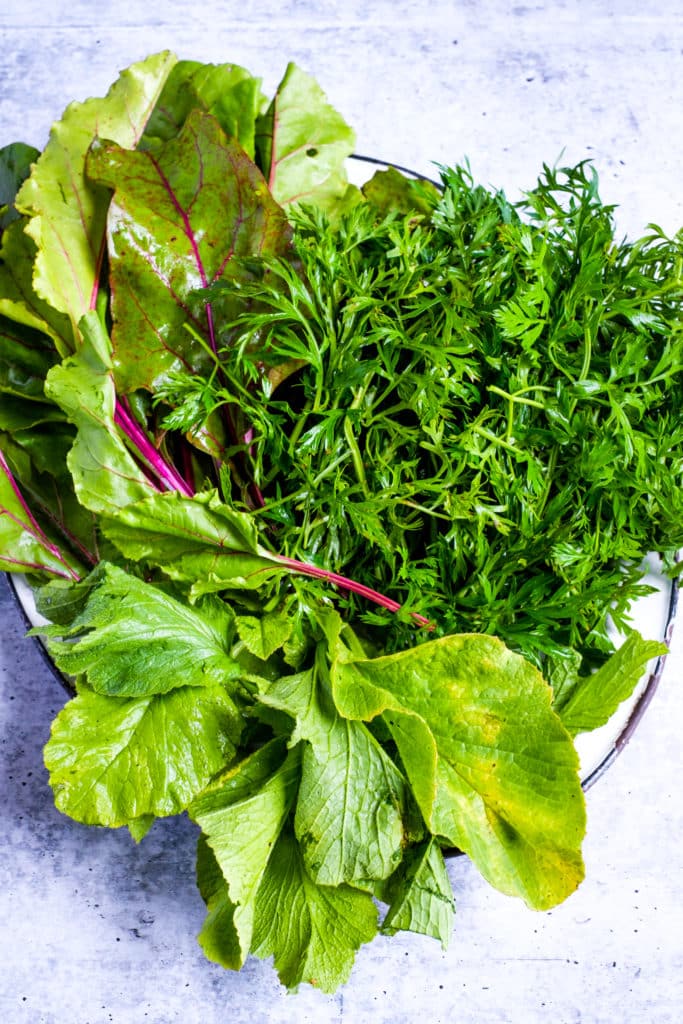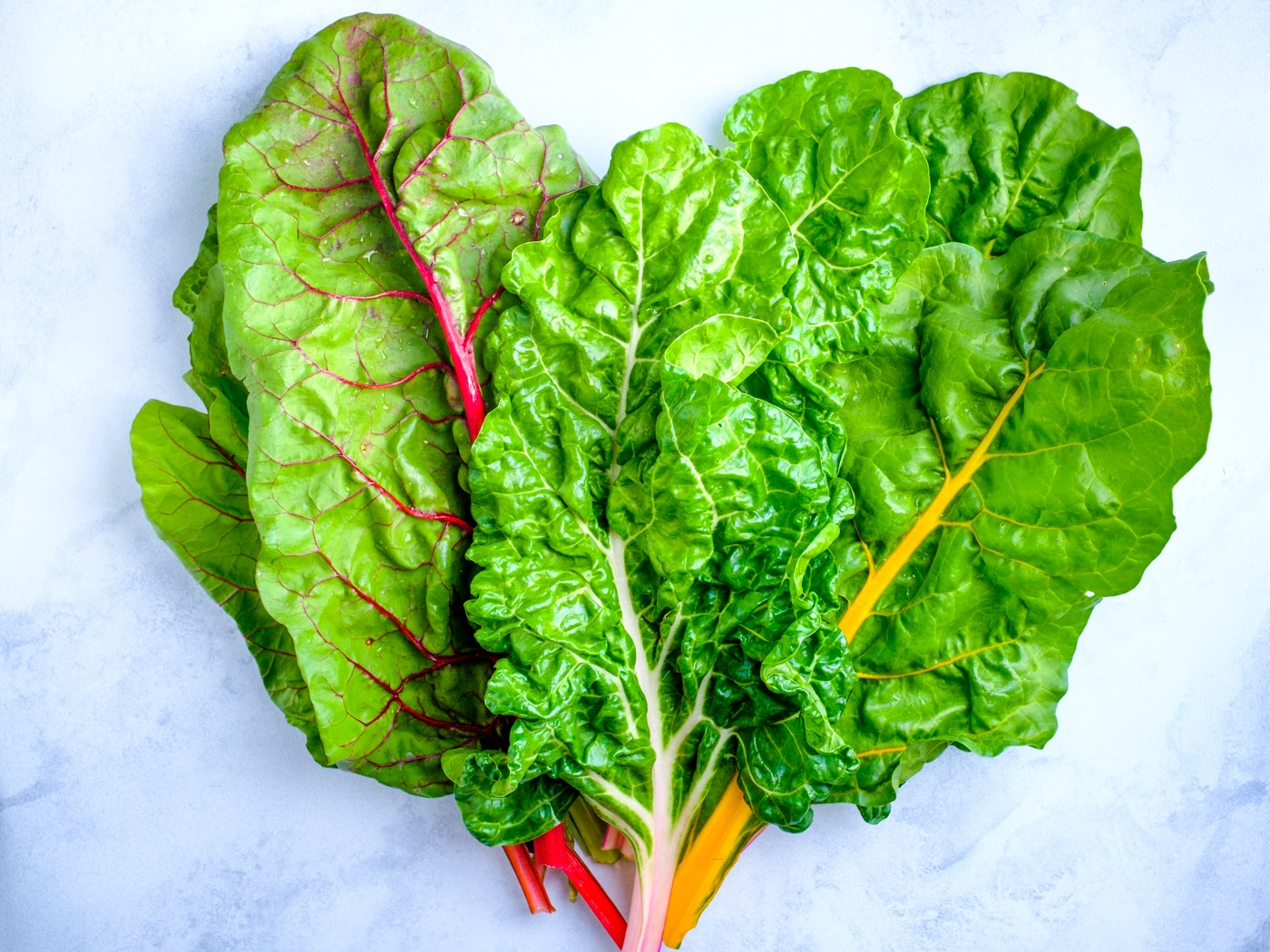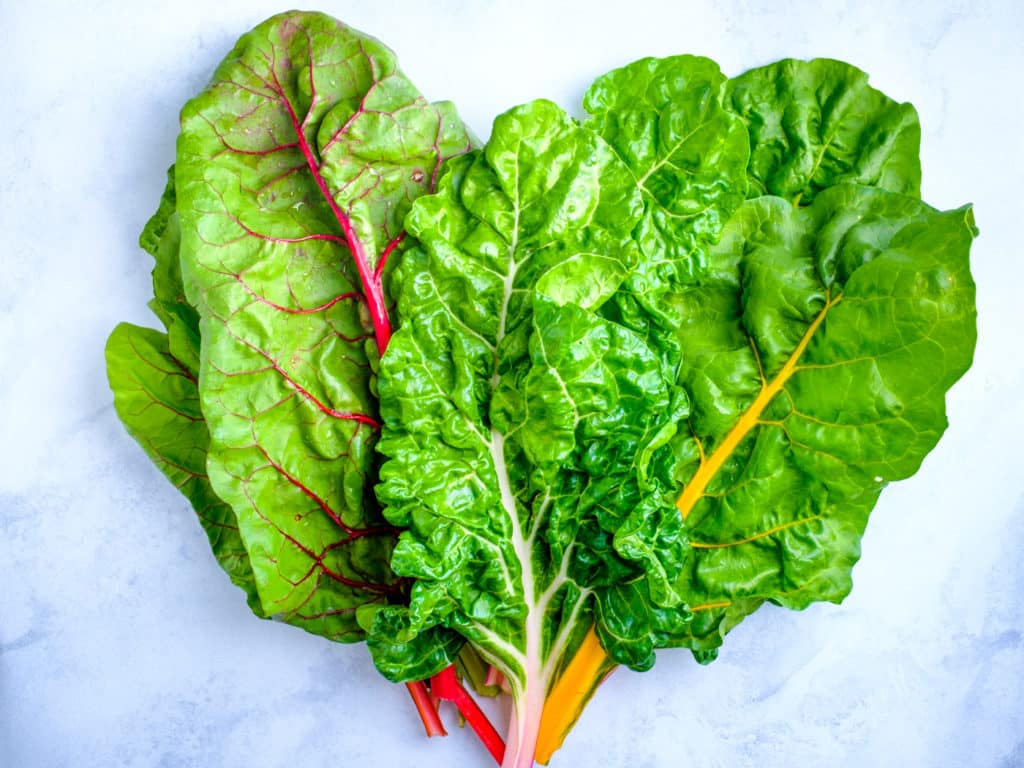 Seasoning
At this point, you can add some of the garlic and ginger paste and even some pesto, or both. You don't want to add them too early because you will get more benefits when they are minimally cooked. If you don't have pesto or frozen herbs, you can add some freshly chopped parsley and/or cilantro.
I use good quality salt and pepper. I prefer Redmond sea salt and freshly ground pepper, preferably organic. Finish the meal with fresh extra virgin olive oil. I absolutely love Gundry's cooking olive oil, or the Polyphenol rich olive oil, for more strength, flavor and benefits.
Serving nutritious meals
You can always serve your dish with a green salad, fresh radishes and even some steamed veggies, like broccoli, if you haven't added them already to the dish. They may not be very photogenic. But I promise you these meals are delicious and satisfying, healthy and a nutritional powerhouse.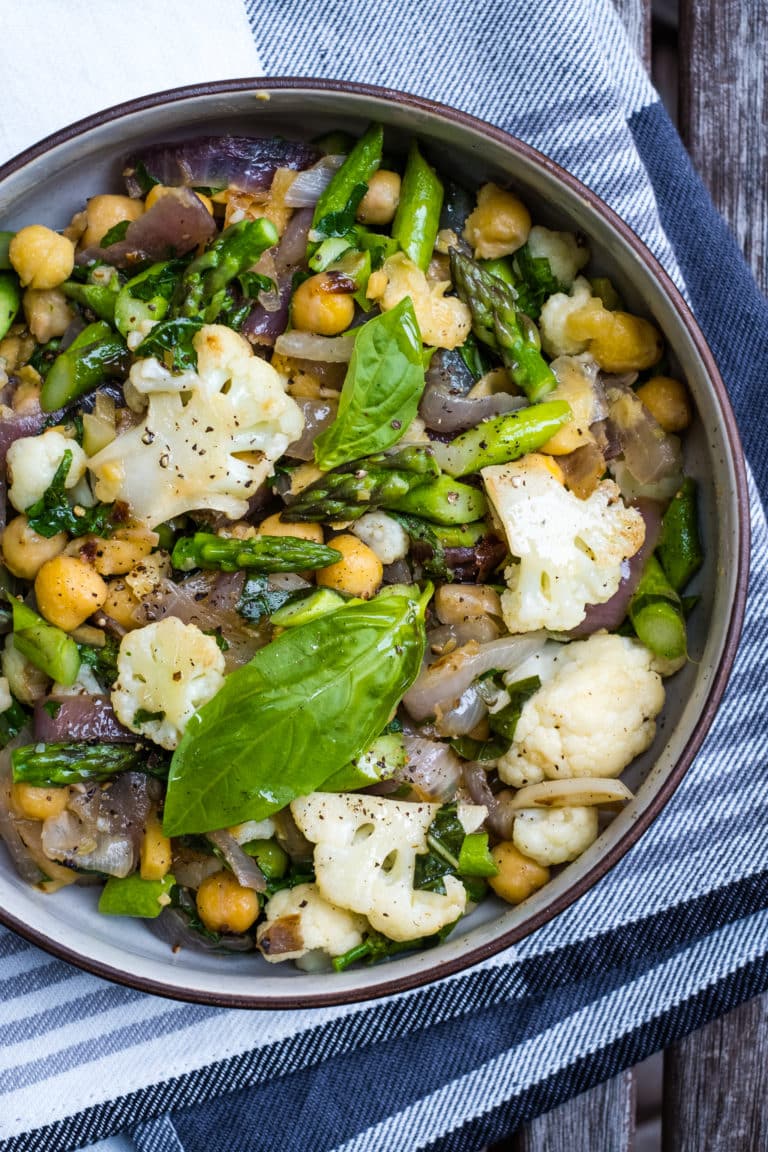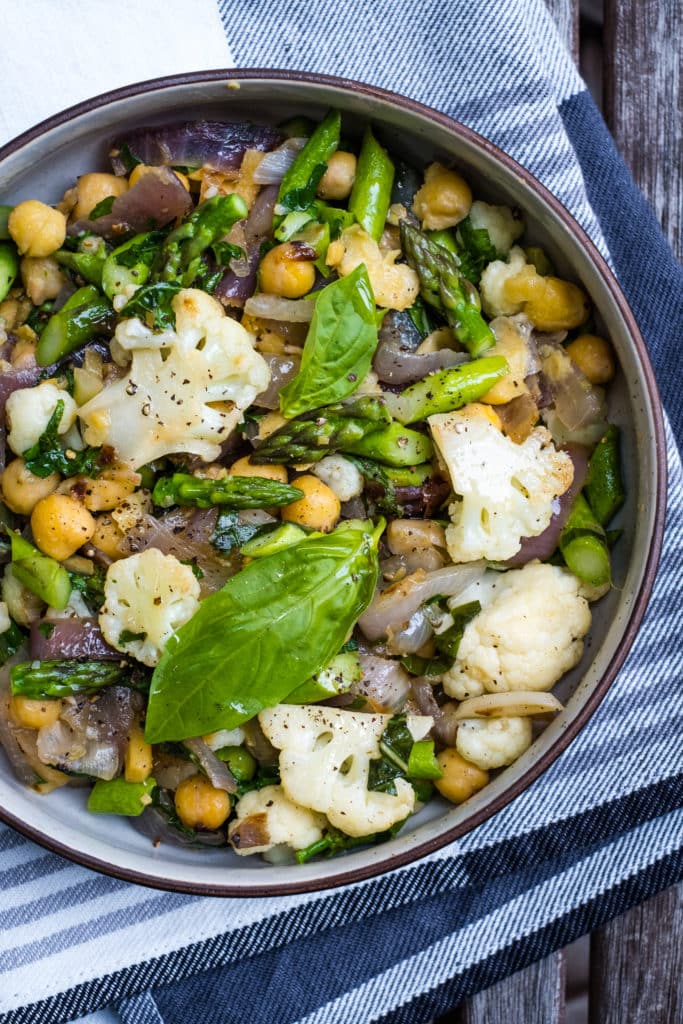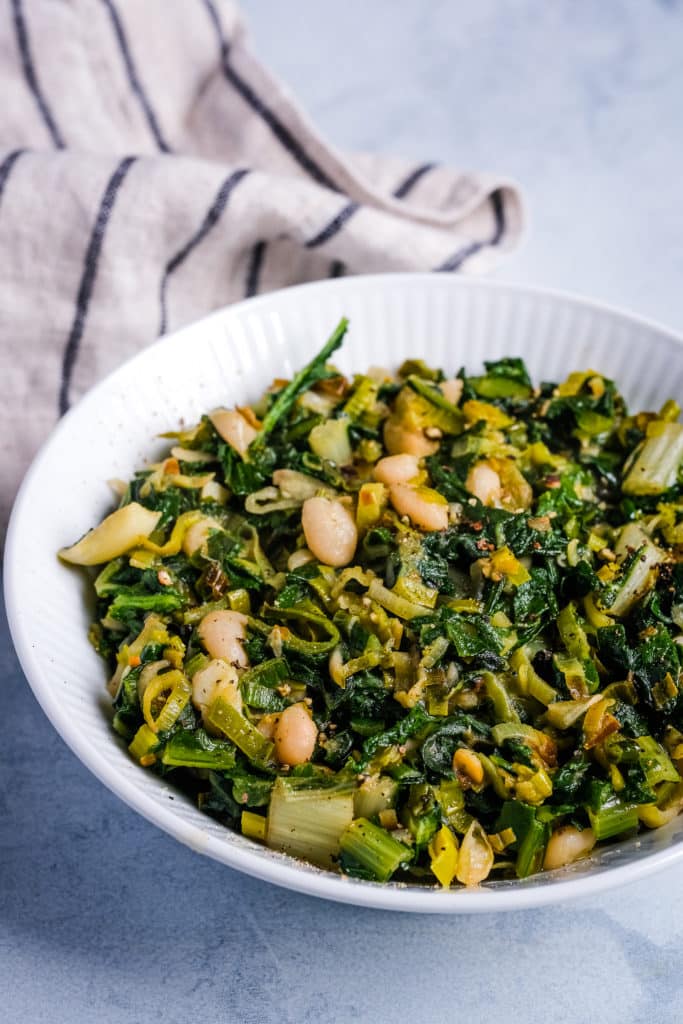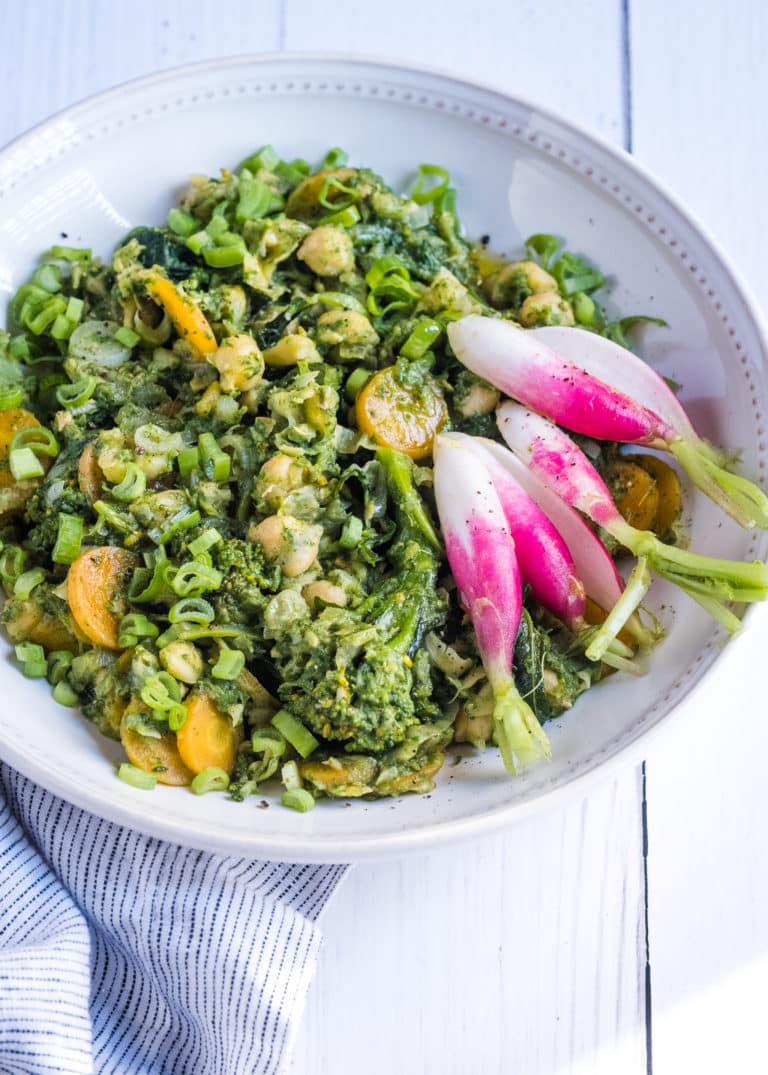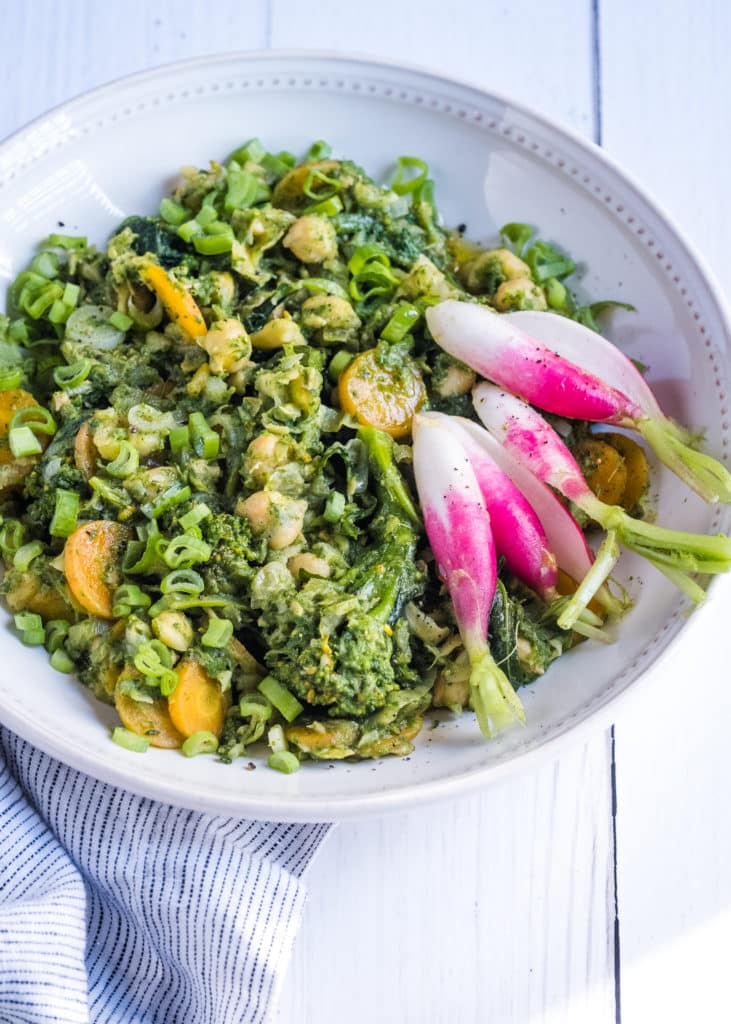 Bon Appetit
Bon appetit! I hope this helps you to prepare more nutritious and tasty low lectin meals in a few easy steps.
If you have any questions about the cooking process, require more details, or need ideas for substitutions, leave a comment below and I'll try my best to answer.
*This post contains affiliated links, which means I get a small commission if you choose to purchase something via one of my links, at no extra cost to you.