It took me a while to figure out how to name this recipe. The inspiration was a Romanian chicken recipe called 'ciulama'. I figured that would be difficult to spell and pronounce for non-Romanian speakers so I decided to leave it out. Of course, I put a plant paradox spin on it, cut out some of the saturated fat, and made it a little lighter and lectin-free. This creamy mushroom chicken, Romania-style recipe is the perfect lectin-free meal for the colder season. One the entire family will love.
The perfect fall lectin-free meal
For some reason I don't know, this was not a dish made in our home. So I rarely had it back in Romania. But who doesn't like creamy chicken mushroom (my mom I guess, haha)? While the name 'ciulama' has Turkish origin, the dish resembles more a French 'velouté de volaille aux champignons' than any Turkish dish.
Traditionally this dish is made with chicken and mushrooms. You can also make it plant-based and use only a mix of mushrooms. The traditional preparation starts with a roux (flour cooked in butter), but I am not a fan of this technique (which was often used in Romanian food and gave me terrible heartburn all my life). I am truly convinced the same results can be achieved without this step.
Heavy cream or sour cream are borderline plant paradox compliant (in small quantities). And I didn't want to make this dish super heavy with saturated fats. So I replaced the cream with coconut milk and it worked perfectly well. You will have to use the canned one though, not the drinking one in a cartoon. This is the brand I use.
How to make creamy mushroom chicken, Romanian style
The recipe requires boiled chicken and chicken stock, so there are a few ways you can approach it. I went all in and made the chicken and vegetable stock first. I used vegetables I had in the fridge: carrots, onions, celery and celeriac, parsnip, fennel bulb and leaves. For the chicken, I used 4 boneless thighs and 2 full chicken legs, with bones. It has to be pastured raised to be plant paradox compliant. See more details here for lectin-light, pasture-raised chicken and how to order online.
The reason I used this combination is that this is what I had frozen, but you can use a whole chicken, or breasts with bones, or a combination. In the end, after I shredded the chicken, I didn't use it all for the dish. I kept about one-third in the fridge and later made a chicken salad. If you don't have time and want to make this dish faster, and have compliant chicken stock and cooked chicken around, you can totally skip making the stock. You can also use GundryMD vegetable broth for this recipe.
I used the carrot from the stock and added it to the final dish, mostly for color, but it's optional. Cooked carrots are not recommended if you have diabetes or are insulin resistant. But, if you use it, don't overcook it, take it out from the stock while is still firm (you want the pieces in the final dish to be firm, not mushy).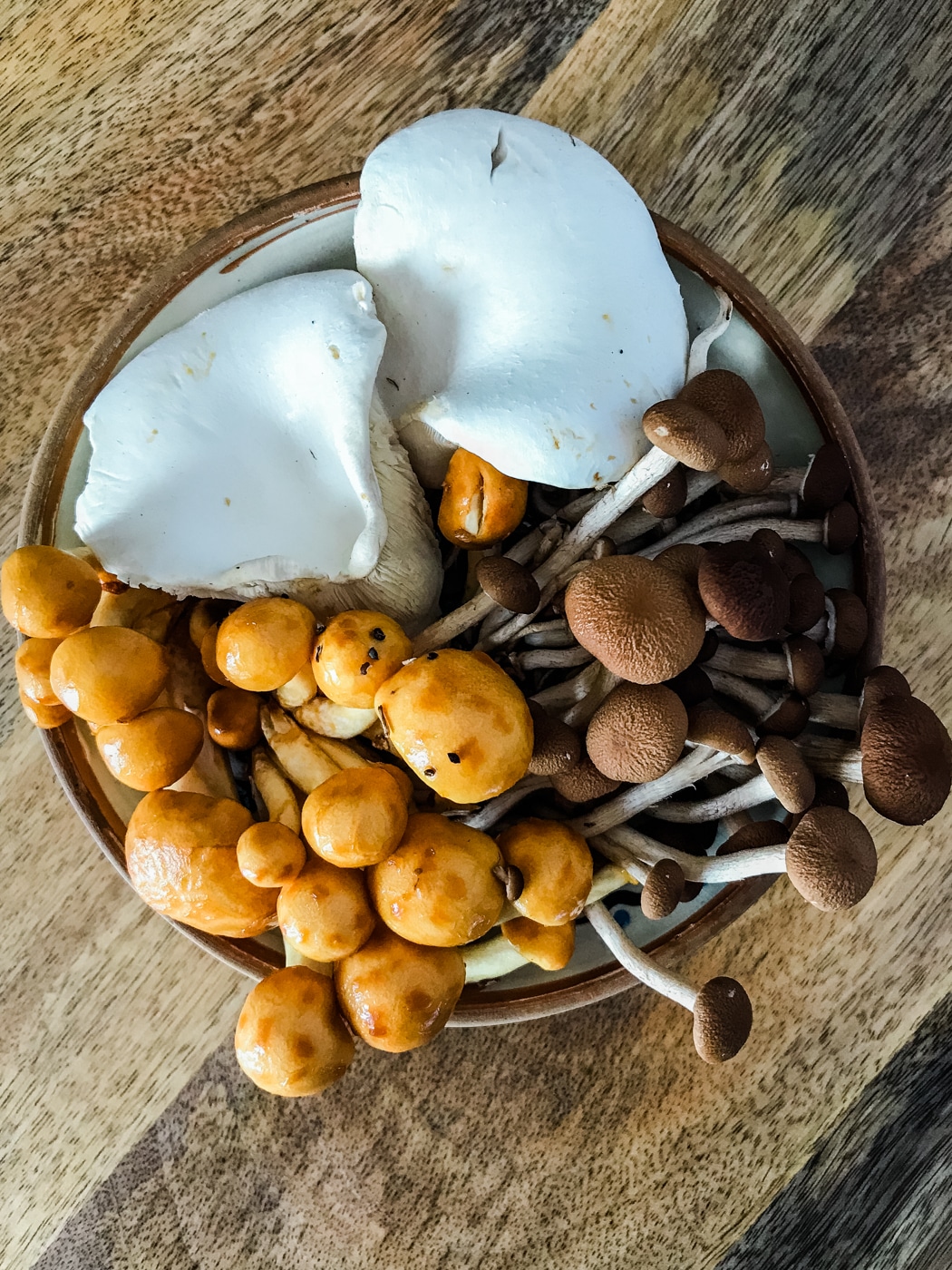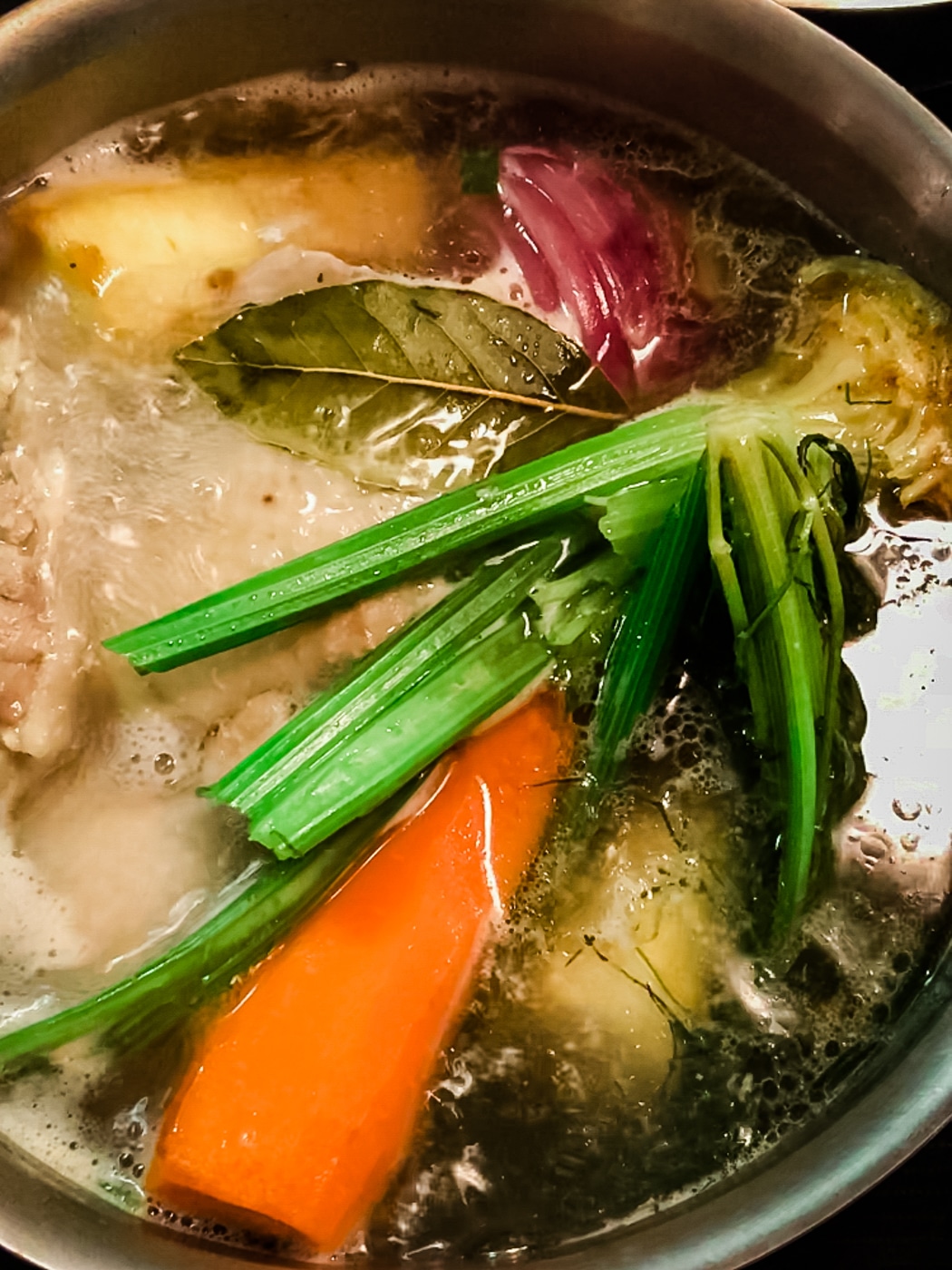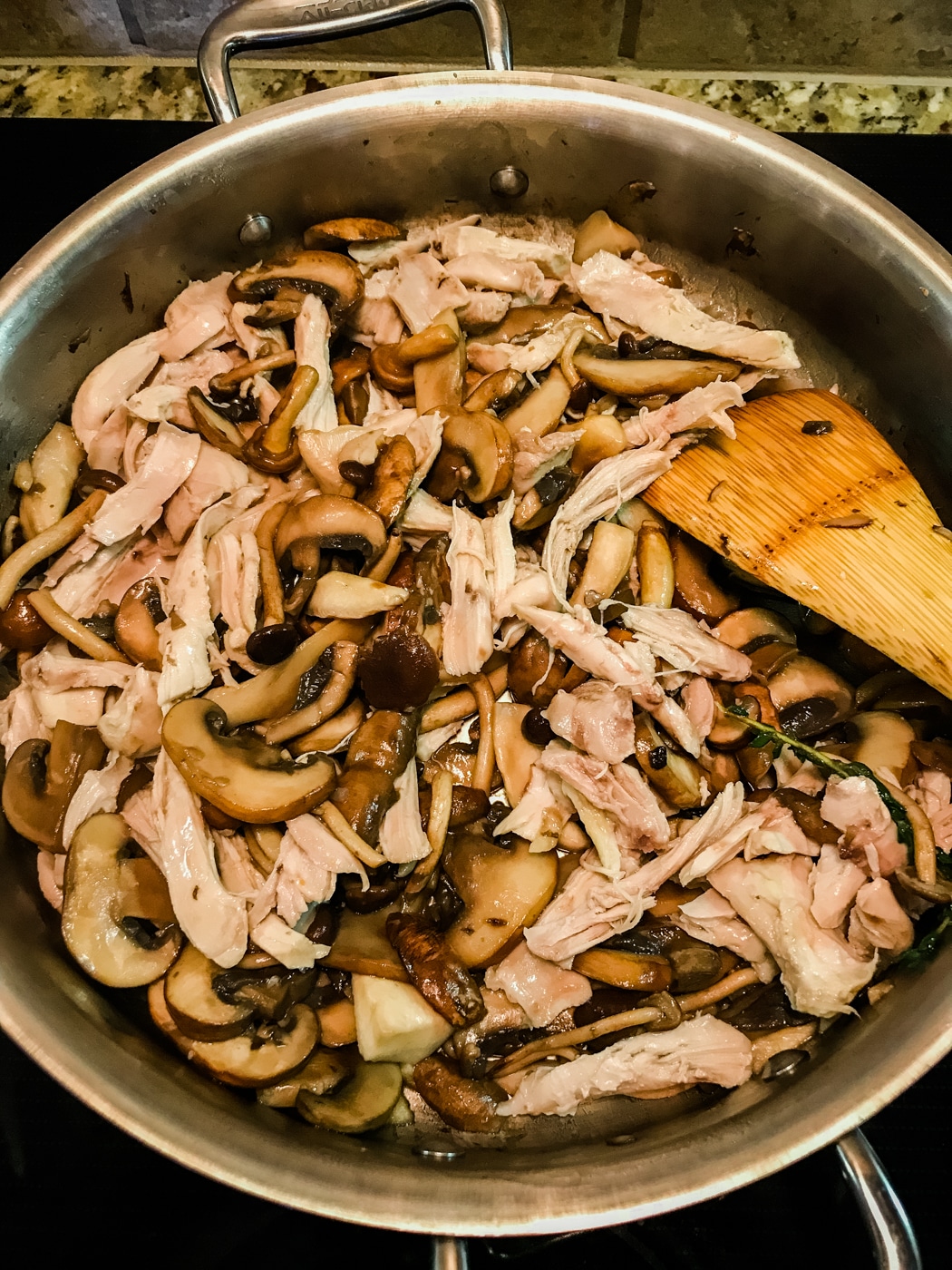 Crimini mushrooms
Regarding the mushrooms, you can simply use crimini mushrooms or a combination of crimini and other types of mushrooms. I used about 10 big crimini and for more depth of flavor and texture a Chef's selection mushroom pack I found in Whole Foods (pictured above).
Warning though, some mushrooms can be a little slimy, which I totally love and I think they give this dish a nice stickiness. If you are not a fan use the mushrooms you know you like and you are used to cooking with. That being said, I would not use shiitake mushrooms for this dish (I don't have an explanation for this it's just a gut feeling, haha).
How to serve creamy mushroom chicken, Romanian style
We served the creamy mushroom chicken with sautéed broccolini for me. I added Indian Basmati rice for my husband. I personally love it with something like broccoli but you can serve it with anything you feel like, including Miracle noodles or rice (shirataki noodles). But enough talk, let's get to the recipe already.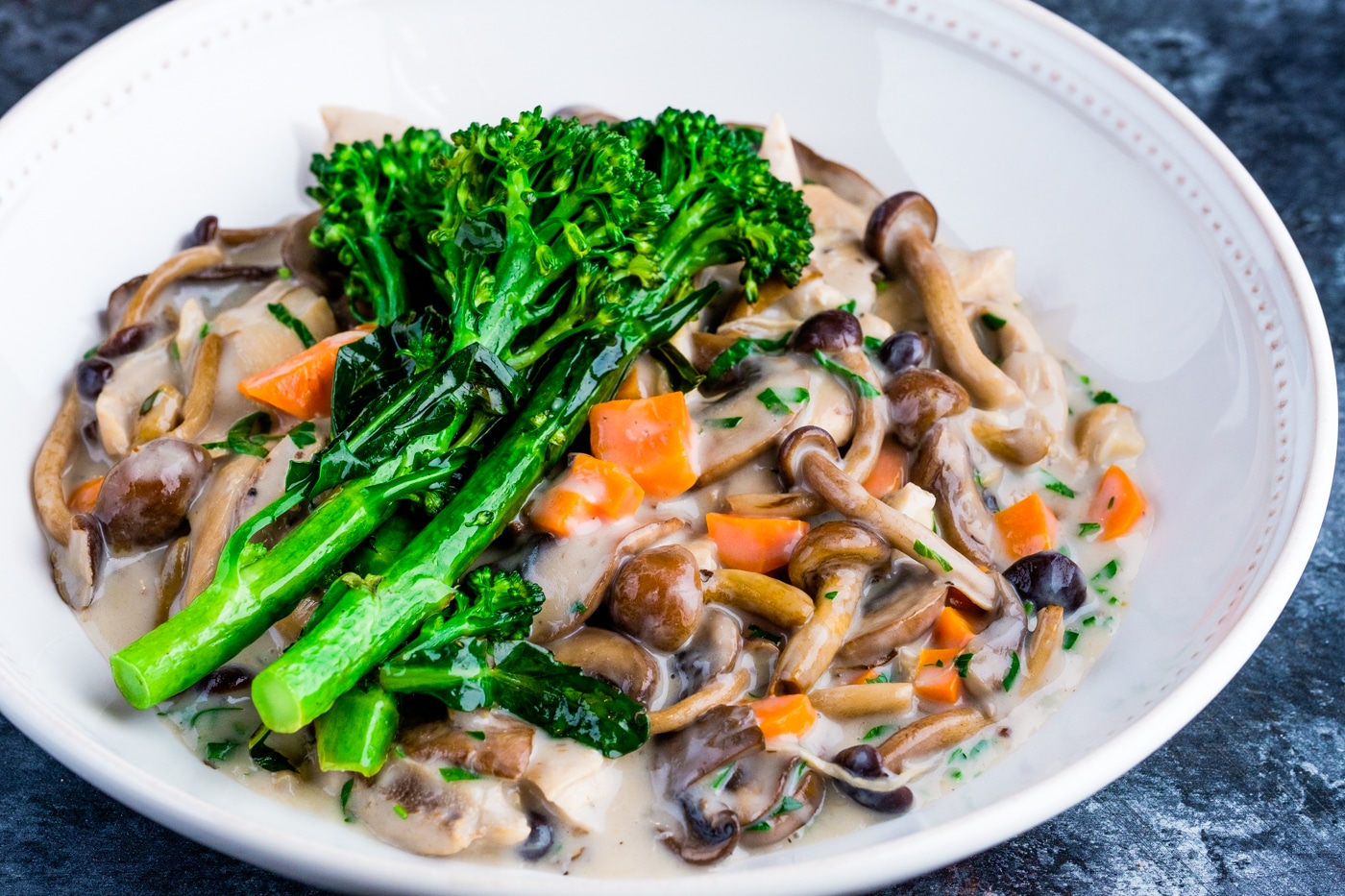 This post contains affiliated links, which means I get a small commission if you choose to purchase something via one of my links, at no extra cost to you.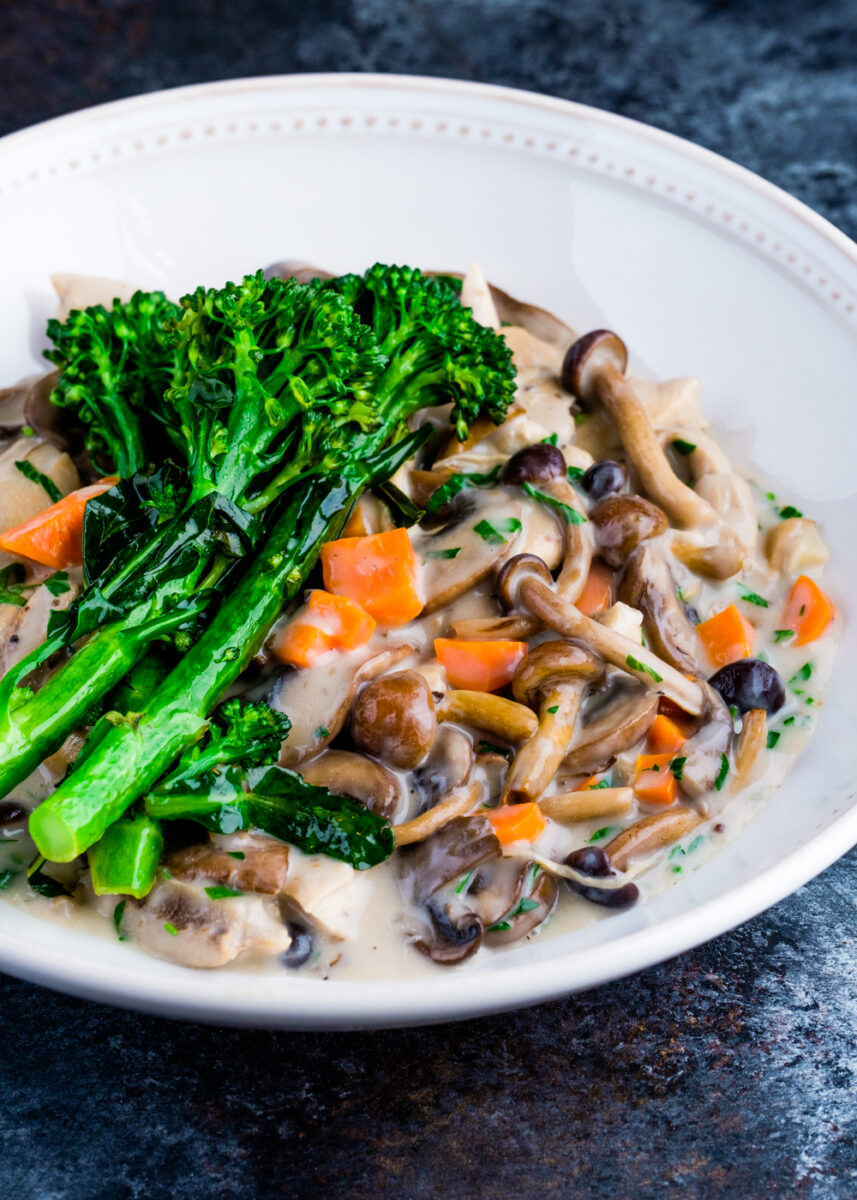 Print Recipe
Creamy Mushroom Chicken, Romanian Style
A creamy, hearty and silky dish perfect for the colder season.
Ingredients
TO MAKE THE CHICKEN STOCK:

15-20 oz pasture-raised chicken with bones (or use more and have some cooked chicken for another dish)

A mix of stock vegetables (scraps if you have): onion, celery, celeriac, parsnip, carrots, fennel, parsley (use one big peeled carrot if you plan to add it later to the dish)

Spices: 2 bay leaves, peppercorns, iodized sea salt

TO MAKE THE CREAMY MUSHROOM AND CHICKEN:

10 big crimini whole mushrooms, washed, dried and sliced

a mix of other mushrooms, some wild (for texture and depth of flavor, if not using other mushrooms double the crimini quantity)

3 garlic cloves, peeled

1 sprig of thyme (use it whole and remove it when the dish is ready)

1 bunch fresh parsley, washed, dried and chopped

1 can full-fat coconut milk

about 1 cup of chicken stock

2 tablespoons arrowroot flour (dissolved first in cold water)

avocado oil

salt and pepper to taste

lemon juice to taste

the cooked carrot if using
Instructions
2
Add the chicken to a stockpot filled with water (leave some space for vegetables). Bring to a boil and cook the chicken for about 20 minutes, and skim regularly, until no foam is formed on the surface. After about 20 minutes add the vegetables (peel the carrot if you want to use it later in the dish). Add the bay leaves, salt and peppercorns. Let it all simmer for another 20 minutes and so, and keep skimming the foam if there is more. Take the carrot out while still firm is using in the dish later. When the stock is done (chicken is cooked), take the chicken out on a plate and strain the stock. Discard the rest of the veggies. Remove the skin and bones of the chicken and shred the meat (add some stock on top of it and cover the chicken while you are cooking the mushrooms, so it doesn't dry out). You will only need one cup of stock for this dish, store the rest in the fridge for another dish.
3
MAKE THE CREAMY MUSHROOMS AND CHICKEN:
4
Add a generous amount of avocado oil to a big sauteeing pan, on medium heat. Add the clean, dry and chopped mushrooms and the garlic and sauté until moisture is released and fragrant, about 15 minutes (stir regularly).
5
Add some stock if it starts sticking to the pan. Once the mushrooms are cooked, add the shredded chicken, and mix well.
6
Add the coconut milk, and some stock but not more than 1 cup. Bring to a boil and simmer for about 10 minutes or until the sauce starts to thicken.
7
Prepare the arrowroot flour by dissolving it in cold water to get a paste. Add a few teaspoons of warm stock to the arrowroot paste, then add everything to the dish. Stir well and cook for another 5 minutes or so. It will start to thicken.
8
Add the fresh parsley, taste for salt and pepper, and add some lemon juice to your taste. Add the chopped, cooked carrot if using.
9
Serve with steamed, baked or sautéed broccoli, broccolini or broccoli rabe, or anything green for a pop of color.
Notes
Please read the post above for more details of the process.