This saag paneer recipe must be one of my favorite lectin-free recipes I adapted in a while. I mentioned in a previous post that I have more of a green tooth these days, and whenever I find a delicious way to get a lot of greens in one meal, I'm super happy.
My lectin-free saag paneer is a fast, inexpensive, nutritionally dense, and anti-inflammatory dish and doesn't require precision. And it was a hit even with my husband, who usually has to be tricked into eating more greens. Sound familiar?
Nutritionally dense, anti-inflammatory, delicious food
I have eaten the authentic saag paneer many times while living in Dubai. It was one of my favorite dishes to order in Indian / Pakistani restaurants because it was the less spicy (and I have a problem with handling spicy), along with aloo gobi and butter chicken. One of the first lectin-free recipes I created was aloo gobi, although before I had the website, I never got to post it. Next in line!
Paneer is an Indian cheese that can be easily made at home, but to be honest, I even have my limits when it comes to home cooking, and cheese is one of them. Not that I couldn't do it, I just have other priorities. Saag (the greens part) is a dish so that it can be made without cheese. So I tried to use a cheese made for grilling, a Greek one.
It didn't work as well as I expected because it melted in the pan, but it didn't bother me at all. It had a pleasant taste. Next time I might try halloumi, which I know handles heat better. And someday, maybe I will give homemade paneer a try. The most important part of this dish is the green part, and for toppings, you can even get more creative. I was even thinking just to sprinkle some feta crumbles when serving.
Saag paneer made with collard greens, swiss chard and spinach
The green part is made traditionally with mustard greens and spinach. The first time I wanted to make this, I didn't find any mustard greens. So I made it with collard greens, Swiss chard, and spinach (the mature one, not the baby). I got one bunch of each.
In my opinion, any mixture of bitter and less bitter greens (to balance it out) will work. I'm not a purist, and I'm just interested in creating and adapting healthy dishes that taste good.
Later edit: I re-made this recipe with mustard greens and a mix of more spicy greens, and it was delicious (the one on the left (first image below) is with mustard greens and some other spicy greens, and the one on the right (third image below) is with collard greens and Swiss chard.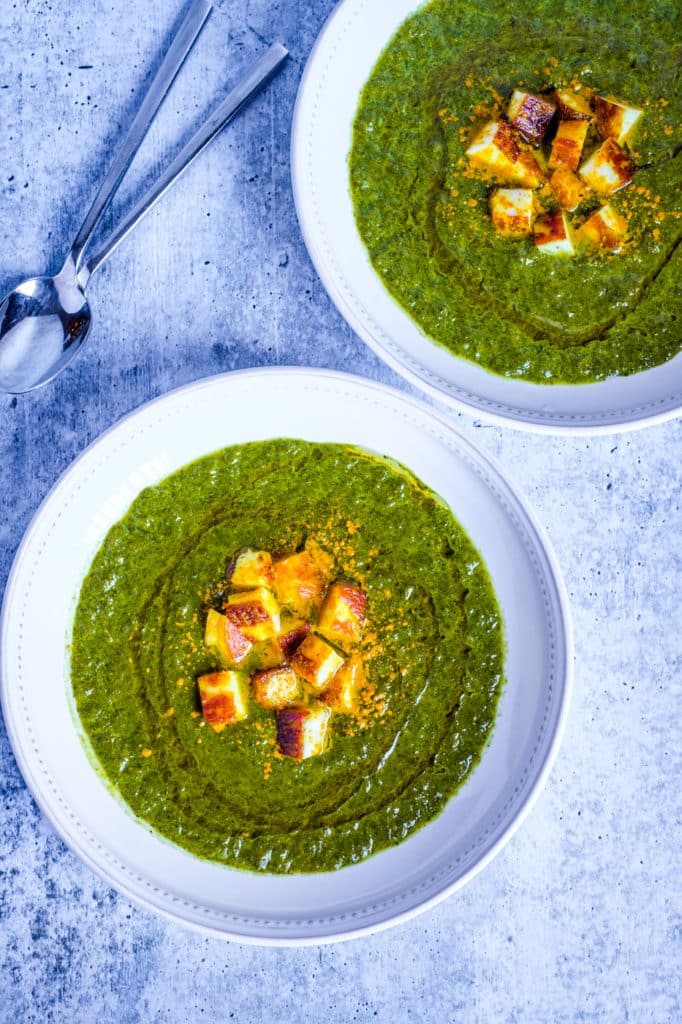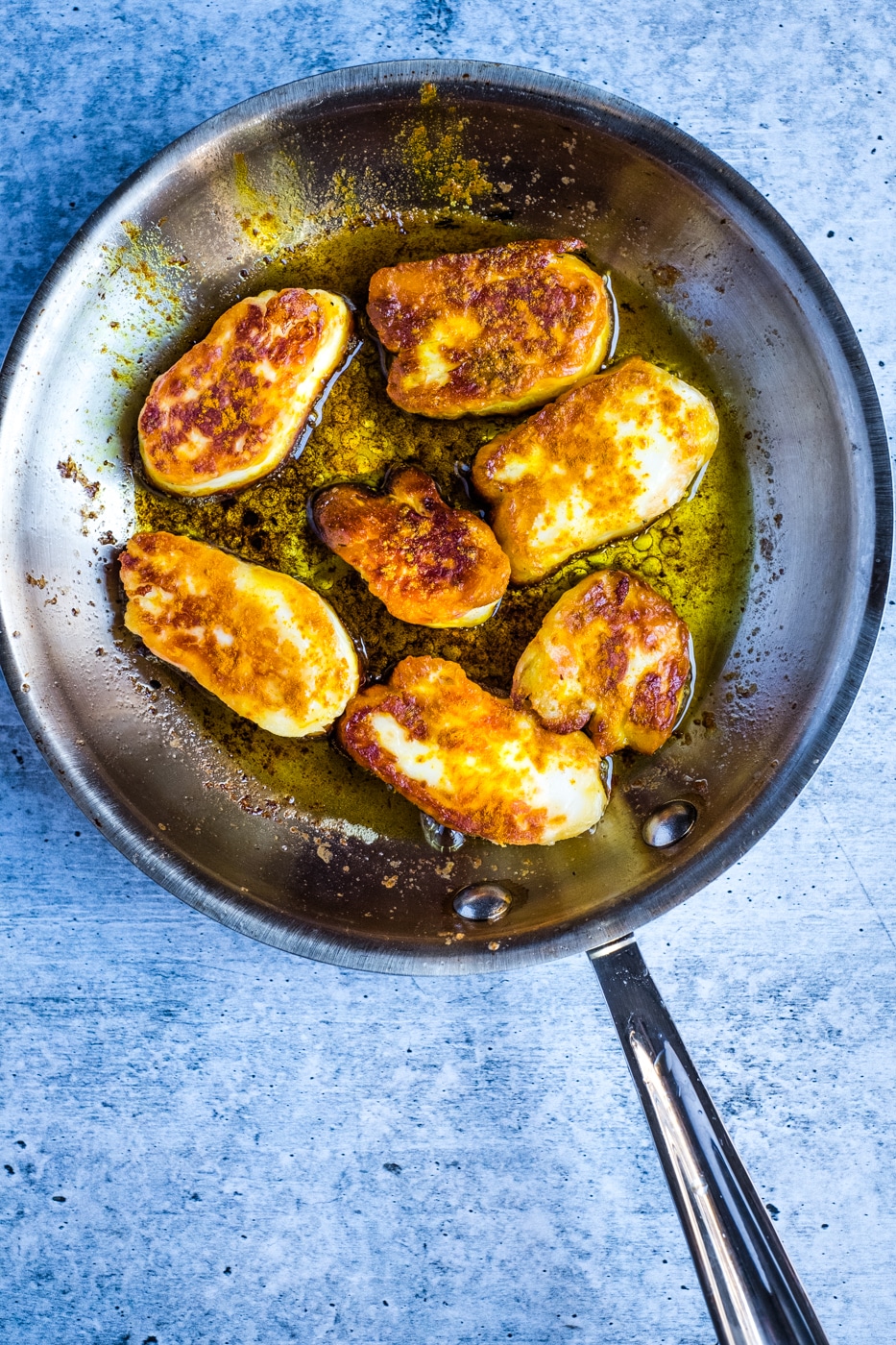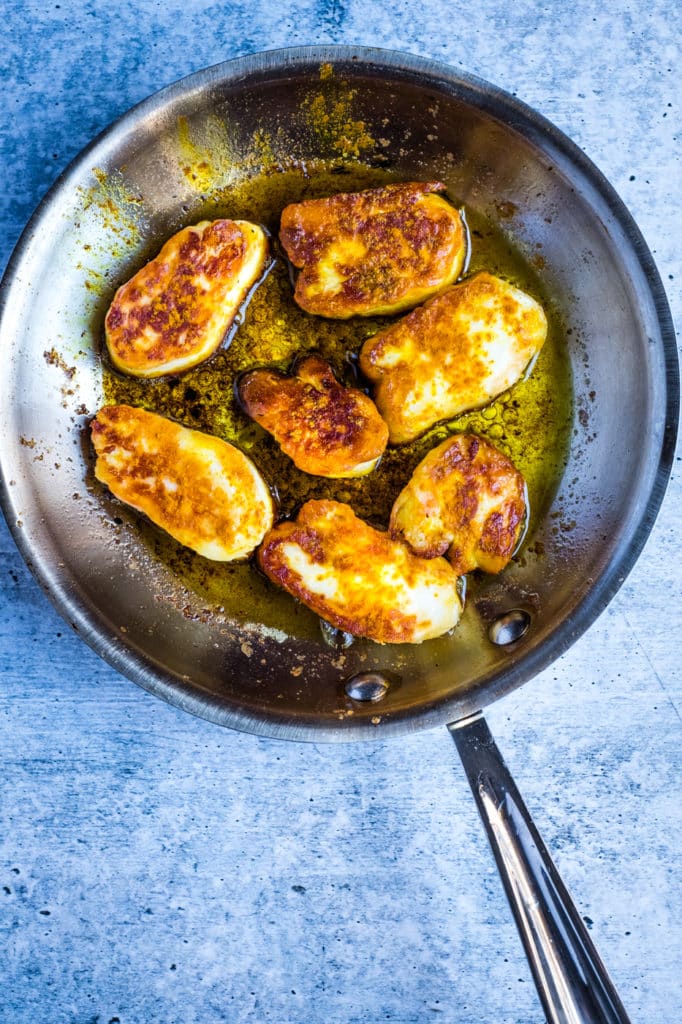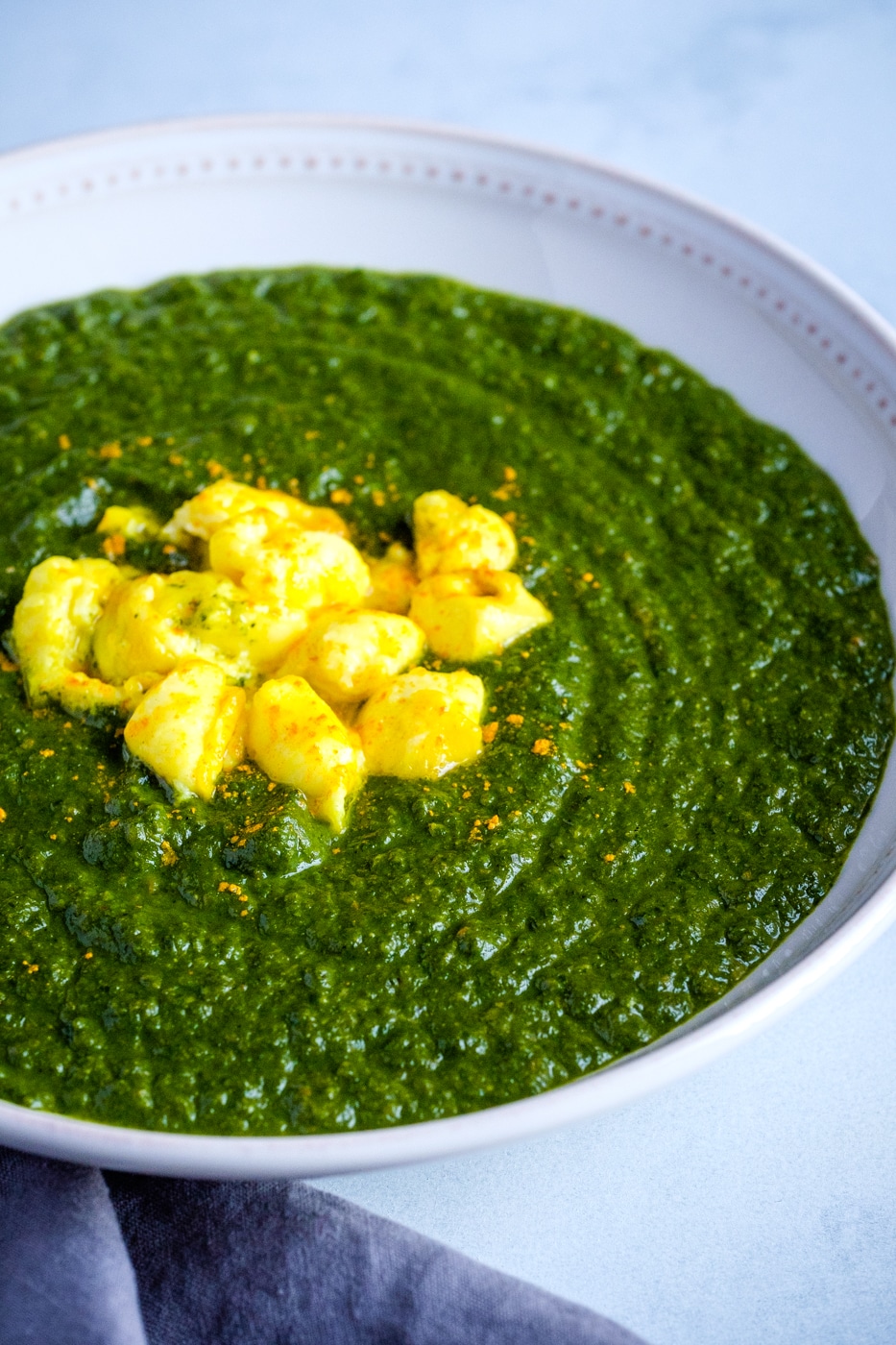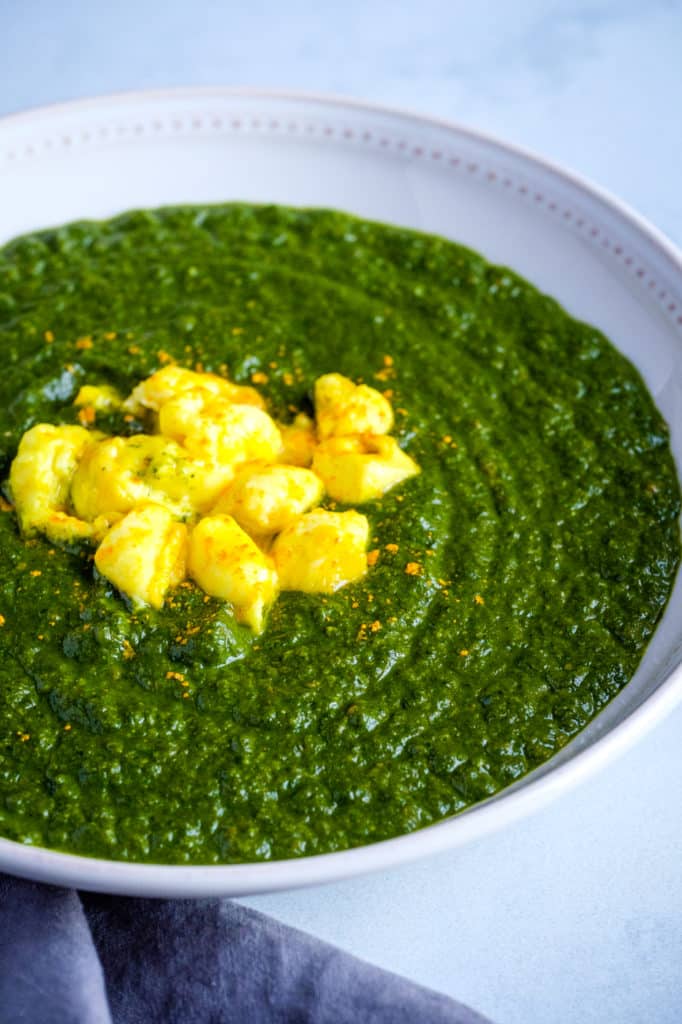 How to serve lectin-free saag paneer
Serving-wise, traditionally saag paneer is served with naan (the Indian flatbread) and yogurt. We served it with goat yogurt, and my husband got a grass-fed sausage. I warmed up some Siete almond tortillas, and even though they are not as unique as naan bread, they are healthier, and that's what matters. The Cassava tortillas would work well too. One day I'll make this dish with chicken.
I thought I'd have some leftover by using all these greens, but no, we ate it all for dinner. So if you want to feed a bigger family, I recommend doubling the recipe. It would be best if you had a big pot because those greens take a lot of space. Or add them gradually.
Oh, and the spices, this is where you can't improvise. You need Garam Masala spice mix, turmeric powder, cumin powder, fresh ginger, and turmeric. And some cayenne if you want to make it spicy.
*This page contains affiliated links, which means I get a small commission if you choose to purchase something via one of my links, at no extra cost to you.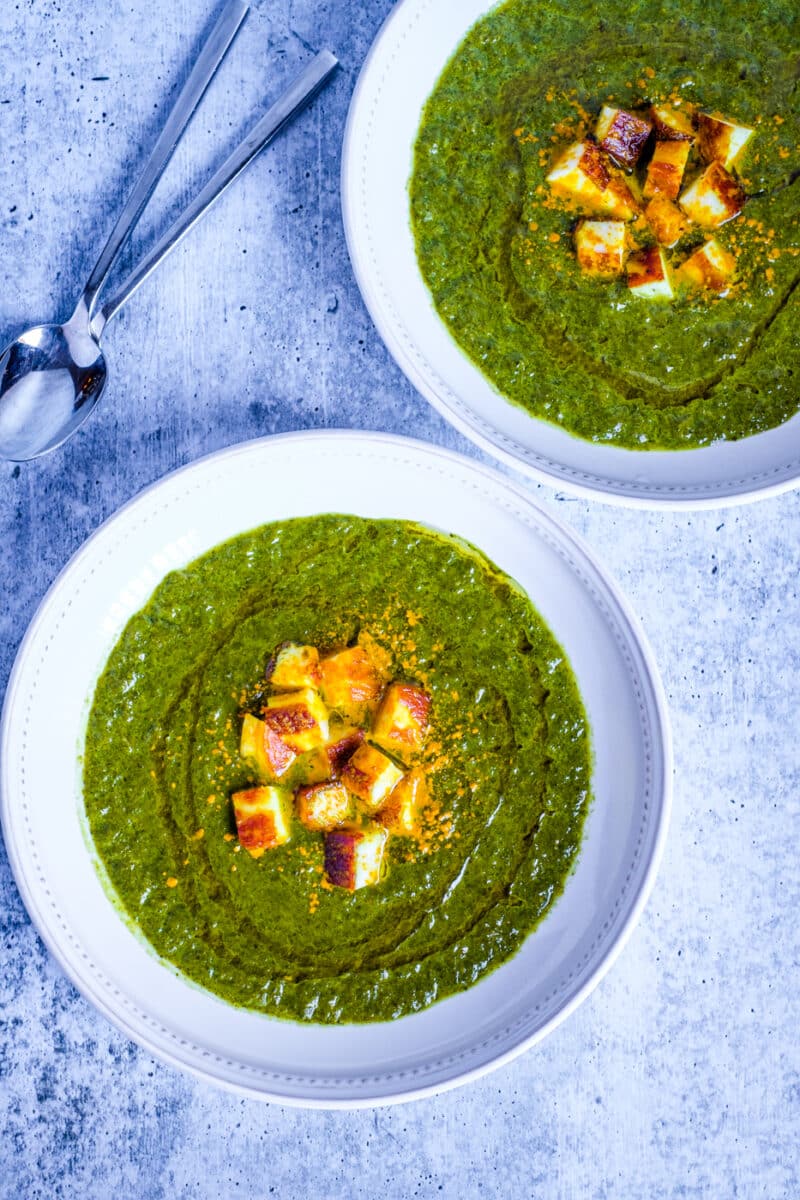 Print Recipe
My Lectin-Free Take on Saag Paneer
A nutritionally dense, anti-inflammatory, delicious meal
Ingredients
FOR SAAG

1 bunch collard greens

1 bunch Swiss chard/mustard greens (or use only mustard greens and spinach)

1 bunch mature spinach

1 medium yellow/sweet onion, chopped

4 garlic cloves, smashed and chopped

1 thumb-size ginger piece, grated

1 thumb-size turmeric piece, grated

2 tsp garam masala

1 tsp turmeric powder

1 tsp cumin powder

Cayenne - optional, if you want to make it spicy

salt and pepper to taste

avocado oil + grass-fed ghee

PANEER:

A compliant cheese that works for grilling/cooking, like halloumi (if made from sheep/goat cheese is compliant) OR you can skip this altogether or simply add some crumbles of feta cheese on top

avocado oil and turmeric powder for frying

FOR SERVING:

compliant flatbread/almond or cassava tortillas

goat or sheep yogurt
Instructions
1
Make saag. Wash thoroughly all your greens and let them drain (they don't need to be dry). Remove the stems from the collard greens and chop all the greens. In a big skillet add avocado oil and ghee (half-half) to generously cover the pan. Add the chopped onion, garlic and the grated ginger and turmeric and sauté until translucent. Add the spices, and stir well. Whenever you see the pan is getting dry and the spices are sticking, add a few tbsps of water and stir again (you don't want the spices to burn). When everything is golden brown, but not burnt, add the chopped greens (collard greens and Swiss chard first), stir and let them wilt, then add the spinach. Or add them gradually if your pan is too small. Once all the greens are added, add a few tbsp of water, cover and cook for about 30 minutes, or until all the greens are cooked. At this point, your greens are ready to transfer to a blender and mix until you get a puree-like texture. Add them back to the pan, add salt and pepper to taste, add some water if its too thick, and let it simmer for few more minutes.
2
Make the 'paneer'/cheese. Cut your cheese in cubes, or slices if using halloumi, sprinkle with turmeric and grill or fry in avocado oil. Add to your saag (in the pan or when serving).