Berries are the darlings of the plant paradox program. They are to be consumed in moderation and only in season, like any other fruits, but they are more desirable than most other fruits due to their low sugar content and incredible benefits.
So unless you are following the Keto Intensive Program and/or are insulin resistant, now is the time to enjoy the summer berries. And this lectin-free, added sugar-free, grain-free and extremely easy-to-make summer berry crumble, is a refreshing addition to your diet this summer.
Sweet, sour, crunchy, fresh
That's pretty much how I would describe this plant paradox summer berry crumble. The reason I decided to make it was because I had a variety of berries from my shopping trips in the past week that had to be used: blueberries, strawberries and a few raspberries.
And by the way, when it comes to berries, always part of the dirty dozen group, buy organic. Better not have them at all if you don't find them organic; the amount of pesticides that you can find on berries is scary. You can check the updated dirty dozen list and find out more details on EWG website.
How to make summer berry crumble
The crumble was made of ground hazelnut and ground almonds. I used whole hazelnuts and blanched almonds and processed them in my KitchenAid to get small size pieces – you don't want to make it all the way to flour but also they have to be small enough to stick together and create the crunch.
Pecans will also be great for this crumble.
I added coconut flour, shredded coconut, Lakanto golden sweetener and French butter (you can use a mix of coconut oil and coconut butter for a dairy-free version). Use one heaping tablespoon of coconut oil and one heaping tablespoon of coconut butter for a vegan version.
You can make these as individual portions in ramekins, or you can use a bigger one, like the one you see in my picture. Mine is Pyrex and it has a lid, and I think is sold as a small casserole baking dish (it needs to hold about 3.5 cups of content).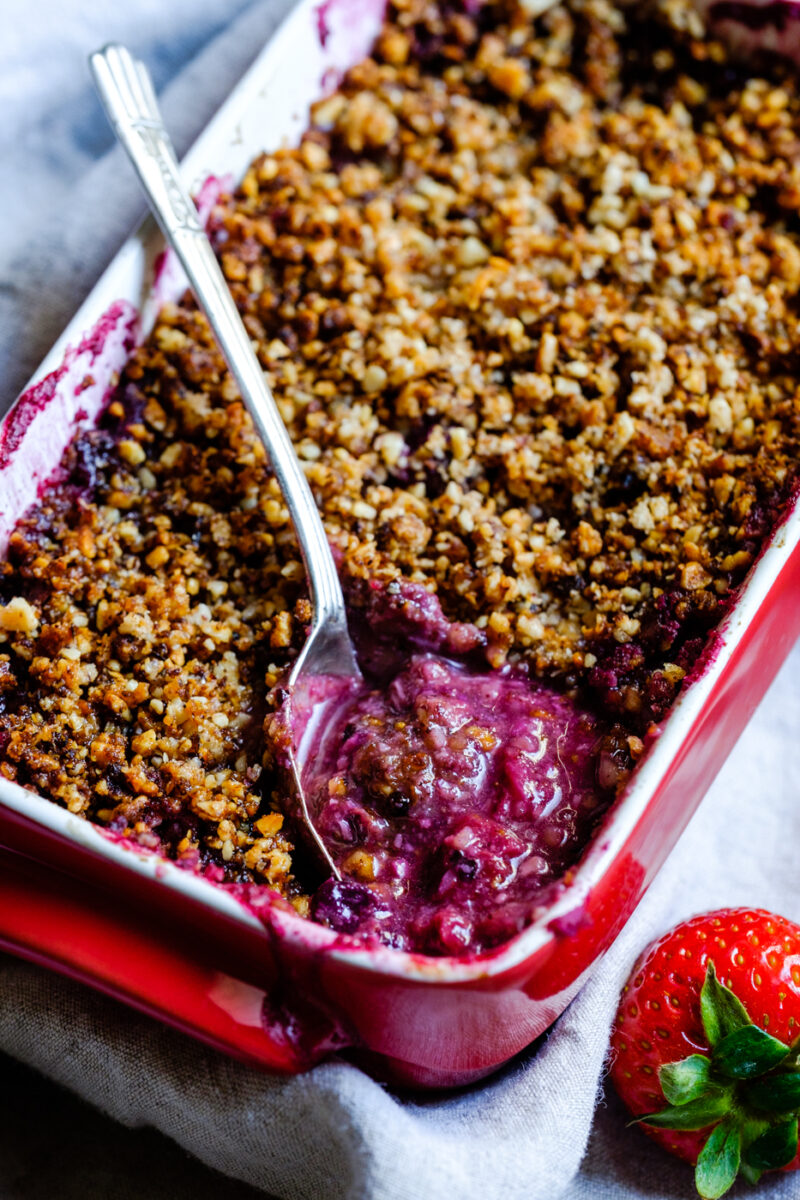 Print Recipe
Plant Paradox Summer Berries Crumble
Take advantage of the berry season and make a grain-free, sugar-free, lectin-free berry crumble.
Ingredients
FOR THE CRUMBLE:

3 oz ground raw hazelnuts

3 oz ground blanched almonds (pecans can be used instead)

2 tbsp coconut flour

2 tbsp shredded coconut

1 tsp Lakanto golden sweetener

1 1/2 - 2 tbsp butter (you can use a mix of coconut oil and coconut butter for a dairy-free option)

FRUITS:

2 cups of mixed blueberries, sliced or chopped strawberries and raspberries

1 tsp Lakanto golden sweetener
Instructions
1
Preheat the over to 350F.
2
Make sure the fruits are washed and dried before you start the preparation.
3
Mix all the crumble ingredients in a bowl with the cold butter and mix with your hands until the pieces of butter almost melt and all stick together.
4
Roughly chop or slice the strawberries and mix them with the raspberries, the berries and one tsp of sweetener.
5
Add the berries in the baking dish first, leaving about 1/2 inch or 1 cm on top and add the crumble mixture on top, pressing down slightly.
6
Bake uncovered for 35 minutes. If the top starts burning, turn the heat down to 325F and/or cover with some parchment paper or aluminium paper (making sure the aluminium doesn't touch the food).
7
You can serve it warm, but I tried both cold and warm and I certainly prefer it cold from the fridge.
Notes
This crumble can also be made with frozen berries if you don't have access to fresh ones.