Chicken, fonio, and a green, creamy dressing are all you need for a light and refreshing summer meal. This chicken and fonio platter with herb avocado cream is easy to make, healthy and can be assembled in a variety of ways, including as a salad.
What is fonio?
Fonio is a millet with small grain, native to West Africa. Additional to being a lectin-free and gluten-free grain, fonio is a nutritional powerhouse. It's a good source of B vitamins, iron, copper, zinc and magnesium.
What I found very interesting is that in some parts of Africa, fonio is used to stimulate milk production in breastfeeding mothers. This will make fonio a great alternative for oats, which are heavy in lectins, in the western world.
Unfortunately, fonio is not that easily available, but I'm sure it will become more available as we understand its benefits both for health and for the environment.
How to make the herb-avocado cream
You only need a blender to quickly put this creamy dressing together. As fresh herbs, I used dill, parsley, and mint but you can play around with other herbs if you want.
Avocado will give this dressing its creamy texture, but if you are on a low histamine diet and want to avoid avocados, you can add instead some hemp seeds to the blender. They will help thicken the sauce and will give it a nice, nutty flavor.
How to serve this chicken and fonio platter
While the chicken and the fonio were served separately in this case, the ingredients will make a great salad. Just cut the chicken in cubes, mix with the fonio, the creamy dressing, and the microgreens and serve as a salad.
I see this as a perfect salad for a summer garden party or a light dinner al fresco. You can also make this meal a takeaway lunch and serve it cold.
More chicken recipes
For more chicken recipes, check out my article: 13 Plant Paradox Recipes with Pasture-Raised Chicken.
*This page contains affiliated links, which means I get a small commission if you choose to purchase something via one of my links, at no extra cost to you.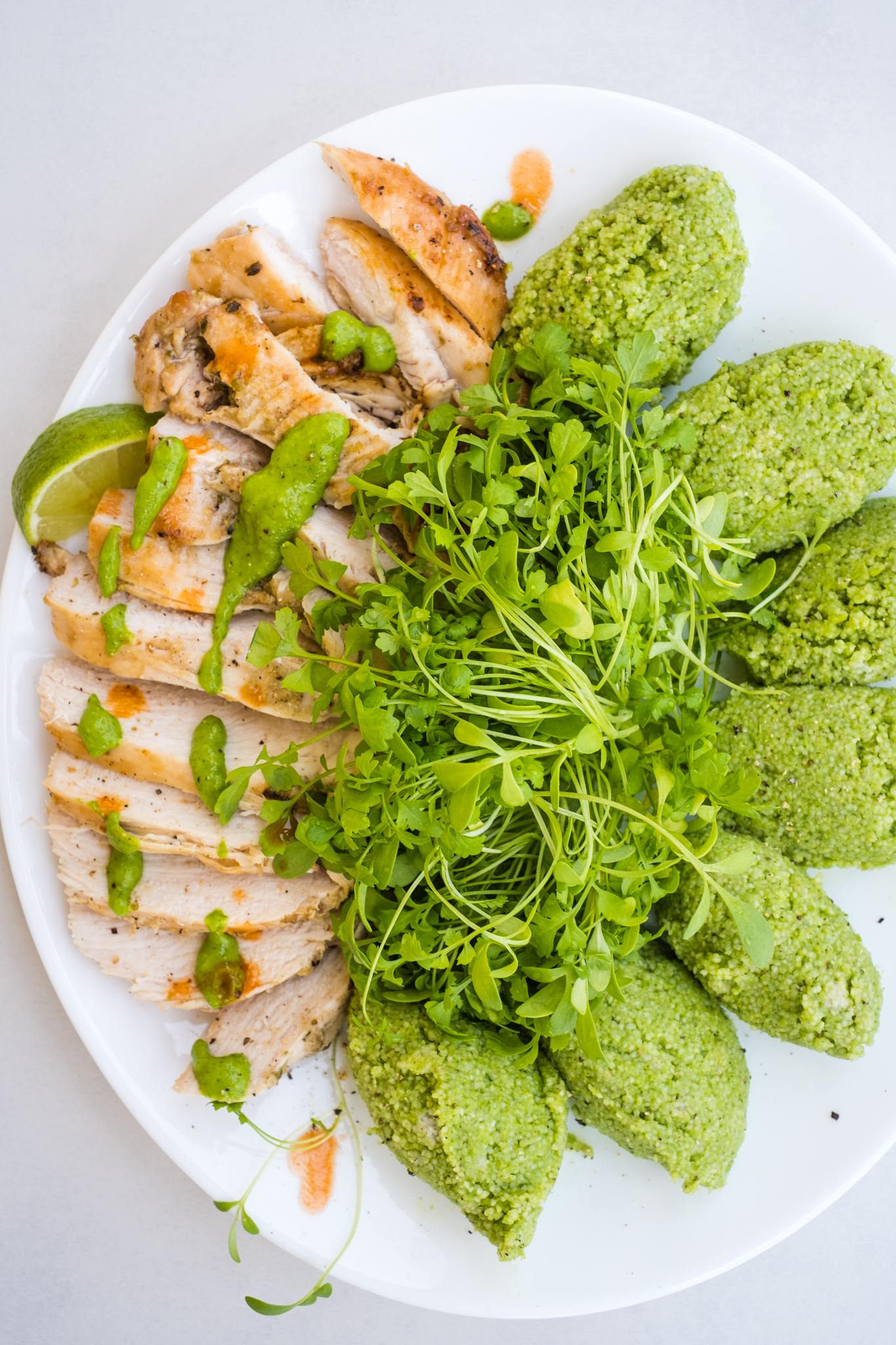 Print Recipe
Chicken and Fonio Platter with Herb-Avocado Dressing
This chicken and fonio platter with herb avocado cream is easy to make, healthy and can be assembled in a variety of ways, including as a salad.
Ingredients
FOR THE FONIO:
100 grams fonio
double the volume of water
1/2 teaspoon salt
FOR THE CHICKEN:
400 grams / 1 lbs skinless chicken breast
2 tablespoons extra virgin olive oil
2 tablespoons lemon juice
1 teaspoon fenugreek powder
1 teaspoon oregano
1 teaspoon salt
1/2 teaspoon pepper
more oil for cooking
FOR THE DRESSING:
1/2 avocado
1 bunch of fresh dill, roughly chopped
1 bunch of fresh parsley, roughly chopped
1 bunch of fresh mint leaves and the young stems
1 garlic clove or leaves of one spring garlic
juice of 1/2 lime
4 tablespoon extra virgin olive oil
4 tablespoons filtered water
1/4 teaspoon salt (or more to taste)
1/4 teaspoon freshly ground pepper (or more to taste)
FOR SERVING:
Mixed sprouts, microgreens, or garden cress
Instructions
1

TO COOK THE FONIO: bring the water to a boil (the ratio of water to fonio is 2:1), add a pinch of salt to it. When the water is boiling, lower the heat to a minimum and add the fonio. It only needs 3 minutes to cook. Stir with the fork until all the water evaporates, take off the heat. Continue to stir with the fork to fluff it up. Let it rest while you make the chicken, it doesn't need to be warm when served.

2

TO COOK THE CHICKEN: Rince and pat dry the chicken breast, drizzle with olive oil and lemon and sprinkle on all the spices. Rub well. Heat a skillet with some extra virgin olive oil, and add the chicken, cook on medium heat for about 5 minutes on each side to get a crust, then cover and cook for about 10 minutes more. It will depend on how big your chicken breasts are. Mine was really thick so needed a bit of extra time. If you are not sure when is ready cut with a good knife in the thickest part and make sure is no longer pink. Don't overcook it as it will get dry. When done take it out of the pan and let it rest.

3

TO MAKE THE CREAM: While the chicken is cooking, you can make the cream. Add all the ingredients to a blender and mix until creamy. Taste and adjust for salt, pepper and lime, if necessary.

4

TO ASSEMBLE THE DISH: Mix the millet with half of the cream. Taste and add more salt and pepper if necessary. You can serve it as a bed for the chicken, or you can make some dumplings with the help of two big spoons (like in the picture). You can even chop the chicken and mix it with the fonio and microgreens and serve it as a salad.
Notes
To make this meal into a summer salad, cut the chicken into small cubes and mix with the fonio, creamy dressing and microgreens. It can be served warm or cold.