Every now and then I crave rice pudding. I usually have it as a main meal, not as a dessert. Rice pudding was one of my favorites foods growing up. When I met my Danish husband, one of the meals he made me was 'risalamande'. That is a traditional Danish rice pudding with almonds usually made around Christmas and New Year's Eve. Delicious!
Rice Pudding, Miracle Rice comes to the rescue
In phase 3 of the plant paradox program, Indian basmati rice is compliant. But to be honest, I don't think long-grain rice would be good for a pudding, and I don't feel a need to get to phase 3. I'm totally comfortable with not eating rice or nightshades. So miracle rice/shirataki rice are an excellent replacement in a pudding, and sometimes I even make it with millet. Not exactly the right texture but it works.
I had 2 small Texas peaches I bought a few days ago. They were getting wrinkly because neither I nor my husband eats fruits anymore. So I quickly made a mental inventory of what ingredients I have that I can use to make a peach recipe and something clicked when I thought: Organic Miracle Rice (Miracle Noodle Organic Gluten Free Zero Carbs Shirataki Miracle Rice, 7-Ounce, 6-Count"), peaches, macadamia milk and macadamia nuts.
Macadamia milk
Another breakthrough today was that I made my first macadamia milk (which is impossible to buy because they all have some non-compliant ingredients, such as pea protein), by simply using my Ninja Blender to mix raw macadamia butter with water. But that's not all. I also made my first batch of homemade raw macadamia butter with my new 7 cup Kitchen Aid food processor. Finally!
Other ingredients are shredded coconut, monk fruit sweetener, vanilla extract, Eden Organic Agar Agar Flakes, 1 Ounce". Agar agar is a thickener that works as gelatin. But I think it is a healthier alternative, plus is super easy to use.
For more pudding recipes you may like our Shirataki Noodles Chocolate Pudding with Almonds and Basil Seed Pudding with Cherries and Pistachios.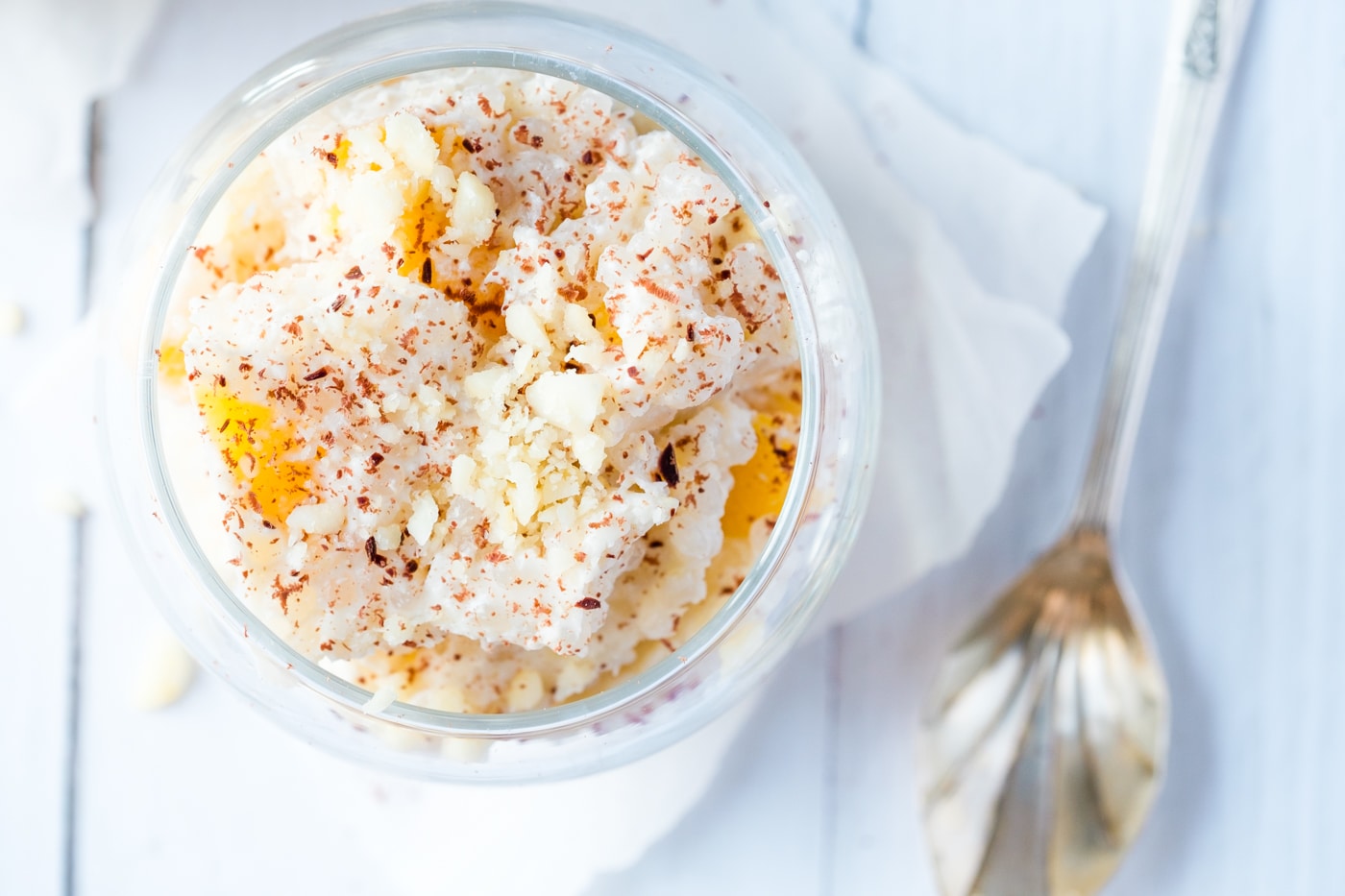 *This post contains affiliated links, which means I get a small commission if you choose to purchase something via one of my links, at no extra cost to you.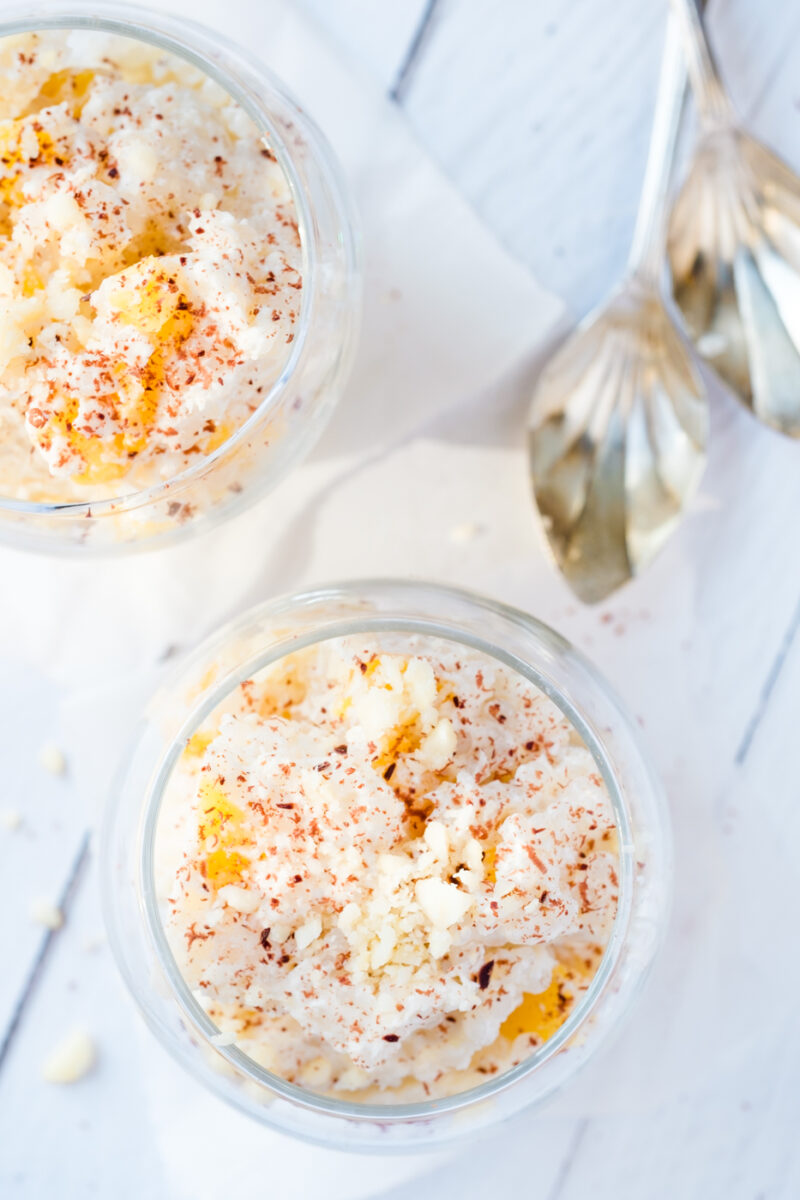 Print Recipe
Miracle Rice Pudding With Macadamia Milk and Texas Peaches
Ingredients
1 pack organic miracle rice

1 cup macadamia milk (mix 1 1/2 tbsp raw macadamia butter + 6 oz water in a blender, on high, until smooth)

2 small peaches (they are in season now in Texas)

1 - 3 tsp golden monk fruit sweetener

3 tbsp macadamia nuts, minced in a food processor (you want some crunch, so don't over mix)

3-4 tbsps shredded coconut

1 tbsp Agar Agar

3/4 tsp vanilla extract

dark chocolate flakes for serving
Instructions
1
Prepare the miracle rice: drain it, rinse it, and boil it for 2, 3 mins.
2
Peel and cube the peaches and add them to a saucepan with the monk fruit sweetener - 1 tsp for my taste is enough, but I have a feeling some of you will want one to two extra tsp). You can also add some sweetener at the end after tasting. Cook the peaches and sweetener for about 10 mins on low to medium heat.
3
Add the miracle rice, mix and cook for few more minutes and add the macadamia milk and the vanilla extract. Add the shredded coconut and the chopped macadamia nuts. bring to a boil.
4
Simmer and mix for about 5 minutes (low heat). Add 1 tsp of agar agar and simmer for 5 more minutes.
5
Let cool, agar agar will thicken once cold. Serve cold, garnish with some dark chocolate flakes.