One of the first Plant Paradox, lectin-free 'desserts' I made was the Shirataki rice chocolate pudding from The Plant Paradox book. I've always been really happy with it, but it involved a little few extra steps that were making this dish less approachable. Nothing difficult, but I heard people asking if there is a way to make it easier. Last night I wanted to fix some easy dinner and didn't have much in the fridge. I was also craving chocolate (I didn't have any in some time) so I thought I'd give this Shirataki noodle chocolate pudding recipe a try without following all the steps in the book. It worked!
Another kid-friendly meal?
I don't know, that would have to be tested by you parents out there. But I know as a kid some of my favorites comfort foods my mom was making were rice or noodle pudding.
Yesterday I opened the discussion about how to transition kids to a healthier diet. And a lot of parents said that their kids love bread and jelly. And while my main focus in the next few days will be to try to create a grain-free bread to make life easier for those parents, I think the better approach would be to try to make different things they like to replace the bread in the first place and try to involve them in the process and be transparent.
I know some kids would be more open than others, age and environment also matter, but it's worth the try. So I wonder, if we give kids a pudding like this one to replace the bread and jelly snack or breakfast at least one day a week, would they be satisfied?
Ingredients for the Shirataki noodle chocolate pudding
I used one pack of Shirataki Angel Hair from Miracle Noodle, original, unsweetened hemp milk from Pacific, organic cacao, slivered almonds (without skin), one pasture-raised egg, one tbsp arrowroot powder, confectioners Swerve, pure vanilla and almost extracts, cinnamon, coconut flakes. I just rinsed the noodles and let them dry, mixed all the other ingredients in one bowl, added the noodles to the oven-resistant pyrex and baked for 20 mins at 350F.
You can use this as a basic recipe but you can change the nuts, you can use coconut or almond milk instead of hemp, you can add fresh blueberries or other berries to the serving bowl, you can add a teaspoon of honey on top or adapt the sweetness level. And you can also add ground roasted hazelnuts on top and the taste will remind you of Nutella spread, or if your kids have nuts allergies maybe skip the nuts and add figs or berries.
You can use Miracle Rice instead of the noodles. That's what I used in the past and I loved the texture (similar to tapioca pudding). This is also great warm and cold, so can make for a great lunch box item.
I would love to hear some feedback from you, here or on my Instagram.
For another recipe with shirataki noodles try the Lectin-Free Miso Ramen Soup with Shirataki Noodles.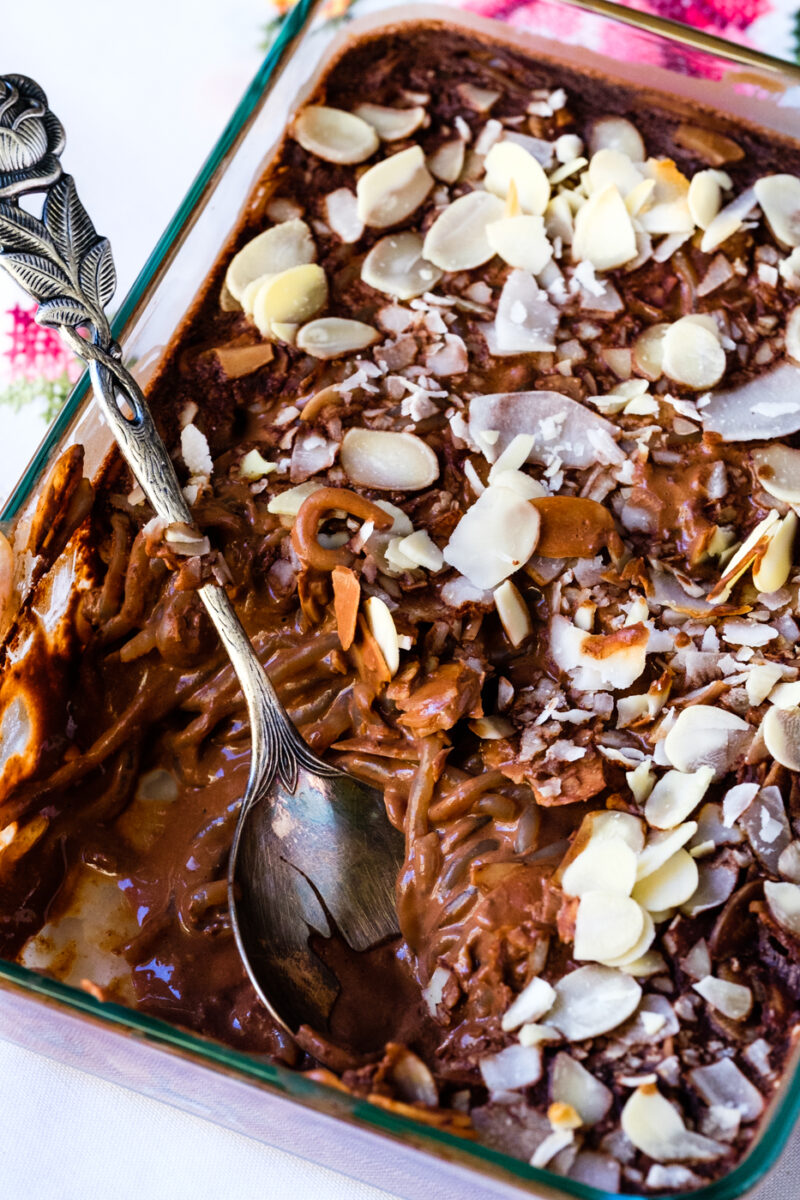 Print Recipe
Shirataki Noodle Chocolate Pudding with Almonds
Ingredients
1 pack (7oz) Shirataki Noodles Angel Hair (or use Miracle Rice instead)

1 cup unsweetened, original hemp milk (Pacific brand, or any other clean one)

1 pasture-raised / omega 3 egg

1 tbsp arrowroot powder

3 tbsp cacao powder (NOT cocoa, but pure, organic, non alkalized cacao powder)

1 tbsp Swerve (confectioners) - or more

1/4 cup slivered almonds, no skins plus a little more for decoration

1/4 - 1/2 cups coconut flakes

1 tsp pure vanilla extract

1/4 tsp pure almond extract

1/4 tsp cinnamon

pinch of salt
Instructions
2
Rinse the noodles or rice thoroughly in cold water, in a colander, for few minutes. Let aside to drain.
3
In a bowl mix the hemp milk with egg.
4
Mix arrowroot powder with a tsp of cold milk and add to the bowl.
5
Add cacao powder, whisk well.
6
Add the sweetener (1 tbsp or more)
7
Add the almonds and coconut flakes, vanilla and almond extract, cinnamon.
8
Add the noodles to the pyrex dish in an even layer and top with the mixture.
9
Add more slivered almonds and coconut flakes on top.
11
Take out and let it set for about 10 minutes, can be served warm or cold.
Notes
This makes about 2 adult serving sizes or 4 kids, depending on how old and hungry your kids are. I used only 1 1/2 tsp of Swerve, but this is on the bitter side, so if you know your kids have the sweet tooth, add more, at least at the beginning.