When I started The Plant Paradox program almost a year ago I was on a mission to make fat bombs, or keto cups, because I wanted to keep my dessert tooth satisfied. They are a perfect, zero guilt sweet treat and the easiest thing to make. Doesn't require baking either and they last a long time in the freezer. And they actually give you energy and nutrients instead of spiking your blood sugar and send you in a spiral of cravings.
Sweet treats that are good for your gut and brain
I have many recipes of keto cups that are plant paradox compliant and some of them have been posted on my Instagram, but since I started this website never got the chance to post any of them. So I'll start now with these ones, which were some of my favorites.
They are also super easy to make and require just a few ingredients (if you click on the links you can find the exact products I used): Wilderness Poets raw macadamia butter, unsweetened 100% cacao chocolate from Pasha Chocolate, dry unsweetened cranberries, raw macadamia nuts, coconut oil, coconut butter and lemon zest.
Plant paradox cups without any sweetener
I didn't add any sweetener because for me the coconut butter and macadamia butter have a natural sweetness to them, plus the dry cranberries. If you know you don't like bitter treats and prefer something on the sweeter side feel free to add few drops of Stevia. The good thing is that you can actually taste and decide for yourself before assembling and freezing the cups. You can start with adding 2 drops of Stevia, taste and maybe add more if you want to. You can add it to both the chocolate and the butter mixes.
I added some pictures of the assembly process since it might sound a little complicated, but it's not. I think using mini baking cups is the easiest way to make fat bombs or keto cups. I've tried making round ones that need to be shaped by hand and believe it can be a total mess.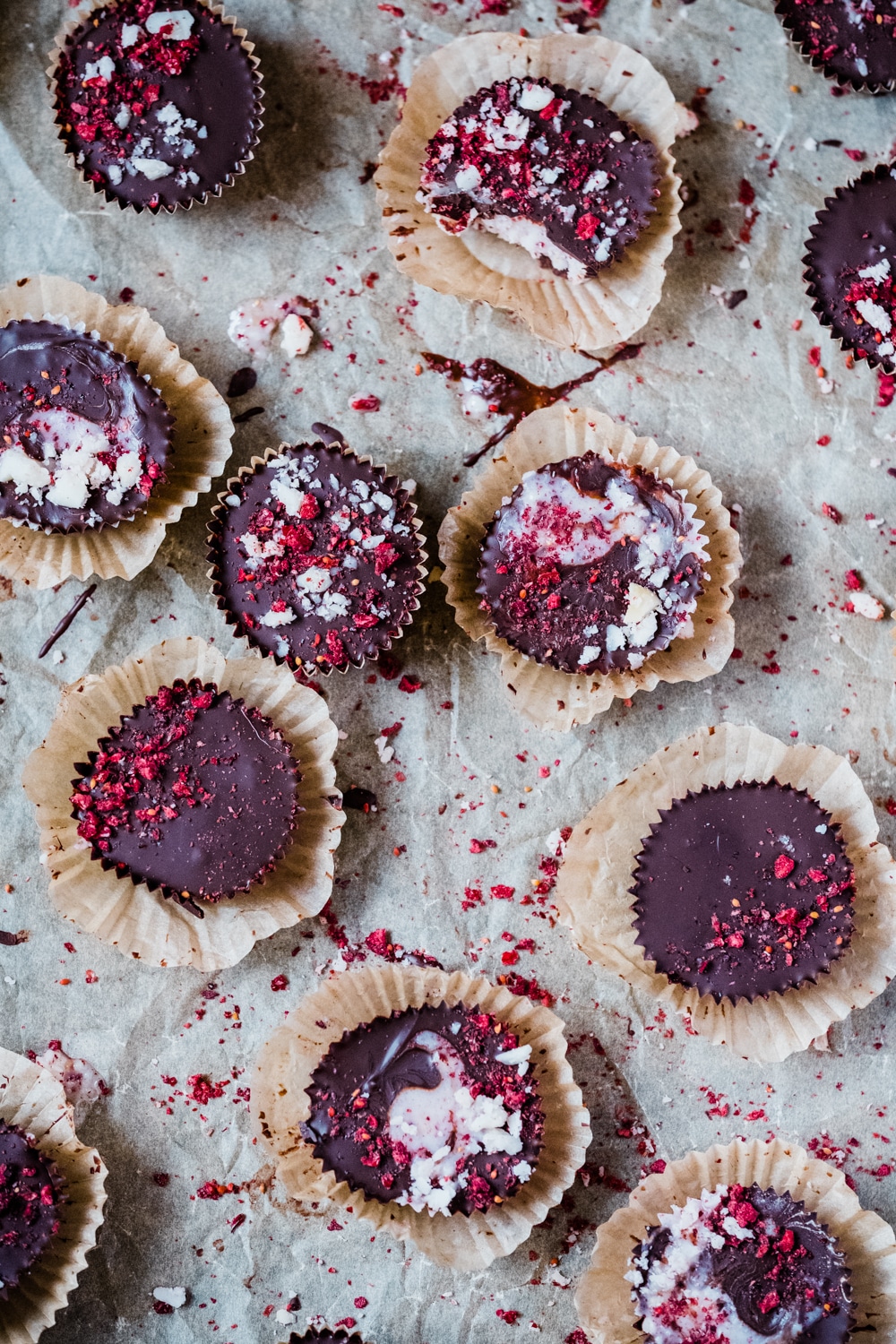 *This post contains affiliated links, which means I get a small commission if you choose to purchase something via one of my links, at no extra cost to you.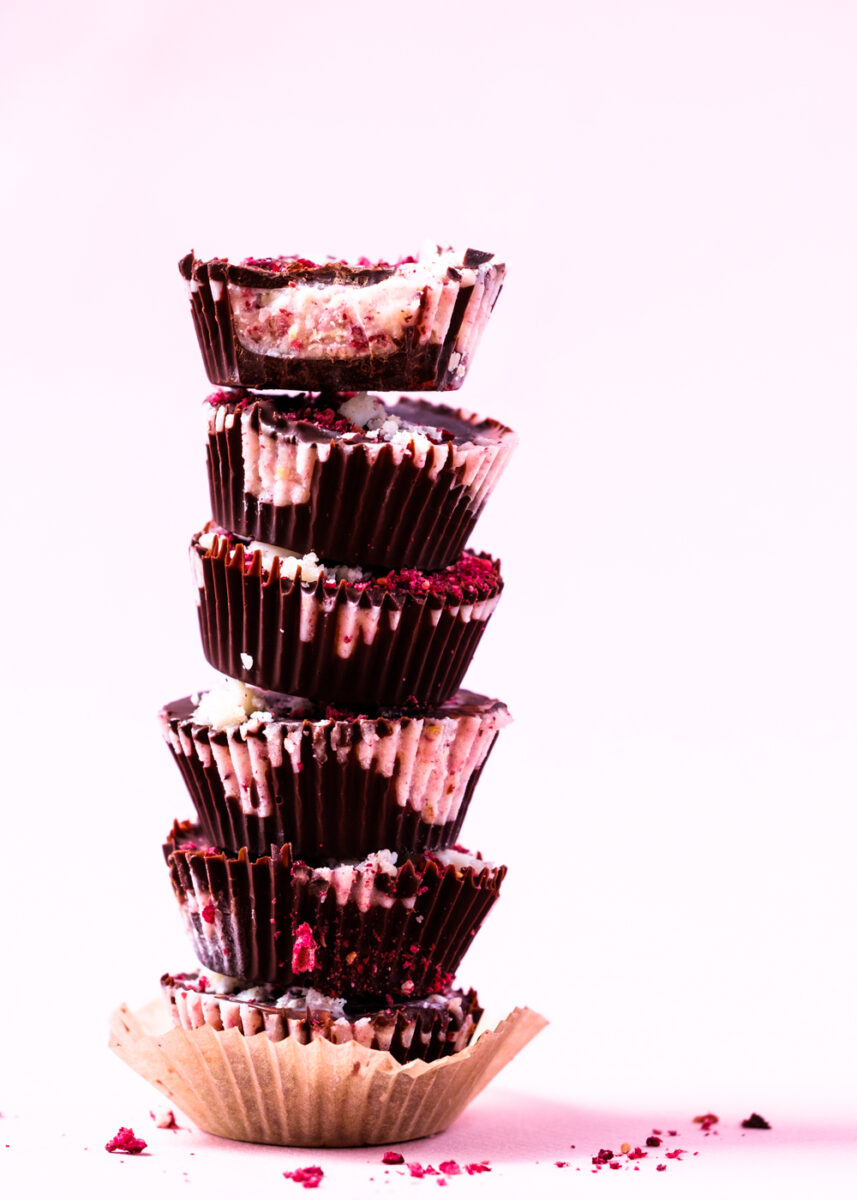 Print Recipe
Cranberry Macadamia Plant Paradox Cups
Plant Paradox healthy sweet treats that are good for your gut and brain
Ingredients
1/2 cup dry unsweetened cranberries, ground in a food processor (mine were frozen, which I think helped with making a beautiful powder) 

1/2 cup raw macadamia nuts, ground in a food processor (don't over mix them, you want a little bit of crunch).

4 oz raw macadamia butter

2 tbsp coconut oil

2 tbsp coconut butter

1 tsp lemon zest

4 oz 100% unsweetened organic dark chocolate

Optional: 2-4 drops of stevia
Instructions
1
Prepare a working surface with about 15 paper mini baking cups.
2
Prepare the butter mix: Add the coconut oil, coconut butter and macadamia butter to a thick saucepan and warm on the stove, above a pot with boiling water. Mix well. Add the lemon zest. When melted take from heat and add the cranberries powder and the crumbled macadamia nuts, saving some of both for decoration and for adding to the chocolate.
3
Melt the chocolate the same way you did with butter. Take off heat and add some of the left cranberry powder and mix.
4
Start assembling the cups on the working surface (I worked on a piece of parchment paper to avoid making a mess. Add melted chocolate to the bottom of the cups and spread around the edges. Freeze for 15 mins. Take out of the freezer and add the melted butter mixture until almost full (leave some space to add chocolate on top). Freeze for another 15-20 mins and add the top layer of chocolate. Finish with a sprinkle of cranberry powder and macadamia crumbles. Put back in the freezer for about 30 mins before serving.
Notes
They are best eaten straight from the freezer, or after 5 - 10 minutes. They also can be stored just in the fridge but I like them a little more crunchy. They will melt if it's hot so this is not the kind of treat that you can carry in your purse in the summer.