When I successfully made the lectin-free green plantain granola, I noticed the mixture was quite sticky without having to add any liquid sweetener. So I decided to try green plantain granola bars. The first attempt was successful, but I didn't measure the quantities, so I made it again and wrote everything down.
They are super nutritious snacks, a great breakfast, excellent for travel and kids' snack. You can even pack them nicely and give them to your friends or coworkers.
Green plantain granola bars, a healthy nutty snack for everyone
There is nothing nasty in these granola bars: nuts, coconut oil and butter, few figs, unsweetened dry cranberries, cacao, hemp seeds and green plantain, but it tastes super good.
And you only need to mix everything in a food processor and bake for 30 – 35 minutes. It gets a little bit crumbly on the sides when cut and you have to handle them gently. But after one or two days in an air-tight container in the fridge, they are perfect.
You can use your own mix of nuts and if you want to go really safe with the texture, you can add Lakanto syrup (but you may have to skip figs in this case if you don't want it to be too sweet). You can taste it after you mix it and see if you like it.
I've been making my own granola for years, but it was always with oats and honey or maple syrup. I'm happy a no oats granola is possible, and I'll be working on perfecting this recipe.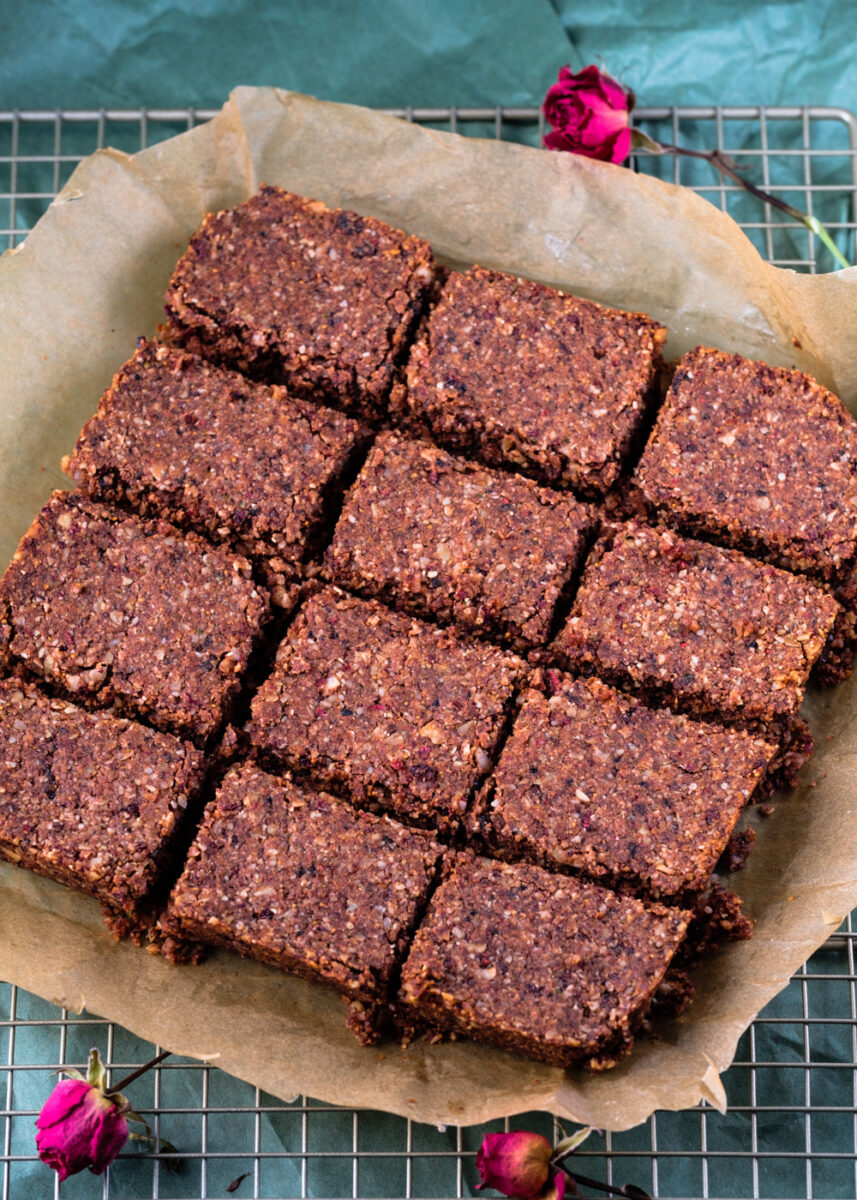 Print Recipe
Green Plantain Coco-Nutty Granola Bars
Ingredients
1 green plantain, peeled and sliced

2 cups (heaped) of mixed nuts (I used macadamia, walnuts, pecans, hazelnuts)

7 black mission figs, roughly chopped (they are twice as small as the Turkish ones)

1/2 - 2/3 cups of coconuts flakes

3 tbsp hemp seeds

6 tbsp coconut oil

3 tbsp coconut butter (manna)

2 tbsp cacao powder

1/2 cup dry unsweetened cranberries

1 tsp vanilla extract
Instructions
1
Mix all ingredients in a food processor until moist and almost smooth (there will still be some texture, which is what we want, but not too much so it sticks together). Put in a baking tray covered with parchment paper, press and level the mixture with the back of a spoon and smooth out.
2
Bake in the oven at 275F for 30 - 35 minutes.
3
Take out and cool completely.
4
Cut carefully, at this stage it is still a bit crumbly.
5
When completely cooled store them carefully in an air-tight container, in the fridge. They are good to eat immediately, but for some reason, they get so much better after one or two days in the fridge. You can also pack them individually and store them in the fridge. Or freeze.
Notes
I didn't want to add any sweetener because the sweetness from nuts, coconut and figs is exactly enough for my taste, but you can add some Lakanto syrup, or honey if you are in Phase 3 of The Plant Paradox program, that will help with the texture even more.