Before starting the Plant Paradox program, I occasionally made pumpkin soup, and I loved the creaminess, depth of taste, and vibrant color. Fear not, I found the perfect replacement to my vibrant pumpkin soup, using some of the darlings of a healthy guy diet: root veggies and resistant starches. This root vegetable soup is creamy and hearty.
Vegan, healthy, easy, lots of gut-loving veggies
I used red onion, rutabaga, sweet potato, celeriac, parsnip, celery sticks, and fennel for this creamy soup and elevated it to the status of a healthy elixir with extra virgin olive oil, fresh ginger, fresh turmeric, garlic, nutritional yeast, thyme and bay leaves.
You noticed  I don't ask for vegetable stock, and I don't usually use a stock when I cook with so many tasty vegetables. And I don't think there is a need for it. I recommend using a very good quality oil, like GundryMD Chef's Selection Organic Extra Virgin Olive Oil.
This root vegetable soup is comfort food, without the nasties
This root vegetable soup is perfect for cold days when you crave something warm and nourishing. I love the taste and the creaminess achieved without using any dairy. It tastes pretty similar to my old pumpkin soup, but without the pumpkin, which can be reintroduced only in phase three of the plant paradox, skin and seeds, removed, pressure cooked.
If you enjoy this creamy root vegetable soup, be sure to also try my Healing Vegetable Soup with Kale and Broccoli Sprouts.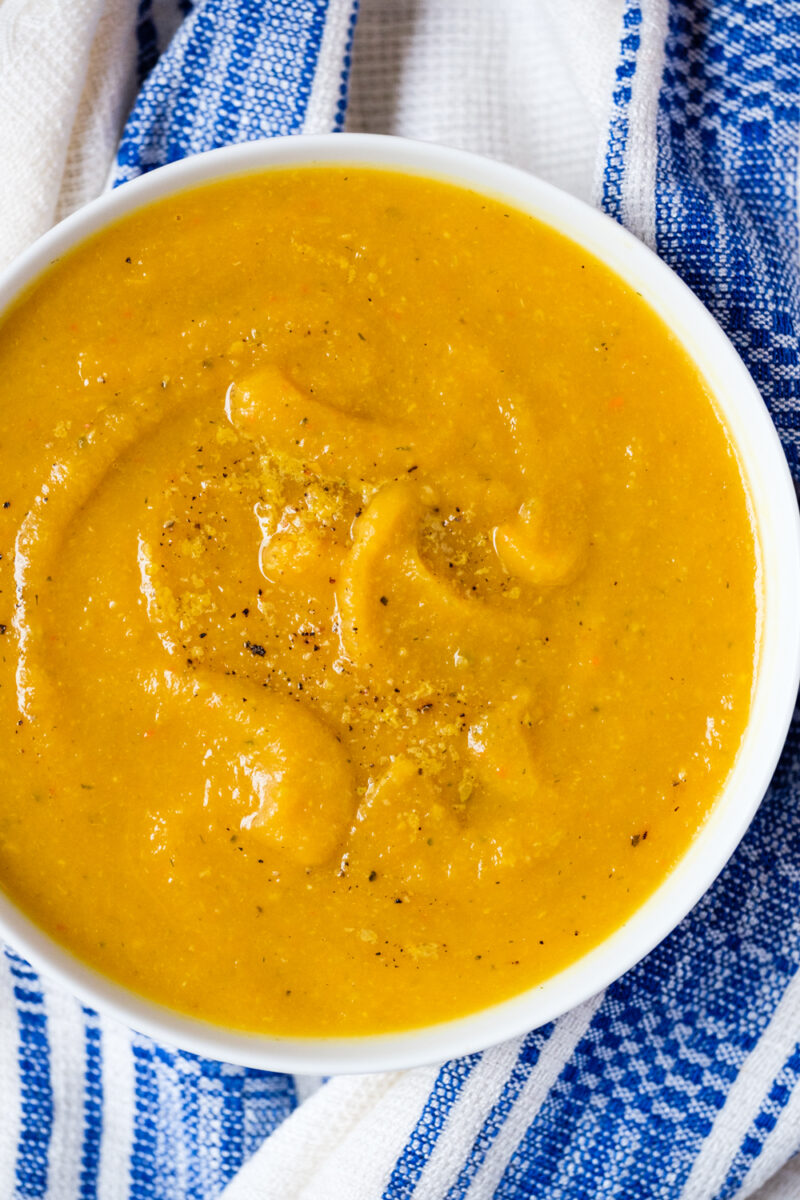 Print Recipe
Root Vegetables Soup, Creamy and Hearty
This lectin-free root vegetables soup is comfort food, without the nasties. It's nourishing and warming, with lots of gut loving ingredients.
Ingredients
1/4 cup extra virgin olive oil

1 medium red onion, chopped

1/2 medium Garnet sweet potato, diced

2 big celery sticks, chopped

1 small rutabaga, diced

1/2 big celeriac, diced

1 big parsnip, chopped

1 fennel stick, chopped

1 big smashed and peeled garlic clove

fresh ginger, size of thumb, chopped

fresh turmeric, size of thumb, chopped

3, 4 stems of fresh thyme

1 bay leaf

lemon juice (1/2 lemon)

1 tsp nutritional yeast

salt (iodized sea salt) and pepper to taste

hot water
Instructions
1
Heat the olive oil in a soup pot on medium heat and add the onions and celery and saute for about 10 minutes. Add the rest of the vegetables and the garlic and stir well. Cover the soup pot and let cook for about 5 minutes, uncover and stir again, cover for another 5 minutes, and repeat a couple more times. We want all the vegetables to cook in the olive oil and steam.
2
After 15 minutes add the thyme, bay leaf, salt and pepper and cover the vegetables with hot water. Cover and let simmer for about another 15 minutes, or until all the veggies are soft but not overcooked.
3
Transfer to a blender and mix until smooth. Put back in the soup pot and add more hot water if it's too thick and let simmer for a few more minutes.
4
Taste and season with nutritional yeast, and add more salt and pepper if necessary.
5
Add a squeeze of fresh lemon juice to taste, drizzle more extra virgin olive oil.
Notes
Lectin free and vegan.