Hello again from Romania. This is going to be a short one. While looking for ways to use the beautiful and delicious fresh figs our fig tree gifts us every day right now, I made this moist fig coffee cake with hazelnuts and wanted to share the recipe with you.
This fig coffee cake recipe is very similar to my Rhubarb Breafast Cake, but I didn't want to confuse you too much by adding it to that post. So I decided to dedicate it to one separate post.
Made with a flour mixture of almond and chestnut flour
I did some modifications like using almond flour instead of tigernut, mainly because I didn't find tigernut flour here yet (it exists but I have to order). The other flour used is chestnut, which lends the cake a special earthy, sweet flavor. If you don't have it in hand you can try replacing it with tigernut flour or use only almond flour. Maybe throw hazelnut flour into the mix.
I cannot guarantee the same result, but I'm always asked about substitutes. So I'm giving you just a start point if you want to experiment. If you experiment leave a comment below and tell us if and how it worked.
Fresh figs give the coffee cake a natural sweetness
Figs are in season now and they are delicious. I absolutely love how much natural sweetness they give to the cake when baked. So no need for much sweetener. I did use two teaspoons of honey because I had guests and I know people on a normal diet have a bigger sweet tooth than I have, but it would work or with less. Or use a compliant sweetener like Yacon Syrup, monk fruit, inulin powder, etc.
This is a double quantity compared to my Rhubarb Breakfast Cake. So it can be made in a full-size pie/tart dish, or in any square baking dish with low walls (mine was approx 17cm / 28cm or 7in / 11in Pyrex which is in fact a lid for another dish). I used it because the walls were low, and it is much easier to turn the cake when cooled since it's an upside-down cake.
I used about 16 figs for this coffee cake, as much as to generously cover the bottom of the cake pan without leaving spaces in between. Only wash them and dry them before using and cut them in quarters.
For all specialty items used in lectin-free cooking, organized by categories, check out my shop page.
*This post contains affiliated links, which means I get a small commission if you choose to purchase something via one of my links, at no extra cost to you.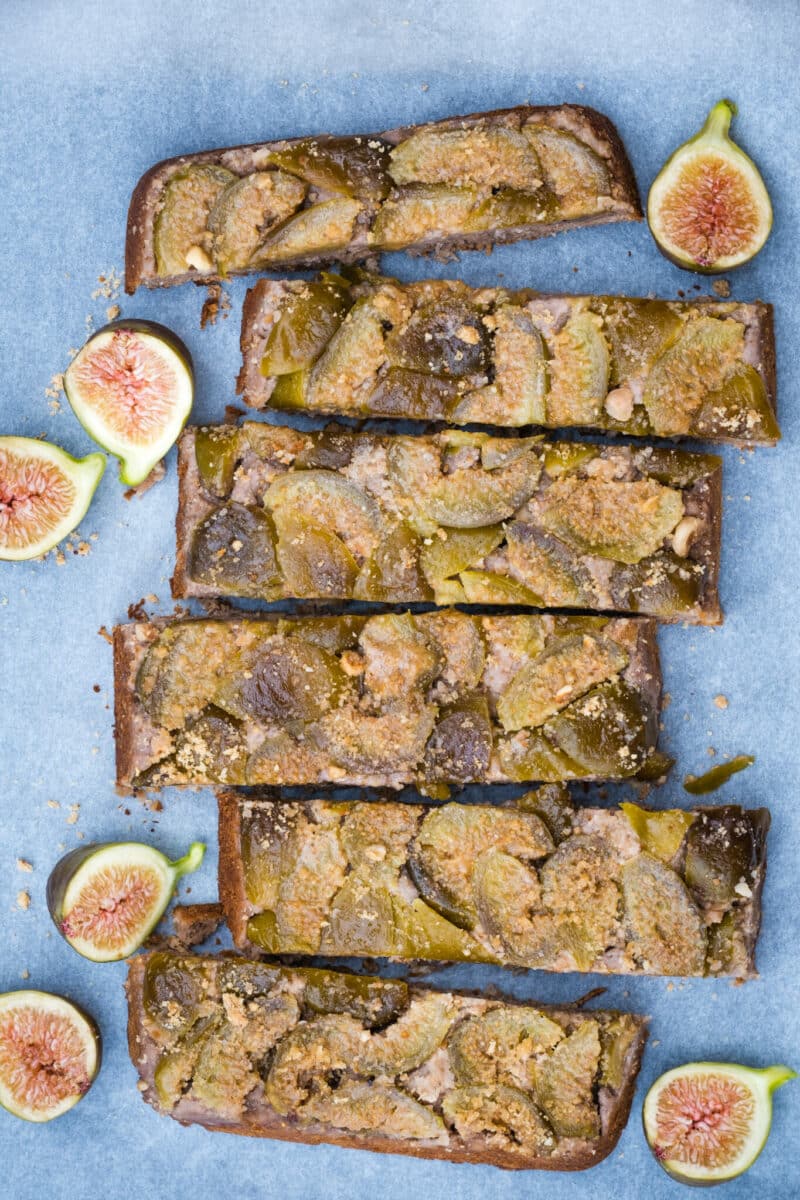 Print Recipe
Fresh Fig Coffee Cake With Hazelnuts
A delicious and healthy way to make a treat when fresh figs are in season.
Ingredients
1 tablespoon coconut oil, for greasing the dish
about 16 fresh figs, quartered
1/4 - 1/2 cup ground, roasted hazelnuts
8 tablespoons chestnut flour
8 tablespoons almond flour
2 tablespoons coconut flour
4 tablespoons shredded coconut
1 teaspoon baking powder
pinch of salt
2 big pastured eggs
4 tablespoons hazelnut butter
2 teaspoons honey (or other sweeteners of your choice)
1 teaspoon vanilla extract
zest from one organic lemon
250ml full fat coconut milk
Instructions
1

Preheat the oven to 350F.

2

Wash and pat dry the figs and quarter them.

3

Prepare the dish by generously coating it with coconut oil and arrange the figs on the bottom of the dish to fully cover it. Sprinkle the hazelnuts on top of the figs saving some to sprinkle when the cake is ready and turned upside down.

4

Mix the dry ingredients in a small bowl.

5

In a bigger bowl, mix the eggs with the nut butter, honey and milk and combine well with a hand blender. Start adding the flour and incorporate it into the liquid. When you are done with adding the dry ingredients, you can add more flour if you feel the batter is too wet. The figs will release liquid and you don't want the batter to be too moist. The batter will need to be spooned on top of the figs, it will not be runny (see pictures).

6

Level the batter and bake the cake on the middle rack for about 30 minutes.

7

Let it cool down for about 20 minutes before you turn it upside down, with the help of a plate/platter/cutting board. Check first the sides to see if there is any resistance. This cake should come out easily from the dish if the dish is well greased. Sprinkle with more hazelnuts on top. Serve warm or cold, I love it both ways.
Notes
Cut in squares or slice the way you wish and store in the refrigerator or freeze. I love it the next day for coffee, cold from the refrigerator.