Since rhubarb has appeared in my local grocery store, I bought it twice and experimented with it. My first attempt to make a dessert failed, although it was still eatable. It was a good base, but my ratio of crumble to filling was way off, too much crumble, at least for my taste.
So this time I kept it to a minimum, use pecans (because Texas) and one of my favorite new discoveries, the almond cream cheese from Kite Hill. This rhubarb tart turned out tasty.
Sweet, Savory and Tart, have I just experienced Umami?
I can't really give a name to this combination. It is tart/sour from the rhubarb, savory from the cream cheese, nutty from pecans, and sweet from figs and the sweetener.
Reminds me a little bit of Romanian cheese pies – just the perfect combination of sweet and savory. So anyway, this makes this dish perfect for any meal – I like to have it with coffee for break-fast but who says you can't have it for dinner, or lunch?
You need two 4 inch Tart Mini Pans like these: CHEFMADE 4Pcs Round Quiche Pan with Removable Loose Bottom, Non-stick 4 Inch Heavy-duty Carbon Steel FDA Approved, Oven Roasting Baking Mini Tart Pan (Champagne Gold)"
I find the KiteHill almond cream cheese at my neighborhood Whole Foods, if you don't find it you can replace it with another brand with compliant ingredients, or even with an organic dairy cream cheese or mascarpone. You can also make this in a normal glass baking dish, but you probably won't be able to take it out – if you don't need it to be pretty can be eaten straight from the dish.
For another healthy sweet treat with rhubarb, be sure to try my Rhubarb Breakfast Cake (gluten-free, sugar-free).
NOTE: If you don't have access to almond cream cheese, you can make it with Italian mascarpone or normal organic cream cheese, both are Plant Paradox compliant.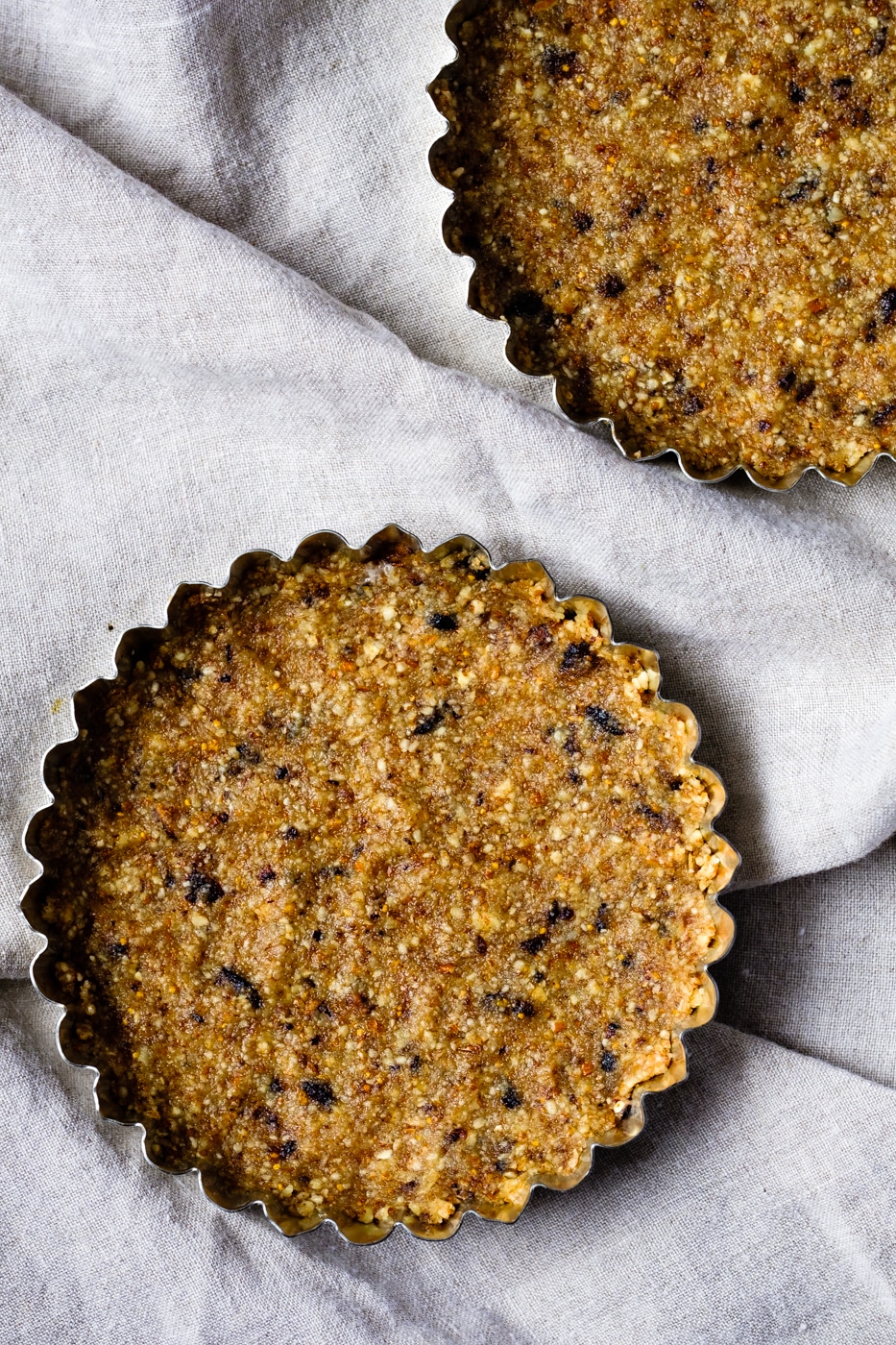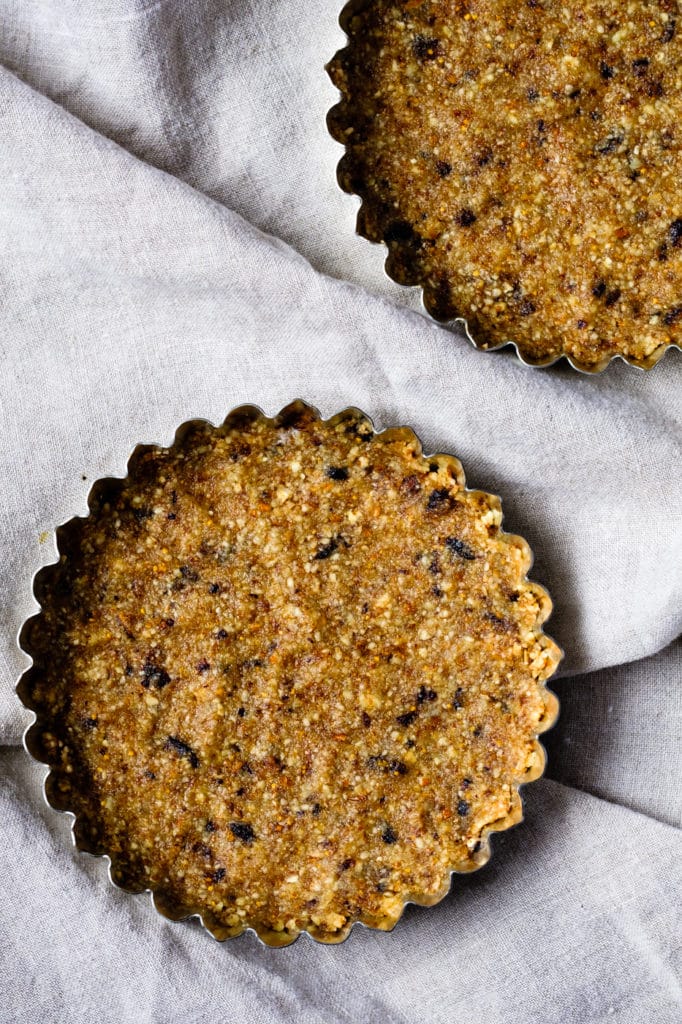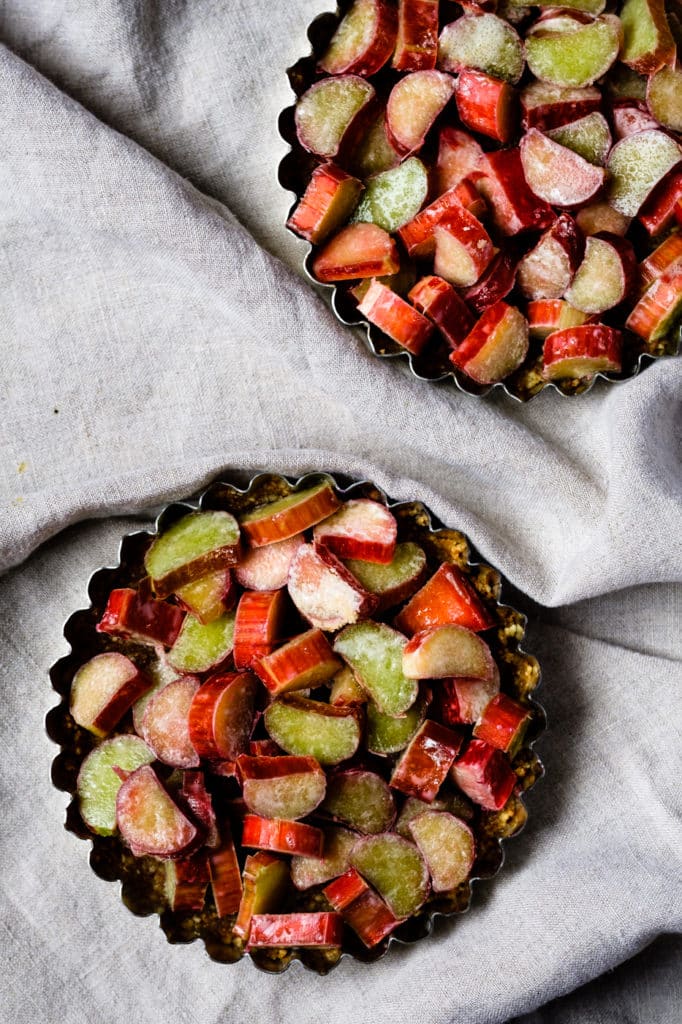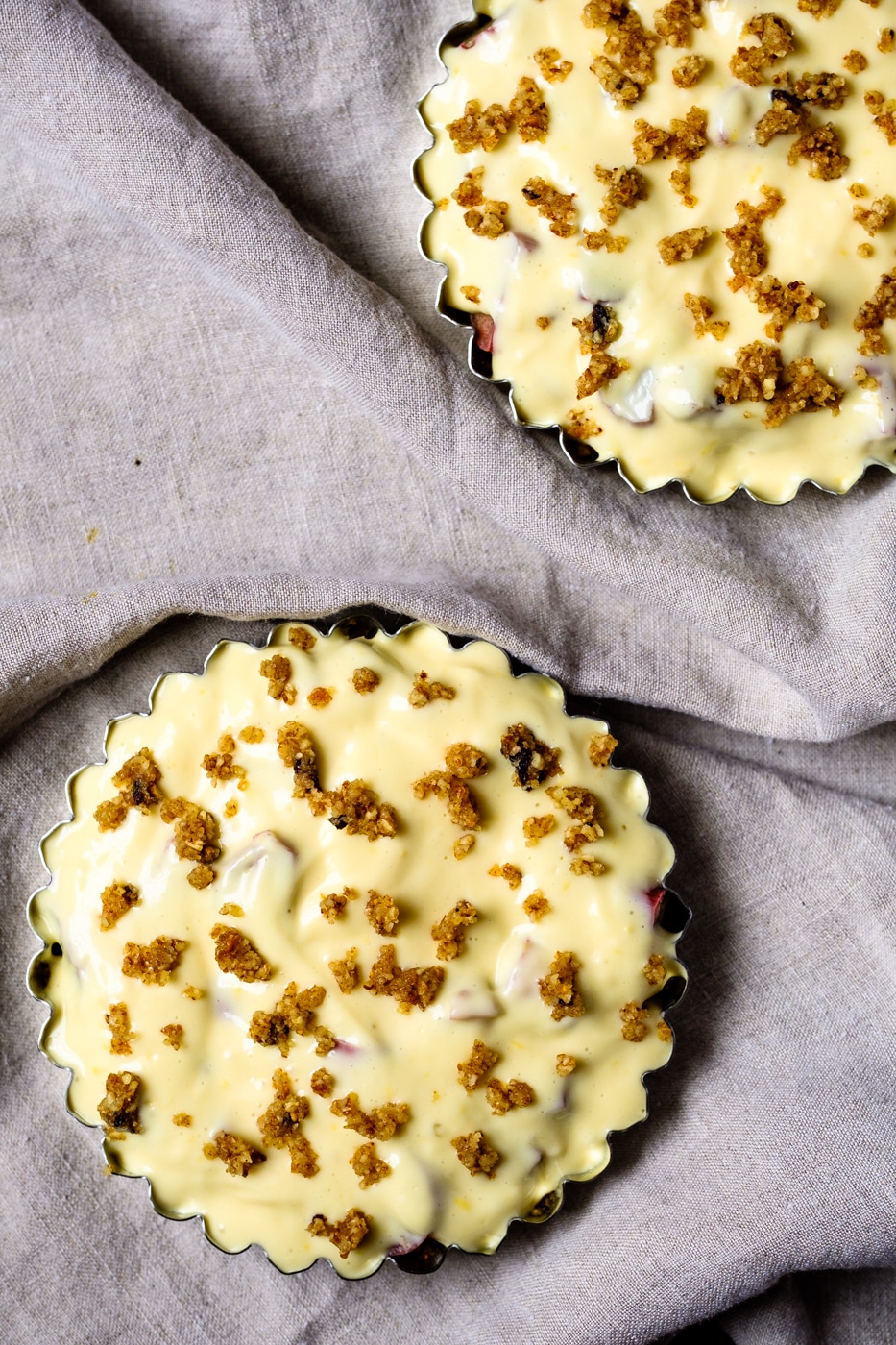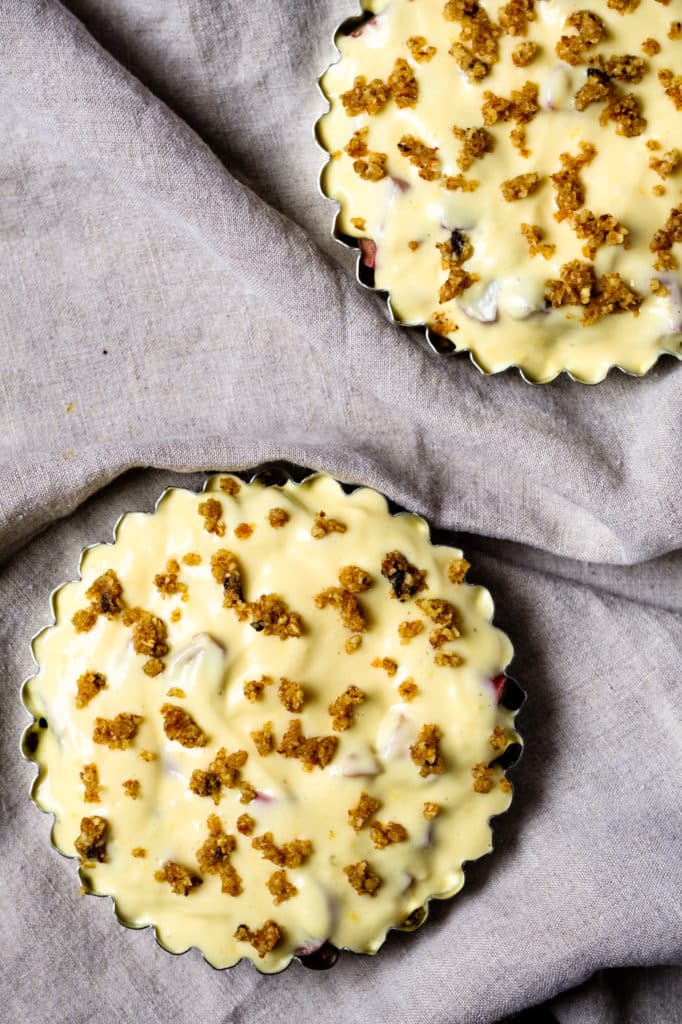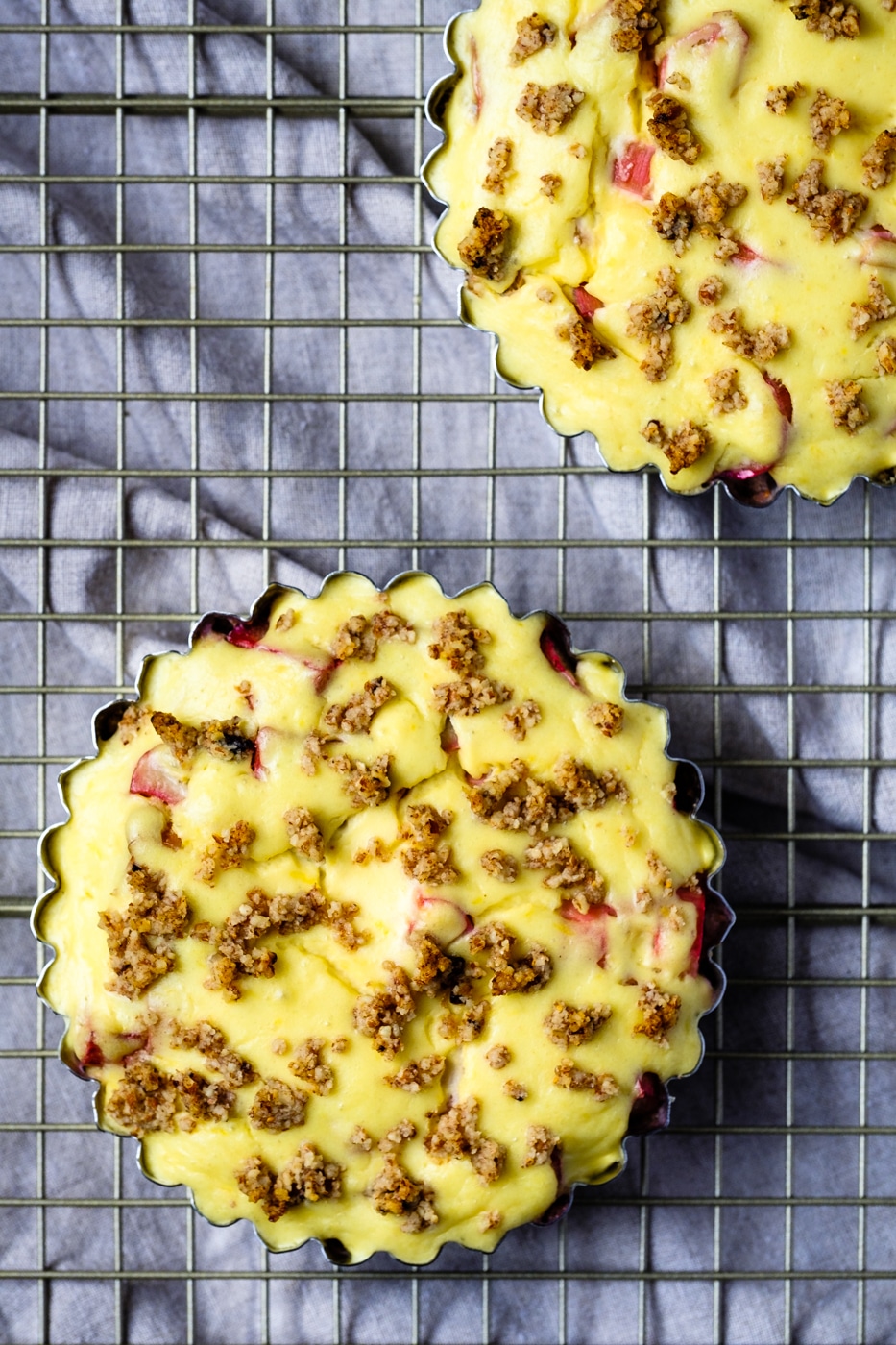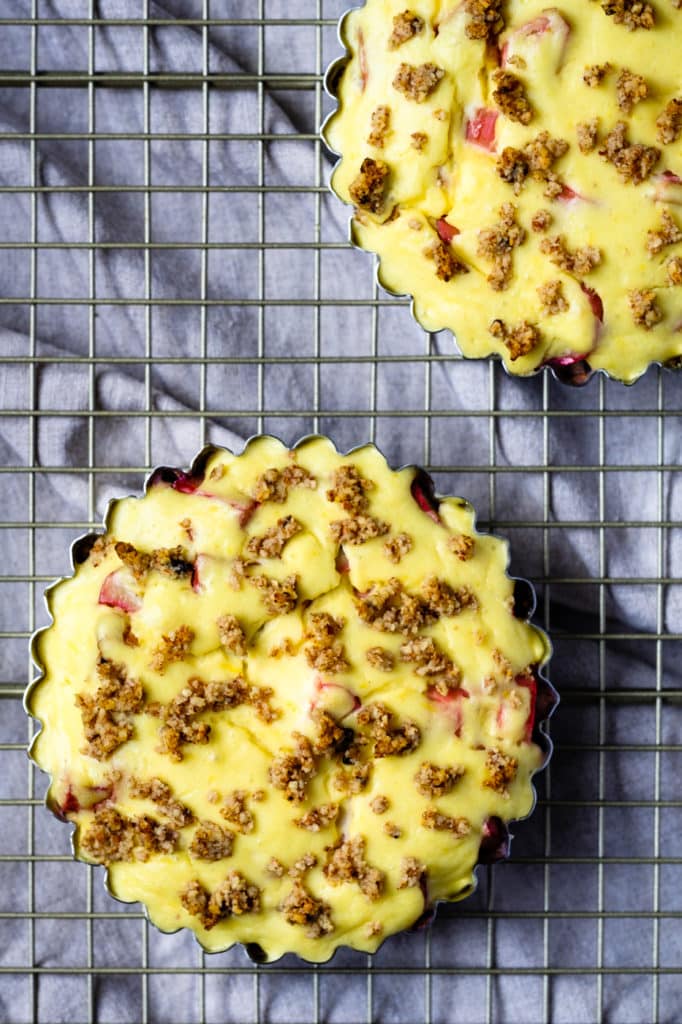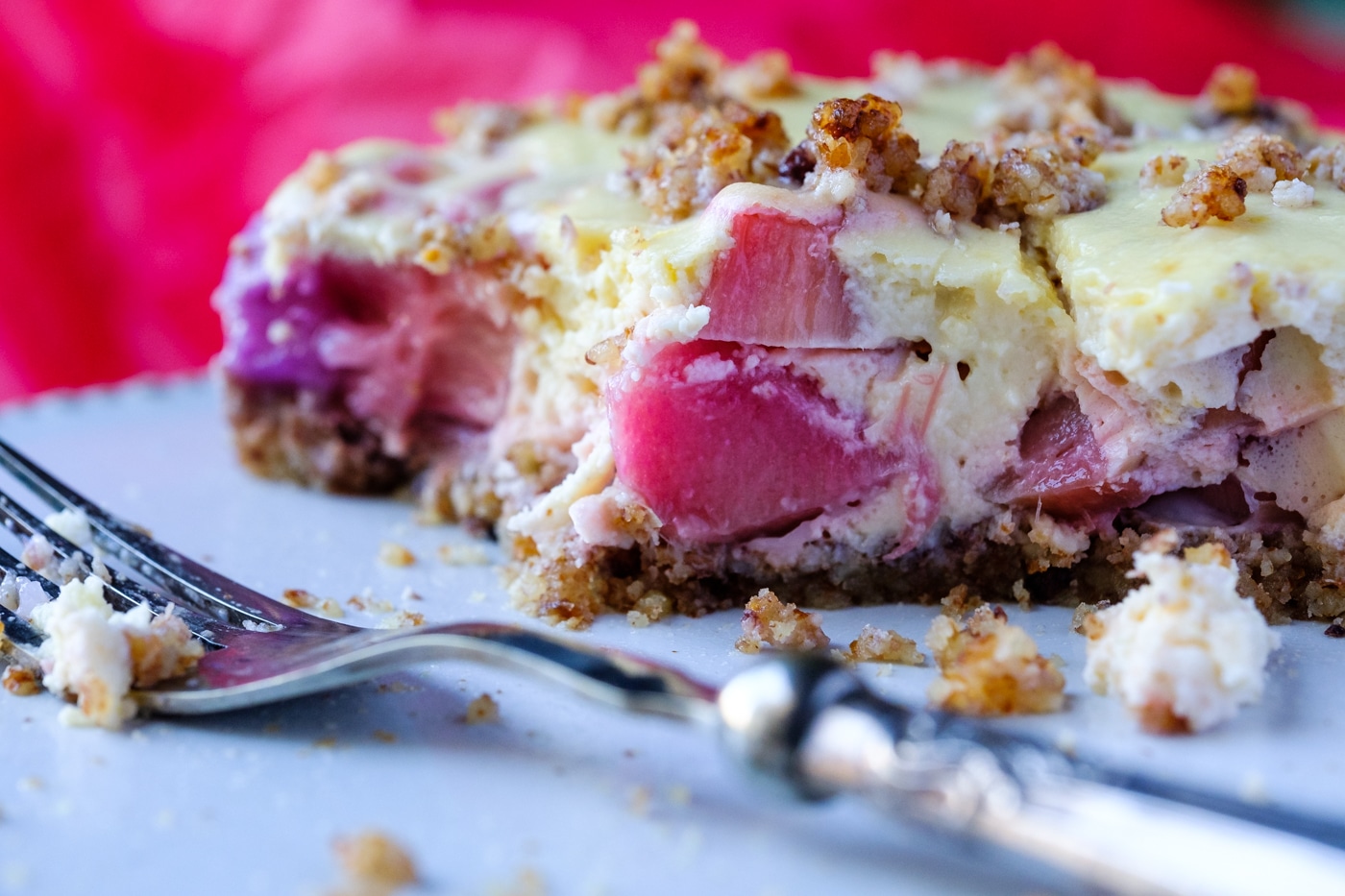 This post contains affiliated links, which means I get a small commission if you choose to purchase something via one of my links, at no extra cost to you.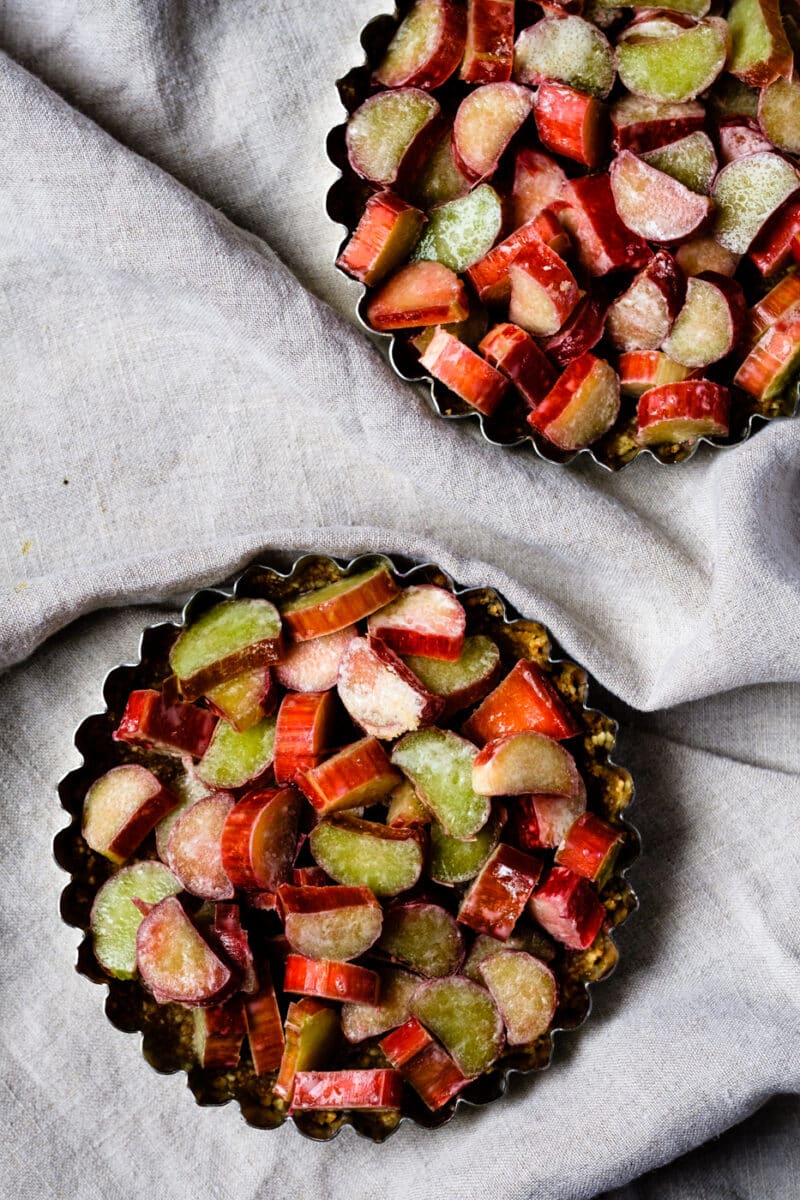 Print Recipe
Rhubarb and Almond Cheese Tart with Pecan Crumble
This lectin-free, sugar-free and dairy-free rhubarb tart is the perfect combination of sweet and savory. It's a light treat for your coffee or tea.
Ingredients
FOR THE CRUST / CRUMBLE:

1 1/2 cups raw whole pecans

1 tbsp French or Italian butter (cold)

2 black mission figs (or 1 turkish fig, because mission gigs are super small)

FOR THE CHEESE FILLING:

4 oz KiteHill almond cream cheese, plain

1 pasture raised egg

1 1/2 tsp golden monk fruit sweetener

1 tsp lemon zest

FOR RHUBARB:

2 cups chopped rhubarb

1 tsp golden monk fruit sweetener (or another compliant sweetener of you choice)

2 tsp arrowroot powder
Instructions
2
Prepare 2 mini tart pans with removable bottoms (mines are about 4 inches in diameter)
3
In a food processor mix the pecans, the butter and figs, until you form something like a dough.
4
Mix the chopped rhubarb with the arrowroot powder and 1 tsp of monk fruit swetener
5
In a mixing bowl, mix the cream cheese, egg, sweetener and lemon zest, with an electric missed until all creamy.
6
Split the nuts mixture in between the two tarts, leaven a tbsp or so behind to add on top at the end. Press down well on the bottom of the pan and a little on the sided (no need to go all the way up the walls.
7
Add the rhubarb mix on top.
8
Add the cream cheese mixture (Another way to do it is to mix the rhubarb and cream cheese and add it on top of the pecan crumble). Sprinkle some more of the nut mixture on top.
9
Bake in the heated oven for 20 minutes.
10
Cool down and refrigerate for few hours before taking out of pan and serving.
Notes
This quantity is for 2 x 4in tart pans, i recommend you make it in something similar, I don't know how much the bottom will stick together on a bigger surface, if you need to transfer. You can also just make it in a glass or ceramic baking dish and eat it directly from the dish. But if you want the looks I recommend these mini tart pans (I attached a link in the text above).