Miso Ramen soup was one of my favorite meals to have in Japanese restaurants but since I started the Plant Paradox lifestyle it's not something I'll be able to eat out anymore. So I decided to learn how to make it and enjoy it at home. This lectin-free miso ramen soup with Shirataki Noodles is easy to make if you have the essentials: the stock, the cooked chicken and the miso paste.
Essentials needed to make miso ramen soup with Shirataki Noodles
This soup is more of assembly work because it requires having some ingredients ready in advance. The most important is to have a compliant chicken or vegetable stock and cooked chicken, which I personally happen to have a lot of times. The rest of the veggies don't need much cooking.
For a long time, I was not confident to buy the miso paste from the stores, but when I noticed Miracle Noodle has some straight from Japan I decided to give it a try (after I confirmed with Dr. Gundry that it is plant paradox approved). Miso paste is compliant, even if made with soy or rice, due to the fermentation process. But I'd go with a Japanese one.
This type of soup was quite a new way of preparing soup, for me. It basically takes 10 minutes if you have all the ingredients prepped in advance:
Chicken or vegetable stock – When I don't make it at home, I buy a compliant one from Burgundy's, a local store here in Dallas, and I always have a spare container in the freezer; needless to say a good quality stock is important for the soup to be tasty
Cooked chicken – oven-roasted whole breasts are perfect, but you can also cook them in a pan. Most of the time when I make chicken I make extra, it makes for a great meal prep food (soup and salads, for example)
Miso paste
Shirataki noodles – for soups I use the Miracle Noodle Capellini
Fresh veggies – carrots, scallions, cilantro, bok choi, green cabbage (you can also add shiitake mushrooms, especially if you want to make it vegetarian).
Shirataki noodles and miso paste
Regarding the shirataki noodles, I recommend following the instructions on the package. They need to be rinsed, briefly boiled and dried in a naked pan for best results, otherwise, you might end up disappointed.
As per the miso paste, you can buy one from your local store. There are also plenty of options on Amazon, but I have not tried any other brand and I'm not sure which one to recommend. I would go for something made in Japan following traditional methods.
Besides the Miso, I buy and use the other Japanese Miso and Marinades – just in case you are a fan of Japanese flavors, like me (at the moment I type this the variety pack is out of stock). Don't forget you can use code 'CLAUDIA' on any purchase from the Miracle Noodles website.
Oh, and the reason I add the miso paste at the end, is because I want to keep its nutritional properties intact and cooking might kill some of them.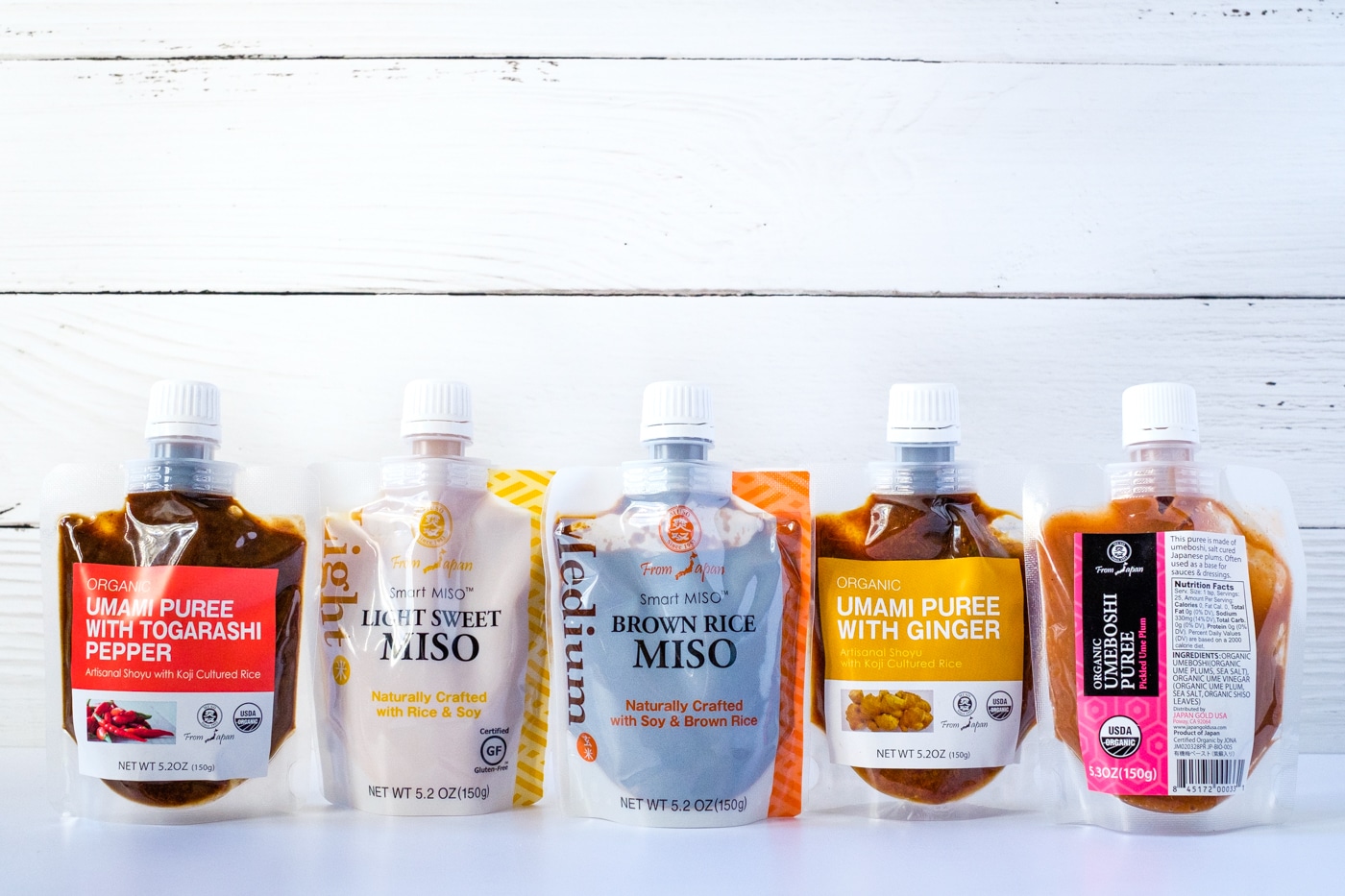 Adding shiitake mushrooms
A version of the lectin-free miso ramen soup I made later adding shiitake mushrooms: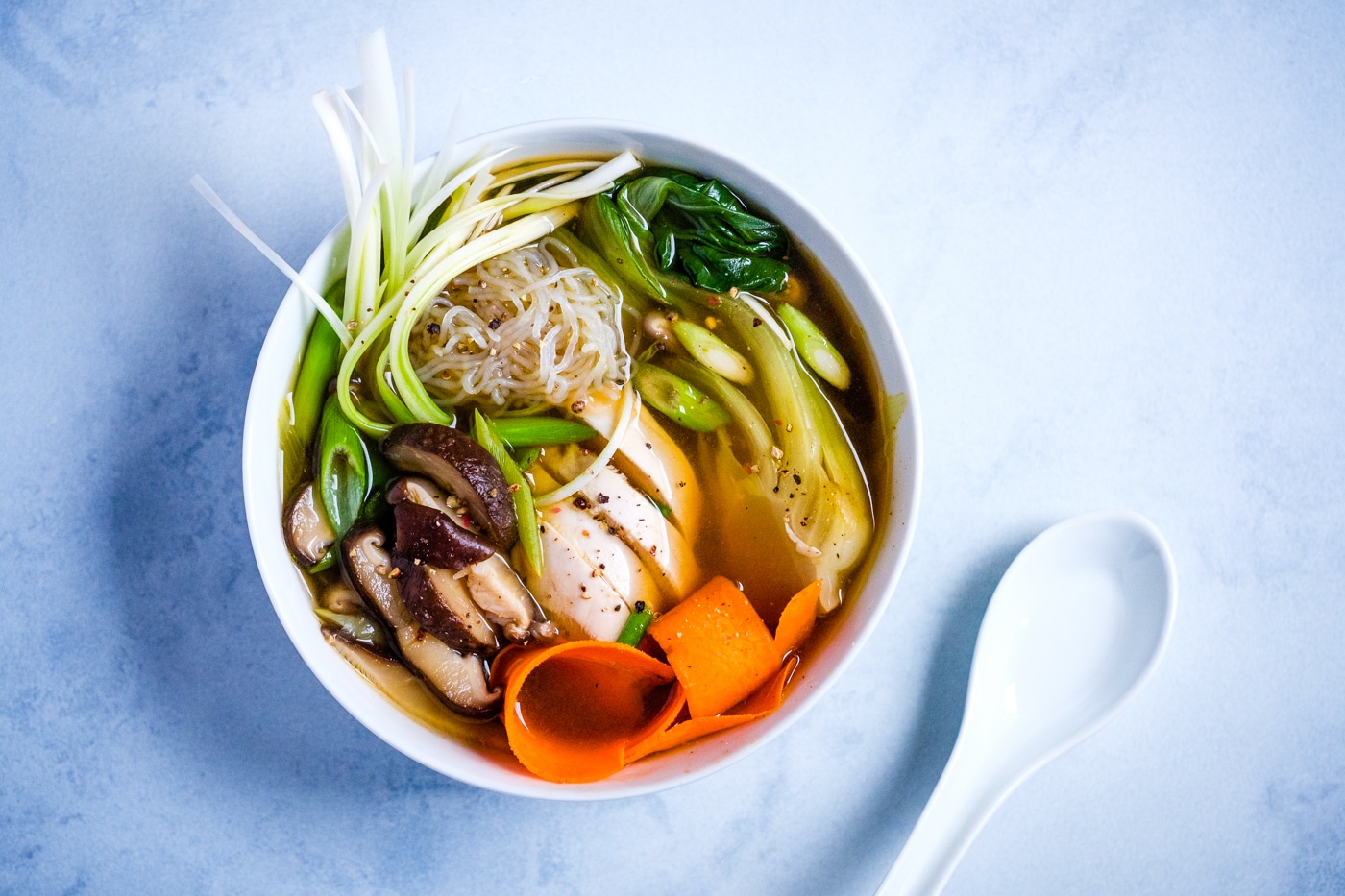 *This post contains affiliated links, which means I get a small commission if you choose to purchase something via one of my links, at no extra cost to you.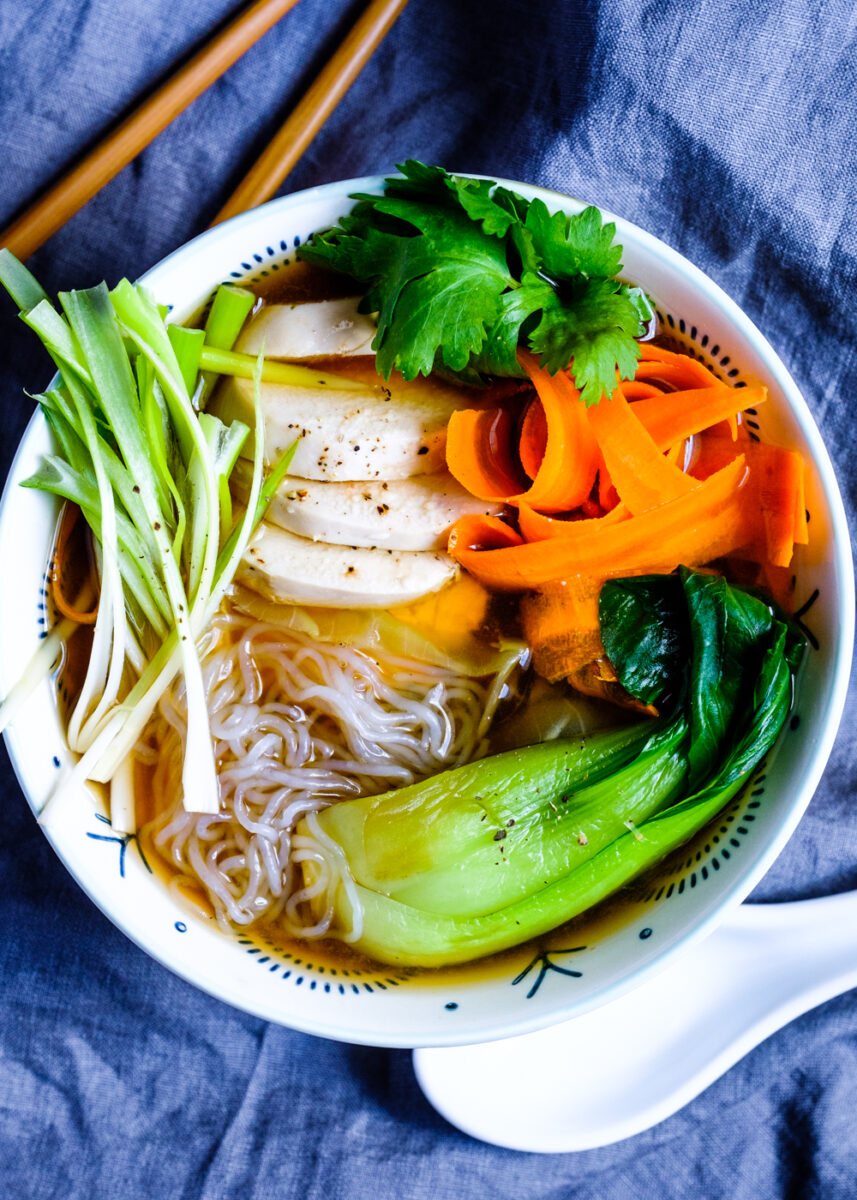 Print Recipe
Lectin-Free Miso Ramen Soup with Shirataki Noodles
An easy way to enjoy miso ramen soup at home
Ingredients
28 oz plant paradox compliant chicken stock (or veggie stock)

1 bag of Miracle Noodle capellini, prepared as per the instructions on the pack

2 tbsp Miso Paste (I used Brown Rice Miso Paste from Miracle Noodle)

about 6 oz cooked chicken breast, sliced

1 cup shredded green cabbage

2 bok choi, sectioned in half

handful of cilantro

1 small raw carrot, peeled and ribboned

few scallions

pepper and salt if needed (or add more miso if you feel you need more flavor)
Instructions
1
Prepare the noodles as per the pack instructions.
2
Warm the stock in a soup pot, add the shredded cabbage and boil for about 7 minutes. Add the bok choi and sliced chicken and simmer for 3-4 minutes. Turn off heat and add the miso paste and stir well. Taste and add more miso if preferred.
3
Split the noodles in two and add them to two serving bowls. Add soup, bok choi and chicken to the bowls, add the carrot ribbons, the scallions and cilantro and serve.
Notes
If you have soup left, you can keep it for the next day and add new fresh vegetables to it.