This recipe has been in a long queue, waiting to be published here. I shared it in June 2018 on my Instagram, but it's hard to navigate Instagram after a while and keep track of recipes, so I'm adding it here for easy reference. You can't live in the States and not know how to make a lectin-free barbecue sauce, right?
A healthy barbecue sauce? Yes, please.
Before I made this lectin-free barbecue sauce, I checked a few recipes online, as well as labels of different brands, from the nastiest to the healthier ones. But they all have three main non-compliant ingredients: tomatoes, ketchup or tomato paste, chili peppers, and sugar (not talking about corn syrup, additives, and all those nasties).
From experiencing with various lectin-free recipes in the past year, I realized that none of the three omnipresent ingredients are necessary to create something healthy and tasty that resembles the original closely (or in some cases is even better). For the sweetener, I used Lakanto Monk Fruit Golden.
In case you've never looked at a cheap, store-bought barbecue sauce label, here is one (it also has 16g sugar / 2 tbsp):
HIGH FRUCTOSE CORN SYRUP, DISTILLED VINEGAR, TOMATO PASTE, MODIFIED FOOD STARCH, CONTAINS LESS THAN 2% OF: SALT, PINEAPPLE JUICE CONCENTRATE, NATURAL SMOKE FLAVOR, SPICES, CARAMEL COLOR, SODIUM BENZOATE AS A PRESERVATIVE, MOLASSES, CORN SYRUP, GARLIC,* SUGAR, TAMARIND, NATURAL FLAVOR.
Make sure you use a thick, stainless steel saucepan. I have a tiny one from All-Clad (2/3 QT) that I love, and it's perfect for sauces, especially if prepared in small quantities. It's similar to this one.
I have to admit I did not expect to like this sauce, and I was never into BBQ sauce, and we only bought it for my husband, but I loved it so much I almost had it all in one go (I was tasting, right?). I tried it with chicken wings I had already cooked, and I can see it pairing perfectly with one of our entertaining platters:
Mustard Sage Crispy Chicken Wings Platter
*This post contains affiliated links, which means I get a small commission if you choose to purchase something via one of my links, at no extra cost to you.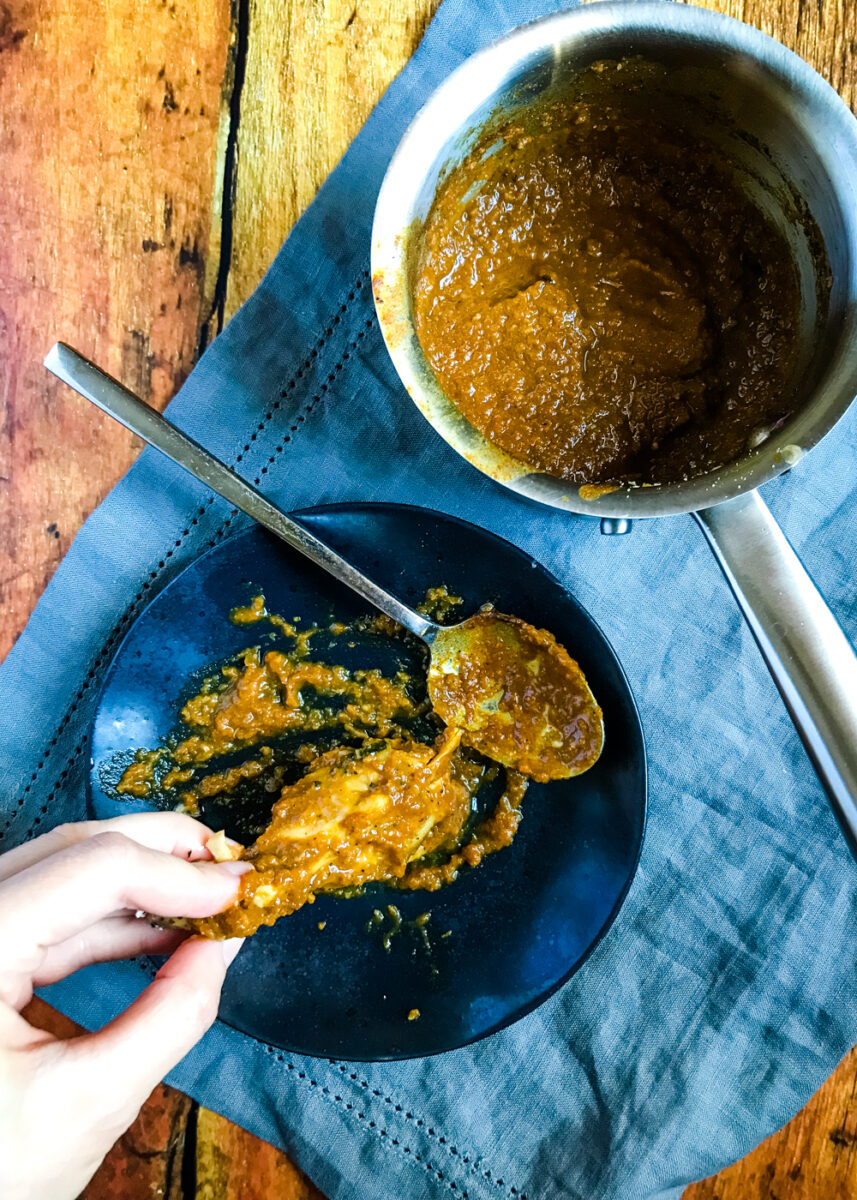 Print Recipe
How to Make a Lectin-Free Barbecue Sauce
A healthy and lectin-free option for your barbecue sauce cravings.
Ingredients
1/2 medium red onion, finely chopped

3 garlic cloves, smashed and finely chopped

3 anchovies fillets, briefly rinsed

2 tsp ghee (you can use avocado oil for a dairy-free option)

1/4 tsp allspice

1/4 tsp turmeric powder

1/2 tsp mustard powder

1 tsp Hungarian paprika

1/2 tsp smoked Hungarian paprika (if you want a smoky flavor)

1/2 tsp cayenne pepper

1/2 tsp Tabasco

1 tsp apple cider vinegar

1/2 tsp monk fruit sweetener

1/4 tsp fresh ground pepper

water
Instructions
1
In a small saucepan add the ghee, chopped garlic, onion and anchovies and sauté until fragrant, translucent and a little golden. Add just a tiny bit of water if you feel like it starts to stick to the pan. Add all the spices, sweetener and apple cider vinegar and continue to cook on low heat and stir. Add a little bit more water so you get this creamy consistency, cook for few more minutes, add more water and cook some more. Cook for about 15-20 mins, so all the flavors get infused and keep adding few teaspoons of water along the process. Add the sauce in a food processor or blender, mix well until smooth (or the desired consistency), add back to the saucepan and bring to a boil. Take off the heat and use warm or cold. You can store it in the fridge in a mason jar.