This lectin-free shrimp and cauliflower creamy soup is in fact one-third bisque, one-third chowder and one-third Brazilian shrimp stew.
While trying to understand how the three types of dishes are made and what's the difference between them I decided to try to combine the best of the three worlds.
The result is a half-smooth, half-chunky creamy soup with a Brazilian twist.
The best of three worlds. Pure goodness
One of my favorite dishes to order in French restaurants used to be bisque. Which is a kind of a smooth chowder. I like both, so I decided to stay in the middle and blend half of it while keeping some texture for the other half.
Brazilian shrimp stew is a similar dish but made with coconut milk and red palm oil. Which was perfectly suited for a lectin-free version of this dish. I used shrimps because that's what I had in hand, but use this frame to make any type of seafood chowder or bisque.
Ingredients for the creamy shrimp and cauliflower soup
You need shelled shrimps and the heads for this dish, so don't skip this step. They give most of the flavor. The red palm oil helps with the color. I rarely use red palm oil. But I have a jar from Nutiva, which is a sustainably sourced, organic and non-GMO palm oil. I like to use it when I want to give a dish a vibrant yellow color without using turmeric or saffron.
I'm not associated with Nutiva in any way. I wanted to make this point here because conventional palm oil has a tremendously destructive impact on the rainforest and populations of orangutans. So, unless you buy a sustainable brand and use it in small quantities in-home cooking, I would personally recommend avoiding any processed products that are made with palm oil, even if compliant with your diet. I've been having this jar for almost one year, and used it several times.
Nutiva USDA Certified Organic, non-GMO, Cold-Filtered, Unrefined, Fair Trade Ecuadorian Red Palm Oil, 15-ounce (Pack of 2)
This is the information on this topic from the company: "Nutiva partners with small, well-established, organic family farms in Ecuador to source and process responsibly harvested red palm kernals that are orangutan friendly, avoid deforestation, stringently adhere to USDA certified organic and non-GMO guidelines, and deliver superfood that is good for you and good for the planet.
Serve with compliant chips
And back to the shrimp and cauliflower creamy soup. At the time I made the recipe we didn't have all the choices for storebought complaint chips.
So I made my own cassava chips, but this is not a recipe I'm convinced I nailed yet. Feel free to make your own if you know how. Otherwise, you can serve with some yummy store-bought coconut tortilla chips or green plantain chips.
The soup will also go well with Tostones. See my guide How to Make Tostones (Double-Fried Green Plantain Slices).
*This post contains affiliated links, which means I get a small commission if you choose to purchase something via one of my links, at no extra cost to you.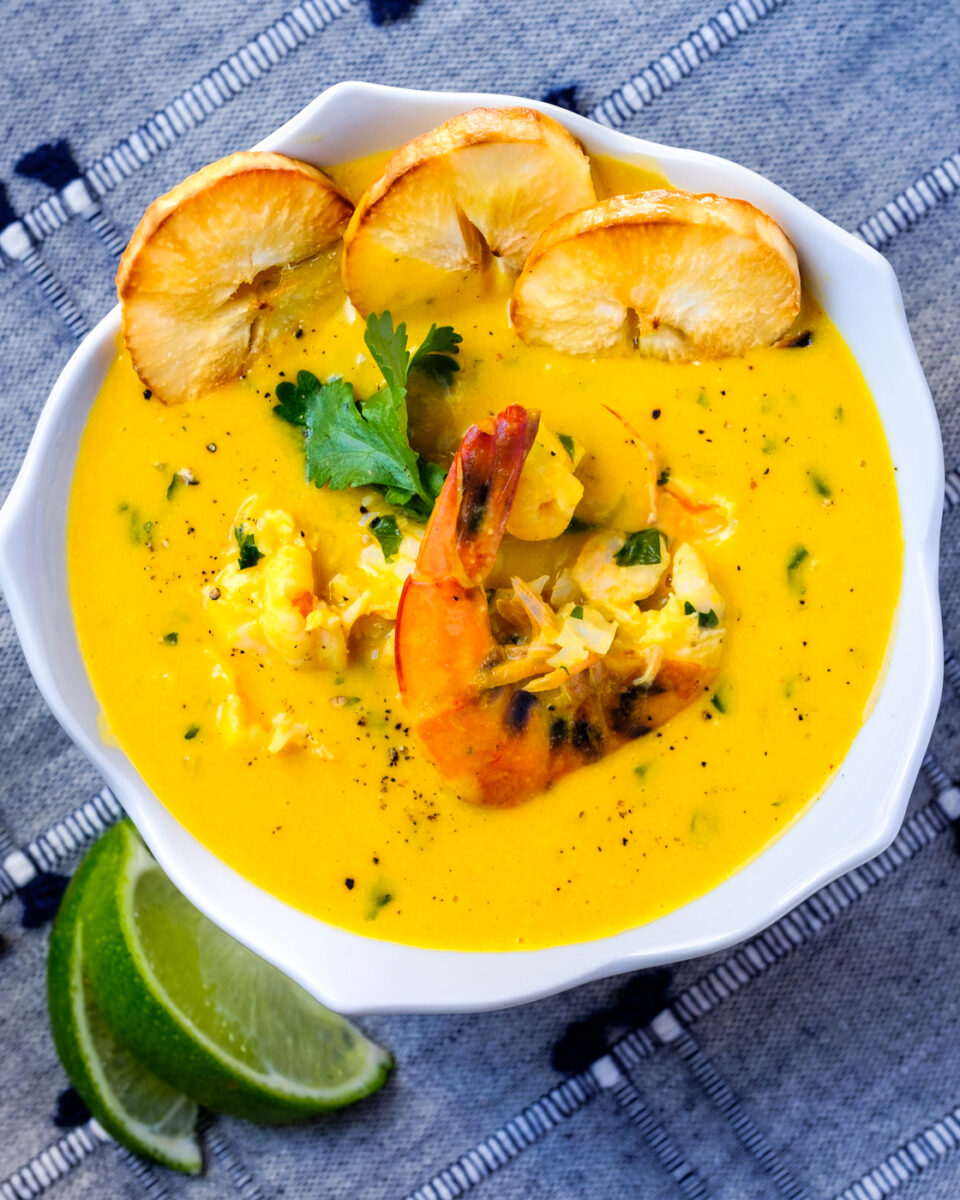 Print Recipe
Lectin-Free Shrimp and Cauliflower Creamy Soup
An easy lectin-free version of a chowder or bisque style soup.
Ingredients
10-12 medium raw wild caught whole shrimps (with heads and skin)

13 oz (about 400g) cauliflower rice

3 heaping tbsp red palm oil (I use Nutiva)

1 big leek, use only the white(ish) area, well washed and finely chopped

2 garlic cloves, peeled

2 cans coconut milk (full fat, organic, non BPA)

1/4 tsp aniseeds

salt and pepper to taste

1 tbsp Hungarian paprika

1 fresh bunch cilantro, chopped

one lime
Instructions
1
Saute the whole shrimps in red palm oil a few minutes on each side. Once they are completely pink take them out on a plate.
2
Add the chopped leek to the same pot and saute for a few minutes. Add the garlic cloves, peeled and smashed, add aniseeds. Saute for a few more minutes. Add half of the cauliflower and saute for a few more minutes. Add paprika, salt and pepper. Add one can of coconut milk, the whole shrimps (still with heads and skin) and bring to a boil. Simmer for few more minutes until the cauliflower is cooked. Take the shrimps out on a cutting board. Add the soup to a blender and blend until smooth. Put back in the pot.
3
Add the other half of the cauliflower and the second can of coconut milk and let it simmer on low heat.
4
Meanwhile you can peel and devein the shrimps and cut them in bite size chunks, or even smaller; you can leave one or two unpeeled or whole for presentation, but that's optional. Add the clean and chopped shrimps back to the soup, chopped fresh cilantro and juice of half lime (or more to taste). Taste for salt and pepper and add more if necessary. Serve warm with lime and yuca, green plantain or coconut tortilla chips (just a suggestion).