What is life without falafel? I think I had some of the best falafel while living in Dubai, and I will not pretend this one lives up to those. But it is a super decent lectin-free replacement, chickpea free and Plant Paradox approved.
Taste-wise is the same, mainly due to the amazing mix of spices I used: cumin (my favorite), ground coriander and cardamom. The texture is a little bit soft, unlike a real falafel. But I am still yet to find a vegetable that gives the same consistency as chickpeas.
Life without falafel is not fun
And it's not because of the chickpeas that are the main ingredient, it's the combination of spices that makes falafel so good. I went fancy with this one and made three types of falafel: the simple one, turmeric falafel and sesame seeds coated. You can just go ahead and make them simple, but it is not much extra work to make the three. Unlike my previous attempts (with different ingredients), they held together perfectly when rolled and fried.
This is relatively easy to make. Most of the preparation time is in fact the mixture sitting in the fridge. Cauliflower, parsnip and sunchokes are simply steamed or boiled and then everything is mixed in a food processor. I initially thought of adding some yam, but I decided to keep it low carb and low resistant starch. Some people add eggs to get a better consistency, but I wanted to keep it vegan, as the falafel traditionally is.
Serve it with tahini sauce (I used this Tahini Orange Dressing) and romaine lettuce, in compliant pita bread or tortilla. Or in a lettuce wrap. Maybe with a little sheep or goat yogurt. Or whatever, eat it as you wish.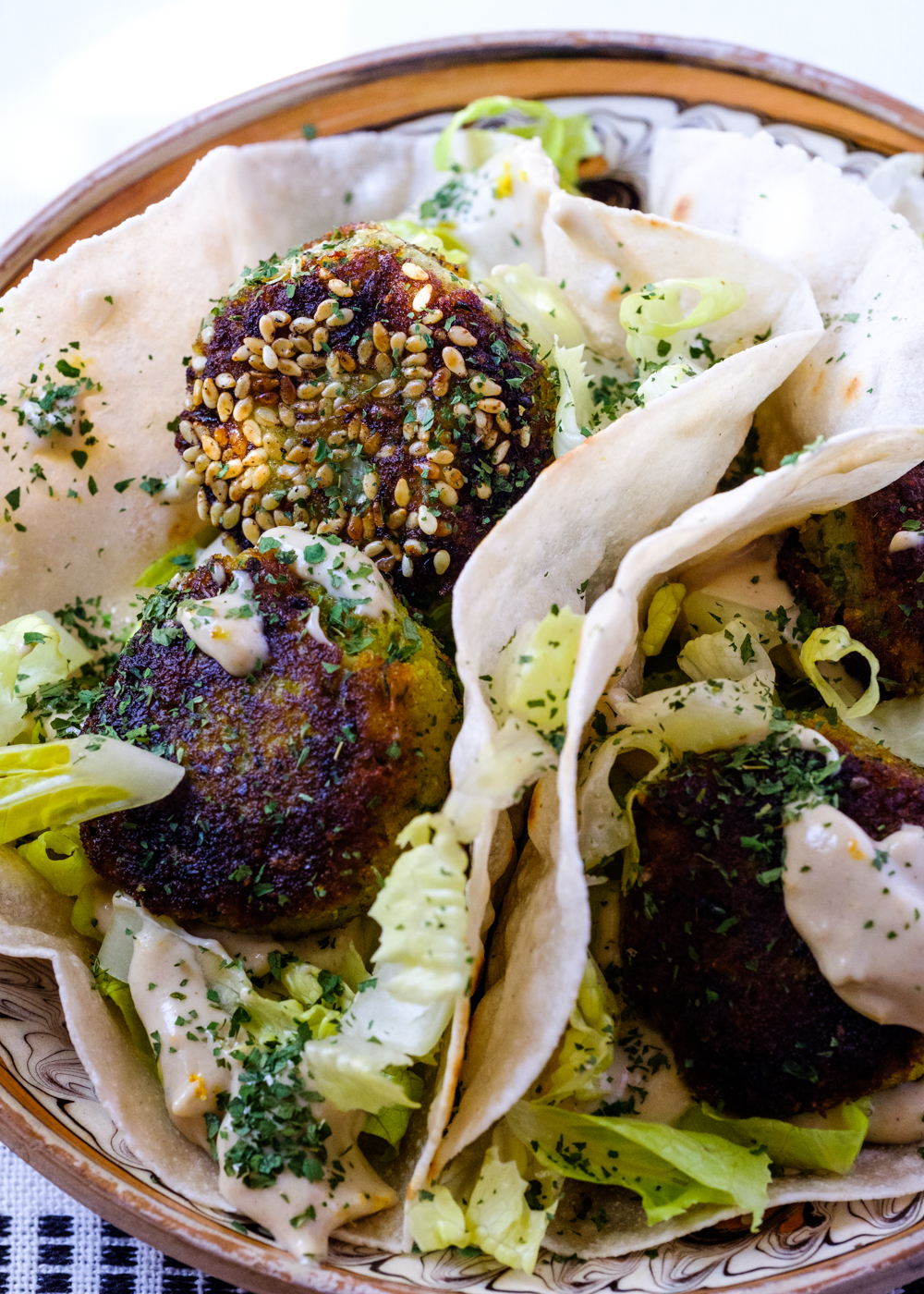 Print Recipe
Falafel Three Way with Cauliflower, Sunchokes and Parsnip
Ingredients
1 small head cauliflower, steamed

2 medium parsnips, boiled and peeled

2 medium sunchokes, boiled and peeled

1 leek, cleaned (use the white head and the light green part)

1/2 cup fresh parsley

3-4 garlic cloves, peeled

4 tbsp almond flour

2 tsp cumin

1 tsp ground coriander

1/4 tsp black pepper

1/4 tsp cayenne pepper

pinch of ground cardamom

1 1/2 tsp salt (you can start with less and taste)

avocado oil for frying

sesame seeds for coating (optional)

turmeric for turmeric falafel (optional)

For serving (optional):

compliant (grain-free) pita bread or tortilla

romaine lettuce

tahini dressing

fresh or dry parsley

dash of lemon
Instructions
1
Mix all the ingredients in a food processor (minus the sesame seeds and the turmeric), until they are all mashed but not quite all the way (it needs a little bit of texture). Cover and store in the fridge for 1 1/2h.
2
When the time is up take out of the fridge and start making the falafel balls with the hands. Use about 2 tbsp of mix per piece. Set on a board or plate coated with cassava or almond flour (just a little bit so they don't stick, but this is optional).
3
When you used a third of the mix, start coating the next batch of balls with white sesame seed and set aside. When you have one-third of the mixture left, add turmeric (about 2 tsp) and make the third set of turmeric falafel balls.
4
Heat a frying pan with avocado oil (I used a cast iron) and start frying the balls (test one first to see if the oil is hot enough). Don't crowd them. Make the simple batch first, then the turmeric batch and the sesame coated batch at the end. It should take about two minutes to fry on each side.
5
Take out on a paper towel.
6
Serve with grain-free pita or tortilla, with romaine lettuce and tahini dressing and dash of lemon. Sprinkle with dry or fresh parsley.
Notes
This makes 20 pieces but they are quite small, so I counted 4 per serving.