A few weeks ago a fellow Dallas food blogger mentioned these two words in a conversation: tahini and orange. He also said, "is better than Nutella". Enough to convince me this must be a good combination, so I've been dreaming about it for the past weeks. It turns out the combination lives up to my expectations. I couldn't stop licking the fork I was mixing with, my fingers too. This orange tahini dressing is simply delicious.
Is this my new favorite dressing/spread/dip?
It may be, at least while oranges are in season and we can still find organic oranges in stores. I was torn about how much orange can I use for this spread because the orange juice is full of sugar. It turned out it didn't need that much.
I washed well the orange and zested it (it was a big orange so if you have smaller ones use two, or even more for zest). I juiced the orange with the thought of using the pulp, but in the end, I only used 1 1/2 tbsp of the juice for 6oz of tahini. Also added lemon juice and cinnamon.
How to serve orange tahini dressing
This is super creamy and easy and can be used for sweet or savory dishes. I had the orange tahini dressing with Cauliflower Falafel, but I also plan to use it as a salad dressing and as a spread or dip. And maybe in the future mix it with cacao powder?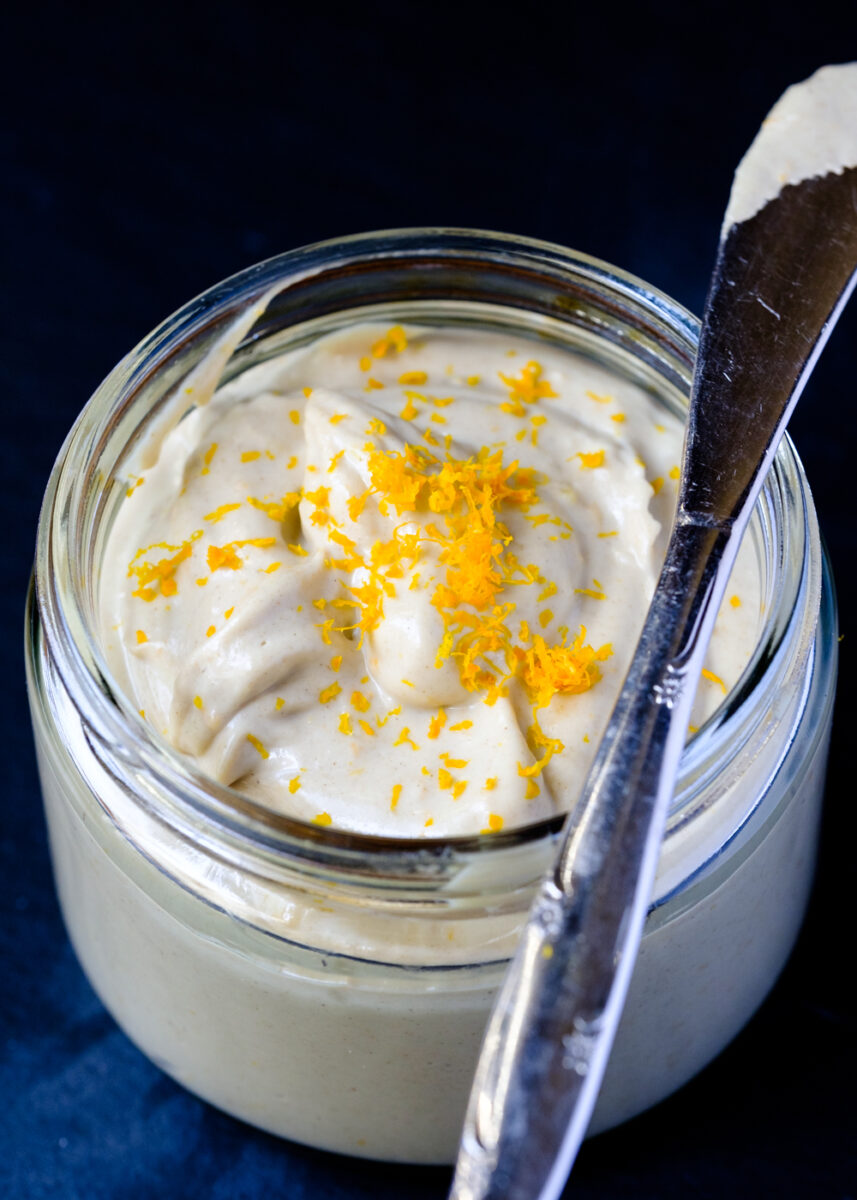 Print Recipe
Ingredients
1 big organic orange (when in season) - the zest and 1 1/2 tbsp juice

6oz tahini

2 tbsp lemon juice

1/2 tsp cinnamon

pinch salt

cold water
Instructions
1
Mix tahini with lemon juice, orange juice, orange zest and a pinch of salt (I used a fork).
2
Start adding cold water one tbsp at a time and mix, until you get a smooth consistency (I think I needed somewhere between 7 and 10 tbsp).
4
You can add more orange zest if you want a stronger orange flavor.
Notes
The number of servings I think is irrelevant here, it depends on how is used. Store in a glass container in the fridge.