I love gumbo but since it would be impossible to have a lectin-free in a restaurant, I tried to make my own seafood and okra gumbo. I was not disappointed.
It is not that difficult to make it plant paradox compliant. I replaced the rice with sorghum, skipped the tomatoes and bell pepper and added Hungarian paprika, use a fabulous gumbo spice mix I found in Central Market in Dallas.
Southern comfort, but healthy
I didn't know much about gumbo before moving to Texas. But there is one thing I really loved about gumbo, besides taste: the texture and the okra. I know not all the recipes have okra, but for me, gumbo without it is not gumbo. And that first part of the recipe, where I fry the okra first for 30 minutes, really gives this dish its signature flavor and adds to the texture.
This seafood and okra gumbo is comfort food at its best while being a super clean dish; quality seafood, vegetables, sorghum, water and spices. It didn't even need starch. I was prepared to use arrowroot powder if needed to thicken it at the end, but it was already perfect, due to the sorghum and okra. We don't eat very spicy but if you want you can add cayenne pepper to the spices.
Okra gumbo spice mix
Now, about the gumbo spice mix I found. The ingredients are: gumbo filé, black and white pepper, yellow mustard, cumin, thyme, cayenne pepper, Greek oregano and bay leaves. I've been looking online to see if I find something similar but usually, you find a creole seasoning mix that has more or less the above ingredients minus the file powder.
I'd stay away from Gumbo base type of products because they are not just clean spices. So one way to do it is to get a clean Creole spice mix and separately get the Gumbo file powder, which is powdered sassafras leaves, an absolutely essential ingredient in Cajun cooking. This is what I found on Amazon:
MONTEREY BAY GUMBO FILE POWDER
The bad news is that I did not find a compliant creole spice mix on Amazon. So if you don't find it in your stores, make your own mix with black and white pepper, yellow mustard powder, cumin, thyme, cayenne pepper, greek oregano and bay leaves and add them to the dish along with gumbo file. I would use 1/4 tsp of each (black and white pepper together) and mix them with 1 tsp gumbo file.
This brings me to a frustrating point about spices. We need to carefully look at ingredients because spice mixes are usually not clean spices and have all kinds of fillers and taste enhancers added. That's why most of the time I make my own mixes.
I recommend testing along the way and adjust spices to your own taste.
Serve the seafood and okra gumbo with a side of cornbread
If you want a side of cornbread with the gumbo check out my Lectin-Free Cornbread with Millet and Walnuts.
*This post contains affiliated links, which means I get a small commission if you choose to purchase something via one of my links, at no extra cost to you.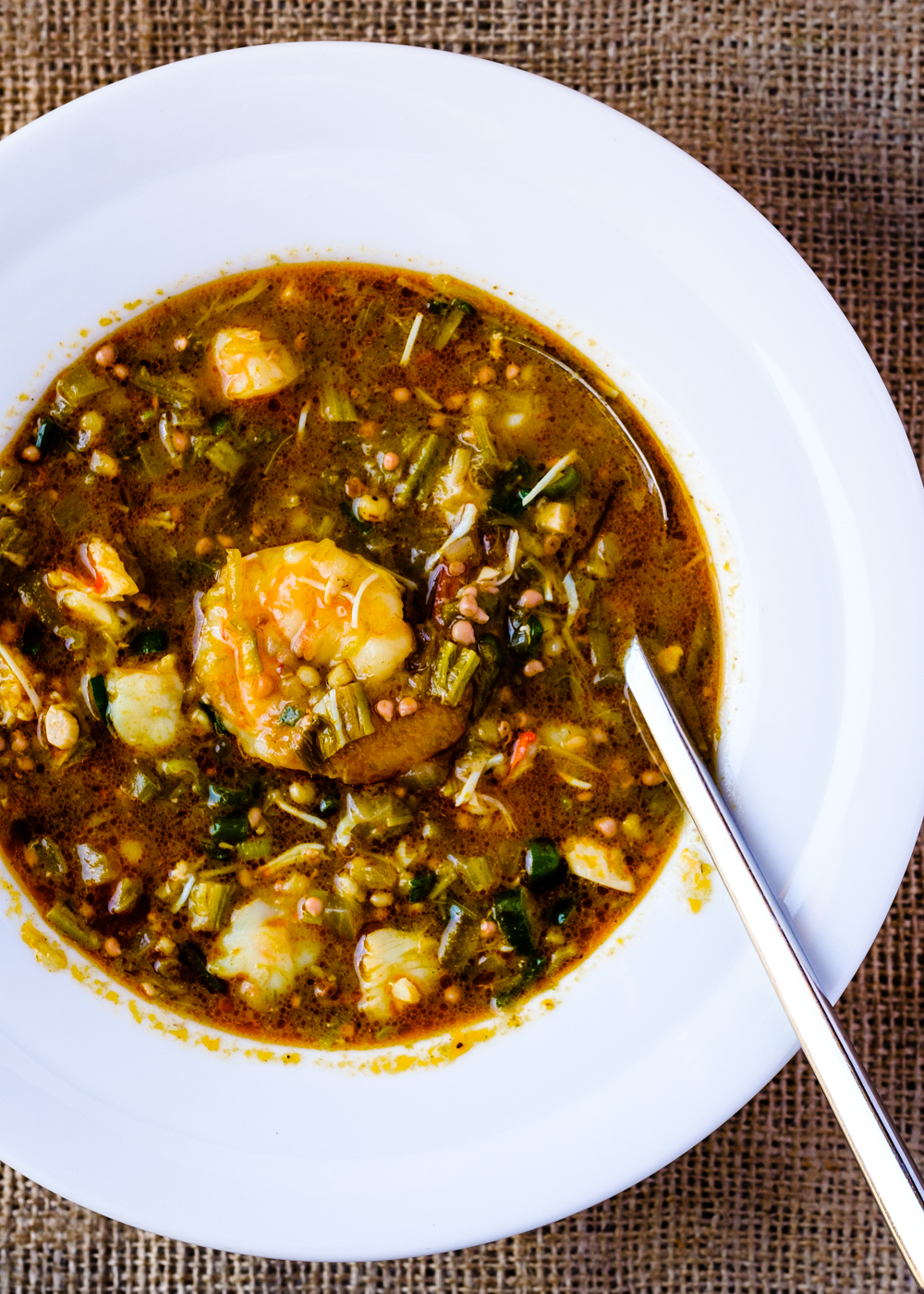 Print Recipe
Seafood and Okra Gumbo with Sorghum
A healthy and lectin-free version of the much-loved gumbo.
Ingredients
4-5 tbsp extra virgin olive oil

0.650lbs okra, chopped into half-inch pieces

1/2 cup chopped celery

1 cup chopped onion

3 big garlic cloves

2 big green onions (more if you have the small ones)

3 1/2 cup water

3 tbsp Sorghum (not cooked)

1/2 lbs wild shrimps, peeled and deveined

1 fresh Maine lobster tail

1 large fresh Stone Crab claw

Spices: 2 tsps Hungarian paprika + 2 tsp gumbo spice mix (gumbo filé, black and white pepper, yellow mustard, cumin, thyme, cayenne pepper, Greek oregano and bay leaves) + salt to taste.
Instructions
1
Sauté okra in extra virgin olive oil for 30 mins, stirring often.
2
Add the chopped celery and onion and smashed garlic and saute for 10 more minutes.
3
Add paprika and continue to stir, adding a few tbsp of water so the paprika doesn't burn, stir for 5 more minutes and add the gumbo spice mix, salt, the sorghum and water (warm it in advance).
4
Cover and simmer for 45 minutes, mixing every 10 or 15 minutes.
5
After 45 minutes add the crab claw and the lobster, simmer for 15 minutes, add the shrimps and simmer for 10 more minutes.
6
Take all the seafood out and leave the soup to continue to simmer. De-shell the lobster and crab and cut in small pieces, cut the shrimp in small pieces too (you can leave a few whole for decoration if you want). Put them back in the soup and add the chopped green onion.
7
Taste for salt. Add more gumbo spice if you want a stronger taste.
8
Simmer for 10 more minutes.
Notes
Use a Dutch or French oven. I was limited by the size of mine but since this is a dish that is also good to serve the next day, I would make a bigger quantity. You can also add a compliant sausage if you have one (I would slice it and fry it first and add it with the seafood). You can add cayenne pepper to the spice mix if you love spicy food.