I love okra in all its forms, and today I bought some organic one at Whole Foods, thinking I'll make oven-baked okra chips. But I ended up wanting a more warming meal, and stew was also a perfect way to use my leftover chicken stock I had in the fridge. So lectin-free okra stew it was for dinner.
Okra got amazing anti-lectin properties
Okra is a darling of the Plant Paradox lifestyle because of its amazing anti-lectin properties. In case you didn't know, Lectin Shield is made with okra extract.
I've had Middle Eastern style okra (or bamia) stew many times while living in Dubai, but all versions I've eaten had tomatoes. So I decided to give it a try without tomatoes, and it works perfectly fine.
An okra stew without tomatoes
In fact, most of the Romanian traditional dishes (I am Romanian) are made with a tomato base. So I'm used to converting them into lectin-free versions, Phase 2 compliant. If you think tomatoes are ok for you, you can peel and de-seed your own tomatoes and use them. But for me, tomatoes are a no-no. They have given me too much trouble in the past. I simply don't feel like going back there again (heartburn/acid reflux was one of the problems).
So far, from my experience, adding paprika to stews makes for a nice tomato replacement, color and taste-wise. For this one, for more depth of taste, I used both Hungarian paprika and smoked paprika. (I buy them in bulk from Whole Foods but in case you don't find them).
A super simple okra stew
This lectin-free okra stew is super simple, requires just a few basic ingredients to make. And it's plant-based if you use vegetable stock instead of chicken stock. The cabbage salad adds a little acidity and freshness to the warm stew and makes for a super nutritious and balanced meal.
For another recipe with okra, be sure to try my Seafood and Okra Gumbo with Sorghum.
This post contains affiliated links, which means I get a small commission if you choose to purchase something via one of my links, at no extra cost to you.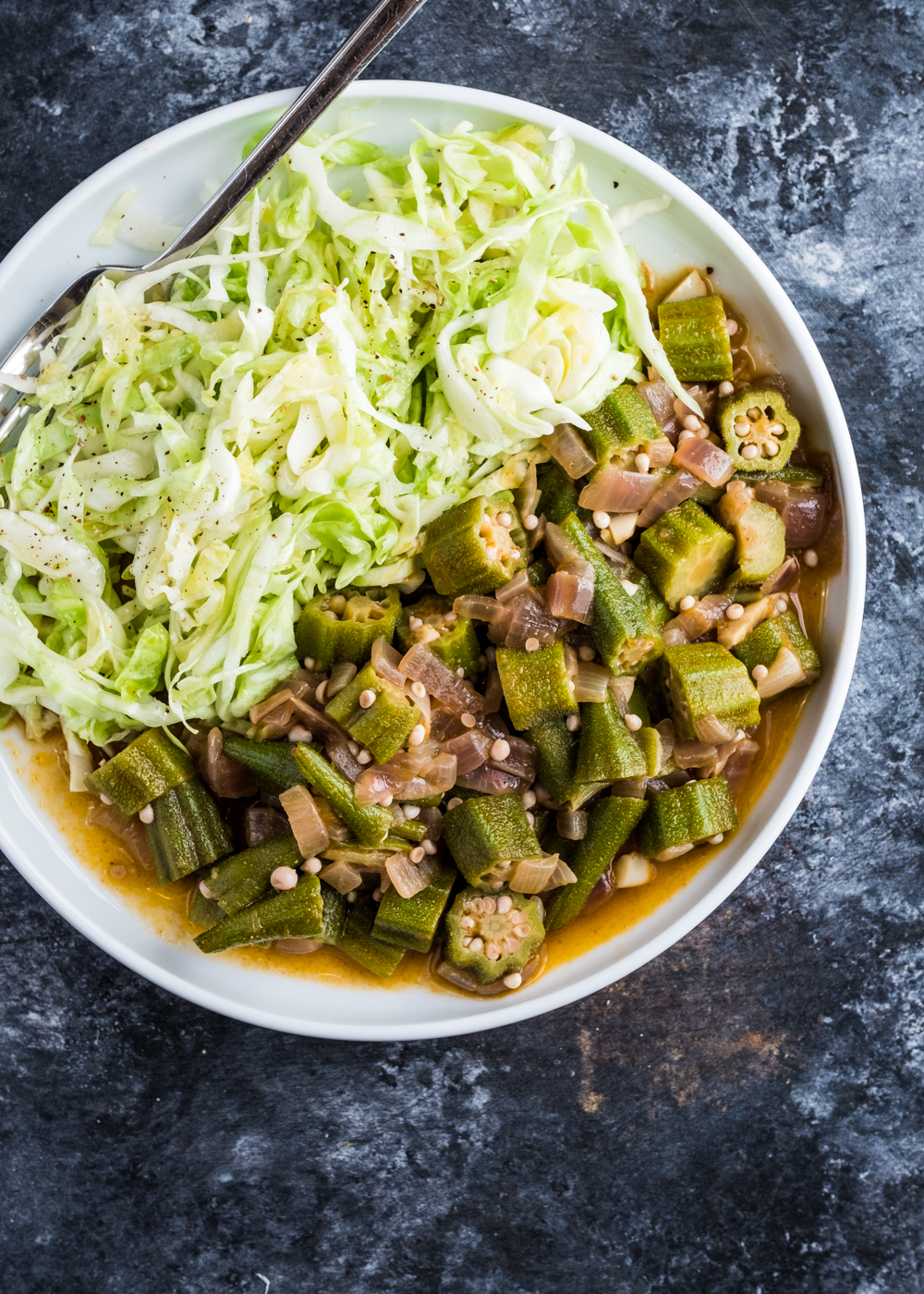 Print Recipe
Lectin-Free Okra Stew with Green Cabbage Salad
An easy, comforting and nutritious lectin-free meal.
Ingredients
FOR OKRA STEW

1 QT fresh okra (by dry volume), washed and dried

1 medium red onion, chopped

3 garlic cloves

2 tsp organic Hungarian paprika

1 tsp smoked paprika

1 tsp coriander powder

1 tsp cumin powder

1 bay leaf

1 cup stock (chicken, vegetable or any other compliant stock)

salt and pepper to taste

extra virgin olive oil

FOR CABBAGE SALAD:

1/2 green cabbage, finely shredded

salt and pepper to taste

extra virgin olive oil to taste

apple cider vinegar to taste
Instructions
1
TO MAKE THE OKRA STEW: Cut the okra stems and chop them into about 1/2 inch pieces. Add the olive oil to a stewpan, and add the chopped red onion, cook on medium heat until translucent. Add the chopped okra, the chopped garlic, paprika, cumin, coriander, bay leaf. Cook and stir well for about 5-8 minutes. Start adding the stock bit by bit, and continue stirring and cooking on low to medium heat, for about 30 more minutes, until you added all stock and the okra is cooked.
2
TO MAKE THE CABBAGE SALAD: Finely slice the cabbage, add salt and massage it with your hands until moisture is released. Add extra virgin olive oil, apple cider vinegar, more salt if necessary and pepper to taste. It really depends on your taste, I like mine to be sour but my husband doesn't, so I end up adding more ACV in my own portion. Go with your own preference.