Fromage d'Affinois is a double cream French cheese very similar in taste and texture to Brie, so feel free to go with Brie if you don't find it. It will be the same thing. Initially, the plan was to make this pesto pizza with Buffalo Mozarella, but there was none to be found at Whole Foods so I decided to go with something more French.
I always loved the combination between French soft cheese, Prosciutto or other quality cold cuts and a berry dressing. They just go super well together and make an ordinary pizza a gourmet experience. Especially when paired with a good glass of red wine.
Making and eating this pesto pizza is a socializing occasion in our family, so we start with the first pizza (the dough mix makes 2 crusts), roll it out, cook it and eat it, and when we finish we make the second one. It's a perfect weekend afternoon activity for the entire family.
A pesto pizza with an Italian heart and a French allure
Like any pizza, starts with a crust and I am the first one to admit that my homemade food drive has limits, and so far my limits are making my own plant paradox compliant dough. I would if I had no choice, but for now, I'm really happy with how Simple Mills' pizza dough mix works for me.
I have never bought store pesto and I'll never do it because it's easy to make and I can control the quality of the ingredients that go into it.
Prosciutto di Parma or Prosciutto San Danielle (imported from Italy) are the only cold cuts widely available that are plant paradox compliant and usually pretty expensive, but worth having on occasions. I find it at Whole Foods and Trader Joe's.
So, what goes into this lectin-free pesto pizza
The crust
I use Simple Mills Pizza Dough flour mix. I mix it as per the box instructions (adding 2 tbsp extra virgin olive oil, 2 tbsp apple cider vinegar) except that I reduce the water quantity from 6 tbsp to 5 tbsp. Split the dough in two and roll it in a round shape in between two parchment paper sheets.
I make it very thin and cook it straight on the oven grill, in the middle, on the parchment paper. I cook it first for about 7 minutes before adding the toppings. We usually make the first one, eat, and then take a break, make the second one and eat again. It's an experience.
The pesto
I usually make it a little bit in advance. For this one (find the recipe here) I used a big bunch of basil (those big boxes you find at WF and TJ's), walnuts, Parmigiano Reggiano, extra virgin olive oil, lemon juice. I'm sure you have your own recipe, use it or if you don't have the time to make it just buy a compliant brand. I make many versions of pesto, and I will have them posted separately, you will find it if search 'pesto'.
The cheese
As mentioned above, get the Fromage d'Affinois or Brie, you will get the same texture and flavors, the important thing is that is made in France.
The Prosciutto
Buy the Italian one, bot Parma and San Danielle are good.
The raspberry sauce and veggies
I make this one because of the tanginess and sweetness it adds to the pizza, but also because of the colors. We eat with the eyes first, and it's said we eat less and feel more satisfied when we eat beautiful food. Look at Japanese and French!
This one has red onion, mushrooms, and a mix of green and black olives.
Eat the gourmet pesto pizza with the hands
This is a family affair. Have your pesto ready in advance. Involve all the family in cutting and preparing the veggies and the other fillings. Having them ready on a platter makes things much easier.
Forget the French manners and eat with the hands.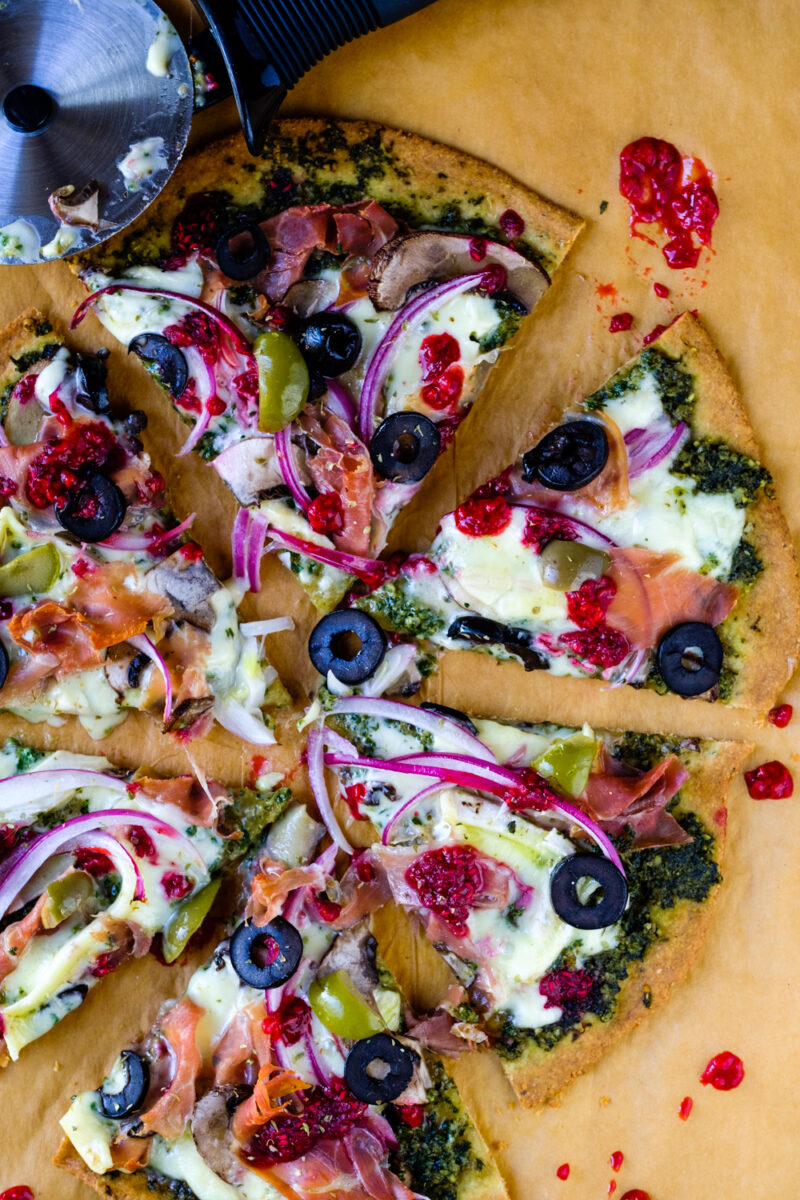 Print Recipe
Pesto Pizza with Fromage d'Affinois and Prosciutto di Parma
Ingredients
8 - 10 oz homemade pesto

1 pack Simple Mills Pizza Dough (makes 2 crusts)

3 oz pack of Prosciutto do Parma (or San Danielle), imported from Italy

1 medium triangle of Fromage D'Affinois or French Brie (or the small round pack if you find it that way)

1/2 medium red onion, finely sliced

3 medium button mushrooms, finely sliced

1/2 cup mix of black and green olives, chopped

1 pint raspberries + 1tbsp Modena Balsamic vinegar (for the raspberry sauce)

oregano
Instructions
1
Make pesto in advance, refrigerate. Search 'pesto' for the recipe.
2
Make the raspberry sauce, by just cooking fresh or frozen raspberries, in a saucepan, on low heat, for about 30 minutes; add the balsamic vinegar at the end. You can make this in advance and refrigerate it for few days.
3
Make the pizza dough as per the box instructions, check my tips above.
4
Roll the first crust and cook it directly on the oven grill, on the parchment paper, at 350F for 7 minutes.
5
Carefully take the crust out and start filling it, starting with a generous amount of pesto. Add the Prosciutto, cheese, mushrooms, onions, and olives. Finish with a touch of raspberry sauce.
6
Cook for another 7 to 9 minutes. We like ours to be crunchy.
7
Carefully take out - have someone hold a wooden board next to you so you can pull the parchment paper right onto the board. Add a fresh drizzle of raspberry sauce and sprinkle oregano. Slice and serve.
8
Make the second crust, cook, fill and cook again, and eat again.
Notes
This makes about 4 to 5 portions, depending on how hungry you are, and it's a meal to be had occasionally. The cooking and preparation time might not be that accurate since for me the preparation for this pizza is part of the meal experience, and depends on how much you have made in advance, or how many little helpers you have.