With the arrival of the cold season and shorter days, I felt the need for more warming and grounding meals. It's still summer in Dallas, but I can smell fall in the air. And I think my body is in tune with the change of seasons, regardless of the temperatures in Dallas. This instant pot oxtail is a simple lectin-free and low histamine meal made in an Instant Pot, ready in one hour from start to finish. We all know that the Instant Pot cooking time is time you can use to do something else.
A lectin-free and low-histamine grounding and warming meal
The inspiration for this instant pot oxtail dish is something similar I've eaten several times in Romania. Not a dish my mom ever prepared, but I tried it in restaurants and made by a friend's mom. I love the simplicity of it. All goes in one pot, meat is basically boiled, as well as the vegetables and served with horseradish cream.
The Instant Pot makes things much easier since the cuts of meats for this meal need a long time to cook. Also, the use of an Instant Pot makes this dish more friendly for a low histamine diet, since cooking meat long time can increase the bacteria and therefore histamine build-up.
It took me a long time to get my Instant Pot, but now I really see its potential. Although I still prefer normal cooking for food that doesn't take a long time such as cauliflower, broccoli, green leaves vegetables, I do appreciate the value of the Instant Pot when cooking cuts of meat that usually take a long time.
Besides the obvious time-saving benefit, it does make a difference in the histamine build-up and it makes for a cleaner and easier cooking process. Although I love cooking I'm not a fan of food smell in the house, especially made by long-time cooking of meat (one of the reasons I don't like slow cooking).
Use Oxtail or Osso Bucco
Although I use oxtail for this (I am a fan of the nose-to-tail approach when eating animal protein), you can use Osso Bucco, which will be even better (you also get more meat). Using cheaper cuts of meats also brings your food budget down, without compromising on the nutritional density of your meals, on the contrary.
You can use any root vegetables you want, the bigger the better as the time spent in the Instant pot will overcook them. I love rutabaga, sweet potato (I prefer the Japanese with purple skin and white flesh for this dish), celeriac, carrot. If you chose not to eat cooked carrot, replace carrots with parsnips or turnips, or even daikon radish.
Instant pot oxtail served with horseradish
I absolutely love horseradish, and eating it freshly grated is ideal for a low histamine diet. If you don't have histamine problems, the prepared horseradish is more intense. And if you mix it with some cream or yogurt it adds a nice touch to this meal. I personally don't eat dairy and I couldn't see any other low-histamine replacement for cream or yogurt.
But let's see the oxtail recipe, I hope you love it!
*This post contains affiliated links, which means I get a small commission if you choose to purchase something via one of my links, at no extra cost to you.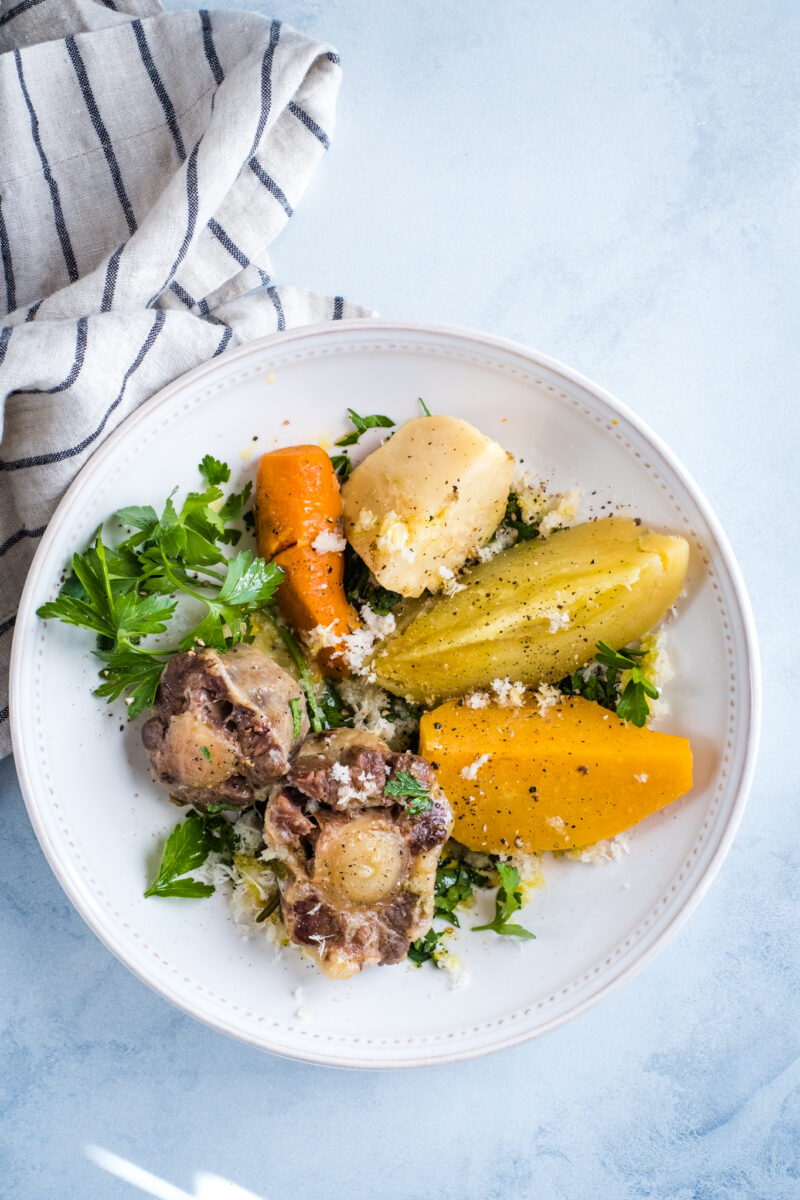 Print Recipe
Instant Pot Oxtail with Root Vegetables and Horseradish
A warming and grounding meal for the cold season
Ingredients
1 pound oxtail

1 big Japanese sweet potato, peeled

1 celeriac, peeled

1 rutabaga, peeled

2 big carrots, peeled

1 yellow onion, peeled

1 garlic clove

few springs fresh rosemary

1 teaspoon sea salt

1 teaspoon peppercorns

2 all-spice berries

grated fresh horseradish OR prepared horseradish

optional: organic cream / yogurt

1 1/2 cup filtered water

fresh parsley chopped

1, 2 tablespoons extra virgin olive oil
Instructions
1
Add the oxtail (should be already portioned when you buy it) to the Instant pot.
2
Add the whole onion and garlic clove.
3
Add the whole and peeled root vegetables: potato, celeriac, rutabaga, carrots.
4
Add the rosemary, salt, peppercorns, all-spice and pour the water in.
5
Seal the Instant Pot and set it on high pressure for 40 minutes.
6
Meanwhile, prepare the horseradish. Grate it if you have fresh, if not use prepared horseradish. If you eat dairy you can mix it with cream or yogurt.
7
Let the pressure release naturally for about 15 minutes and then you can manually release the rest.
8
Take the roots out on a cutting board and cut them into smaller pieces.
9
Plate the oxtail with the roots, fresh parsley and horseradish, sprinkle more sea salt and pepper and drizzle olive oil. You can drizzle some of the cooking liquid/broth on everything.
Notes
You will not use onion and garlic. You can discard the leftover broth or freeze it and use it for another meal.