It's winter and the celeriac and parsnip are everywhere. I say we take advantage of this as much as we can. I make a great pureed celeriac-parsnip-cauliflower and today I thought of turning it into a lectin-free creamy soup.
Not only was it a perfect breakfast meal for myself, but I made a little more on purpose, so I can share it with my friend Maggie and her almost 1-year-old baby girl, Ava. I knew Ava would love it, and she did, judging from the video her mom sent me. When I know I split my meal with a baby, I leave the salt out (apparently babies can't have salt, at least until 1yo) and only add it after I separate her portion. Otherwise, I would add the salt at an earlier stage.
I even had some left for dinner but instead of having it as a soup, I used it as a thickener for an Instant pot quick beef stew I made for my husband and I for dinner. It was perfect.
Back to the creamy soup recipe, you need leeks, parsnip, celeriac, cauliflower, ginger, garlic, fresh thyme and/or rosemary. If you can't find leeks it's ok to replace them with a yellow or sweet onion. Don't use red as it will change the color of the soup.
I love to serve creamy soups with a bunch of microgreens or sprouts. Any that come from plant paradox approved vegetables are ok to have. Bon Appetit!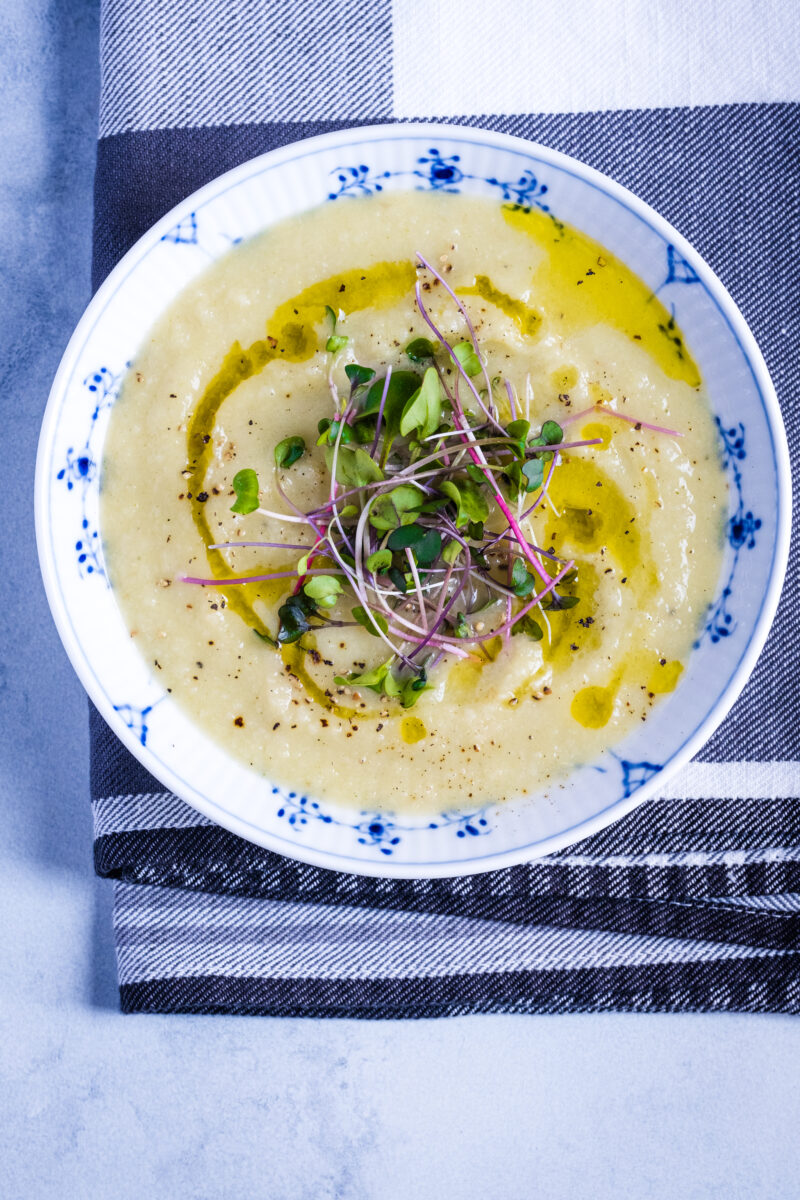 Print Recipe
Cream of Celeriac, Parsnip and Cauliflower
A creamy and comforting winter soup for the entire family.
Ingredients
extra virgin olive oil
1 leek, cleaned, trimmed and chopped
2 small to medium parsnips, chopped
1 medium / big celeriac, peeled and chopped
1 garlic clove, smashed and chopped
1 thumb size (or bigger) piece of ginger, finely chopped
1/2 head cauliflower, small florets
leaves of 1, 2 sprigs thyme
leaves of 1 small sprig rosemary
4 cups filtered / drinking water
salt and pepper to taste
extra virgin olive oil for serving
microgreens for serving
Instructions
1

Add the olive oil to a soup pot, generously covering the bottom.

2

Add the chopped leeks and sautee for about 10 minutes, until the leeks become fragrant and barely start to caramelize.

3

Add the chopped parsnips, chopped celeriac, ginger and garlic and stir well so everything is coated with the oil and leeks. Let them cook on low heat, stirring occasionally, for about 10 more minutes.

4

Add the cauliflower, stir well again, add the thyme and rosemary and the 4 cups of water. Add some salt and pepper. Let simmer for 10-15 minutes or until all the veggies are fork tender (the smaller they are the faster they'll cook).

5

Blend in a stand blender or with an immersion blender, add more salt and pepper if necessary.

6

Drizzle more extra virgin olive oil and serve with microgreens.
Notes
This is a great meal for babies, except for the salt, so you can leave the adding salt part to the end when you have separated the baby's portion.