Being creative in the kitchen, at home, is awesome, but when a real chef creates a recipe, things get a little special. That's why I decided to start a collaboration with some of my favorite chefs and bring you some delicious lectin-free gourmet recipes that you can easily make at home.
And since Valentine's Day is around the corner, we decided to focus on creating a starter and a main dish for a lectin-free gourmet dinner for two. Just in case you wanted to make someone loved to feel special? Or maybe you wanted a cooking project as another way to show love and appreciation? This is the main dish Valentine's edition, brought to you by Chef Adrian Bandyk: Grass-Fed Beef Tenderloin with Celeriac Puree, Chard, King Oyster Mushroom, Kale and Macadamia Pesto.
As you can see, this is quite the restaurant dish. But before I go any further into details, this is where you find the starter for this lectin-free gourmet dinner: Brussels Sprouts, Baby Spinach and Endive Salad with Green Apple, Cranberries, Pomegranate and Miso & Tahini Dressing.
If you are vegan, read on, as we are offering a suggestion on how to make the main special for a vegan menu. The salad is already vegan. And a quick reminder, both dishes are plant paradox compliant (phase 2), but also dairy-free. The main dish is also low-histamine.
Meet Chef Adrian Bandyk
When I asked Chef Adrian Bandyk if he wanted to start this collaboration, he didn't hesitate, although he is very busy. And he didn't even flinch when I told him that he can only cook with certain ingredients (although I was nervous). He asked me for the YES list (the plant paradox) and his reaction was very optimistic: "It's longer than I expected".
Then he delivered not one, but two amazing recipes for a lectin-free gourmet dinner: a starter (which you find HERE) and the main dish (scroll down). I love that not only did he inspire me to cook more like a chef, but this project shows me that the plant paradox is not that restrictive. Plus, I learned a few new cooking tricks.
We met in Dubai, United Arab Emirates
I met Adrian while I was doing the PR and communication strategy for the company he was working for, Ghaf Kitchen, a gourmet food truck, the first of its kind in the country. We were both working in Dubai, United Arab Emirates. Needless to say, the food I got to eat, made by Adrian, was absolutely delicious.
Adrian, who grew up in Poland, loved to experiment with new flavors as a child and he figured he has to cook for himself because his mom was a terrible cook (something he has the permission to share). But his career in the food industry didn't start until he moved to London, where he found the culinary melting pot which inspired him to experiment and learn something new. Since then he worked in some of the biggest names in the restaurant industry around the world, from Cru in London to Tosca in Baku, Rivington Grill in Dubai, and Masso in Bahrain.
Now he is a private chef in Bahrain and does what he loves most: creating healthy and delicious meals inspired by flavors and ingredients from around the world.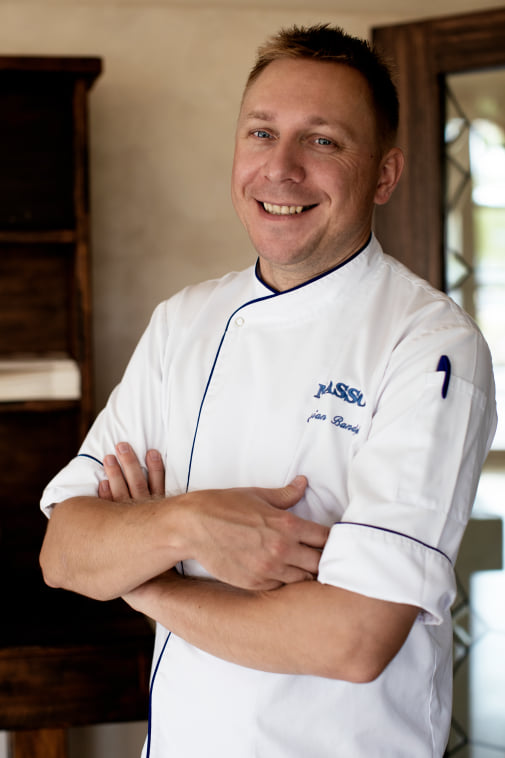 As you can imagine, I was a little nervous to tell him I have a "restrictive" list of foods he can use, but he was actually quite impressed by the diversity of the plant paradox YES food list. When I asked, out of curiosity, his opinion about it, he said it was "…pretty impressive, very rich, diverse and lots of stuff to work with. It's definitely all you need in a healthy diet."
He also has a piece of advice for us, who try to cook as much as possible at home: "Don't be afraid to try new things and let it be yourself, the sky is the limit." In other words, be creative in your kitchen :).
Lectin-Free Gourmet Dinner: Grass-Fed Beef Tenderloin with Celeriac Puree, Chard, King Oyster Mushroom, Kale and Macadamia Pesto
Check the recipe card below for all the details, but I wanted to walk you through the process especially if you are the messy cook type like I am. I recommend reading everything before your start.
You will also find a shopping list for the main dish below, so you can organize your shopping and pantry before you start and make sure you have all the ingredients.
Here you can find the recipe for the lectin-free gourmet appetizer, Brussels Sprouts, Baby Spinach and Endive Salad with Green Apple, Cranberries, Pomegranate and Miso & Tahini Dressing with its own shopping list.
Making the pesto
You can make this step in advance (in the morning), so you speed up dinner preparations. Using a food processor will also cut some of the preparation time, but if you make the cooking part of the event, it can be quite fun to use a mortar and pestle.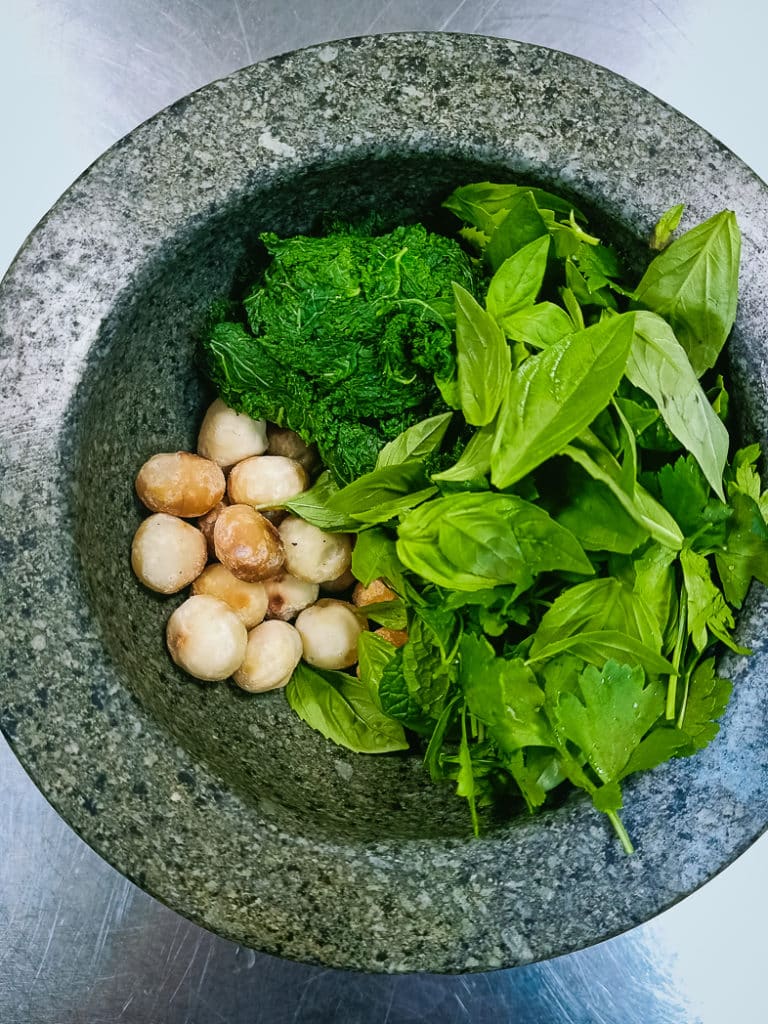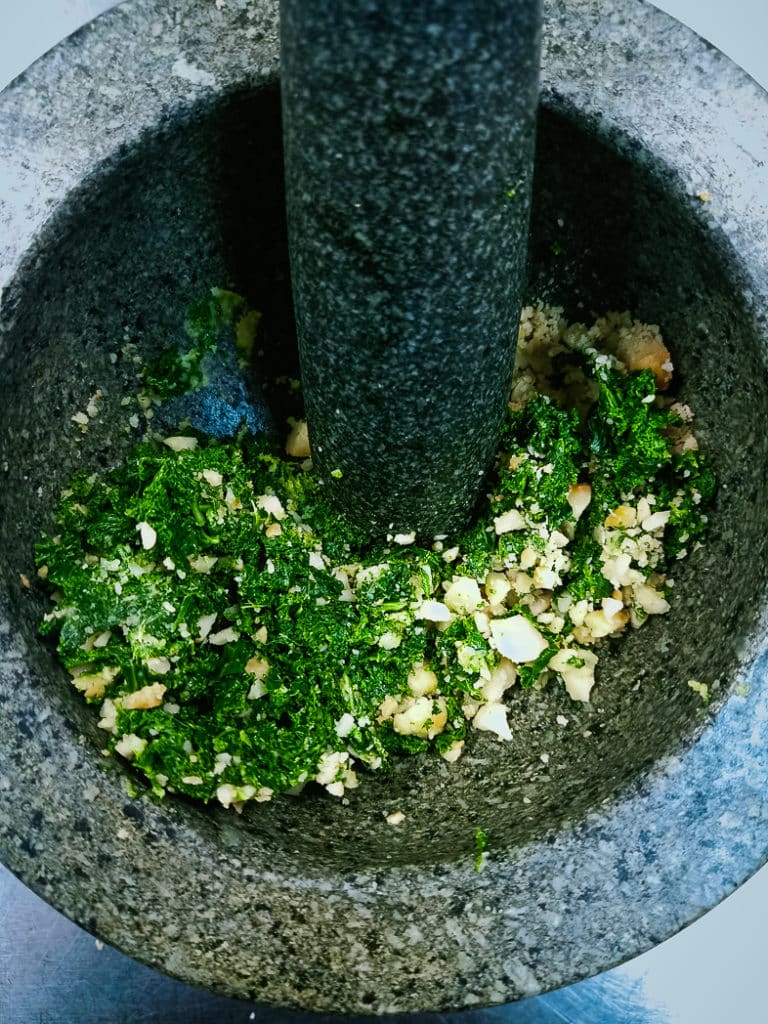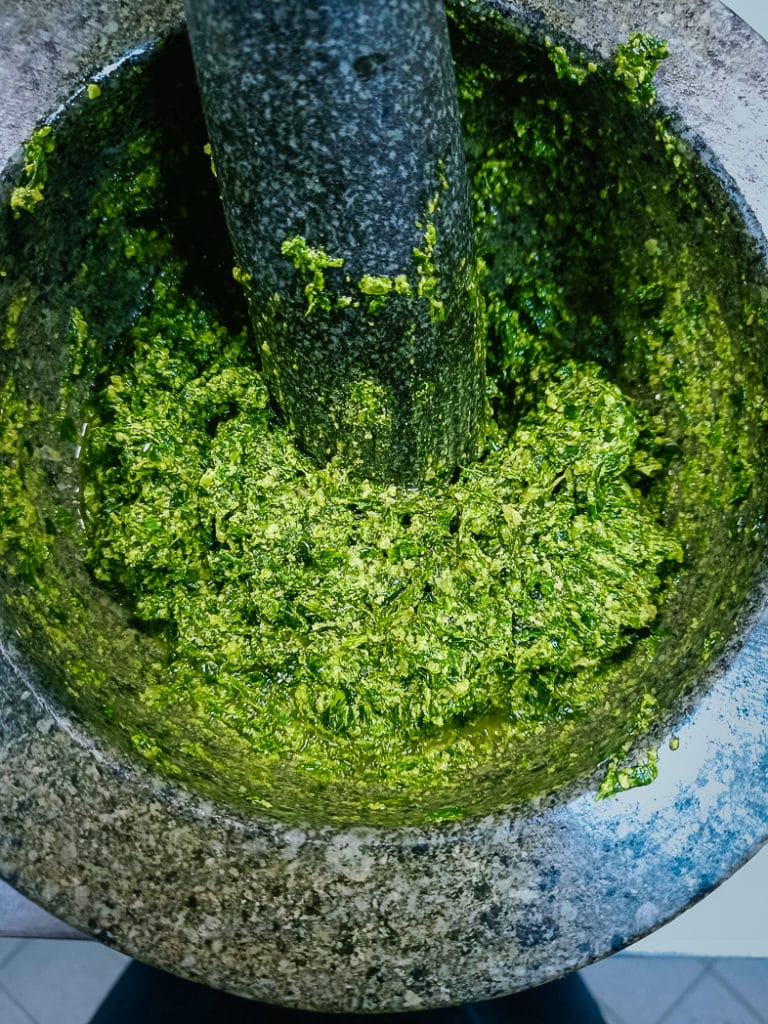 Making the celeriac puree
If you are not familiar with celeriac, this is just another name for the celery root. You only need to peel and cube the celeriac, boil with the spices and puree in a high-power blender. The puree can be reheated, so feel free to make it a little bit in advance to save time.
Making the mushrooms and chard
Prepare the mushrooms by slicing them in half and gently score each half of the mushroom. While the meat is cooking in the oven and resting, sear the mushrooms quickly in a hot pan. After the mushrooms are done, quickly sautee the chard, until wilted, but still vibrant green. Take out on a kitchen towel to absorb excess moisture.
Beef tenderloin vs. filet mignon
Do you wonder what's the difference between beef tenderloin and filet mignon? Well, firstly, they are both for special occasions, as they tend to be the most expensive cut of meats. Add grass-fed, grass-finished into the equation and yes, this is not your average weeknight meal.
While the beef tenderloin is the name for the biggest cut of the tenderloin muscle, filet mignon is the small cut that comes from the front of the tenderloin. They are both very tender cuts of meat, but filet mignon, if cooked correctly, will melt in your mouth. For this recipe, choose the normal beef tenderloin steak.
How to cook a beef tenderloin steak
You will start by seasoning the room temperature meat with sea salt and freshly ground pepper and sear on a hot pan in olive oil (preferably a cast iron or another good quality pan that is also oven safe/proof), for two minutes on each side.
After that transfer to the preheated oven and cook the steak in the oven for 3-4 more minutes for a medium-done steak. This is an estimate for cooking steaks and for best results, we recommend using a meat thermometer.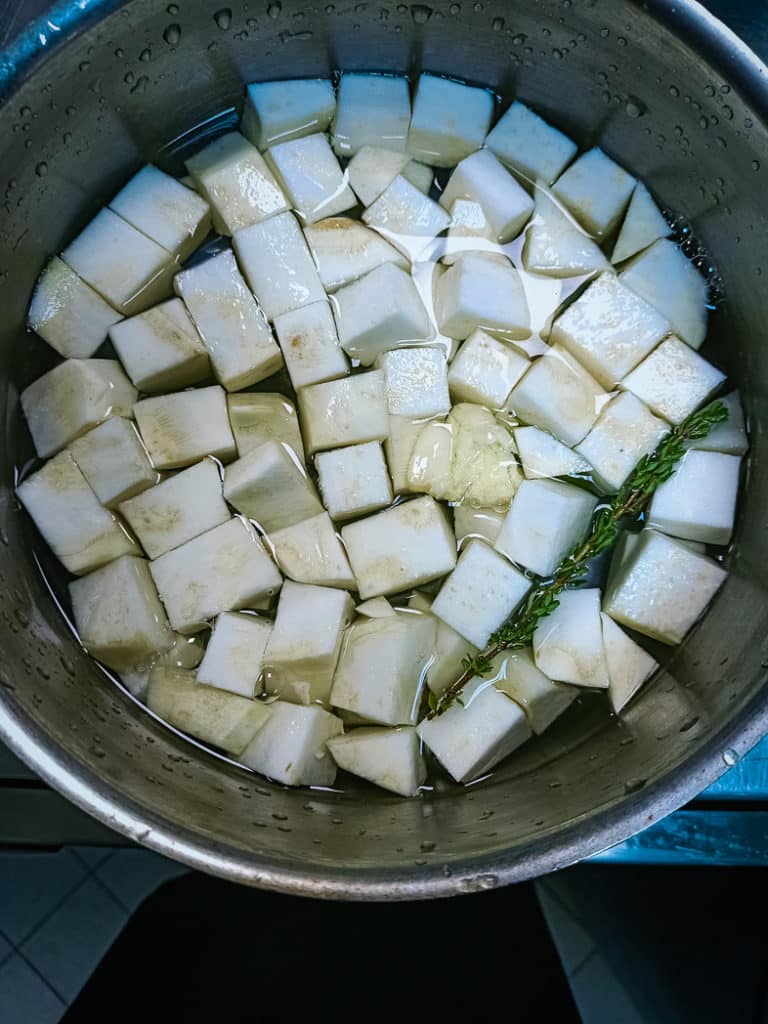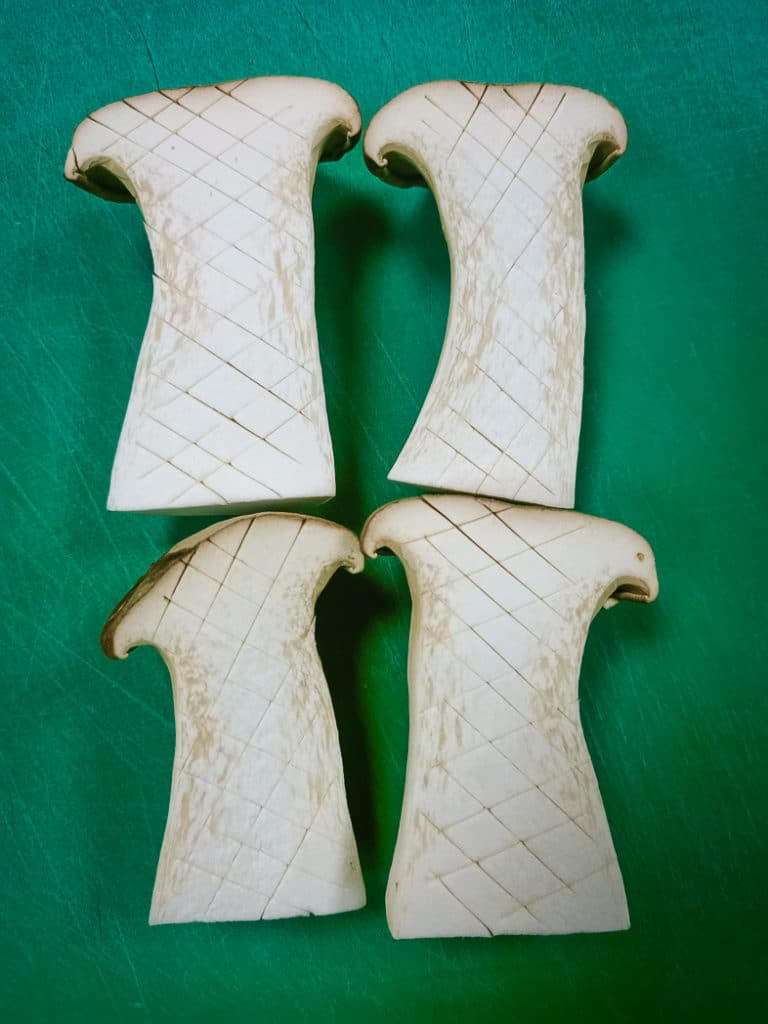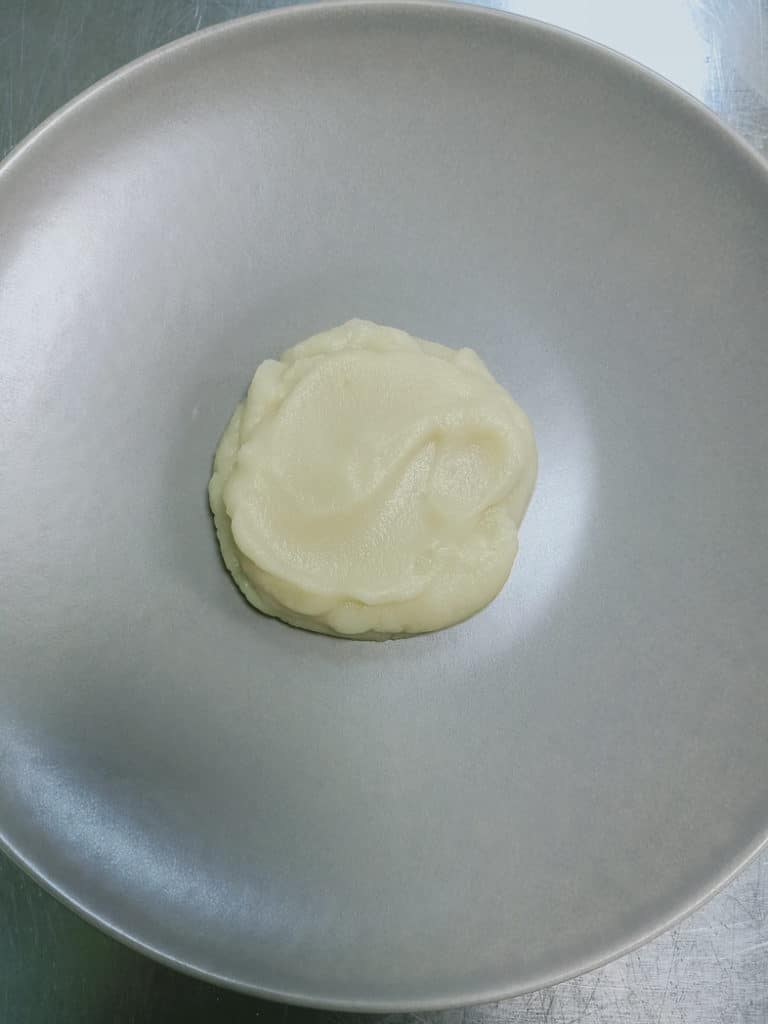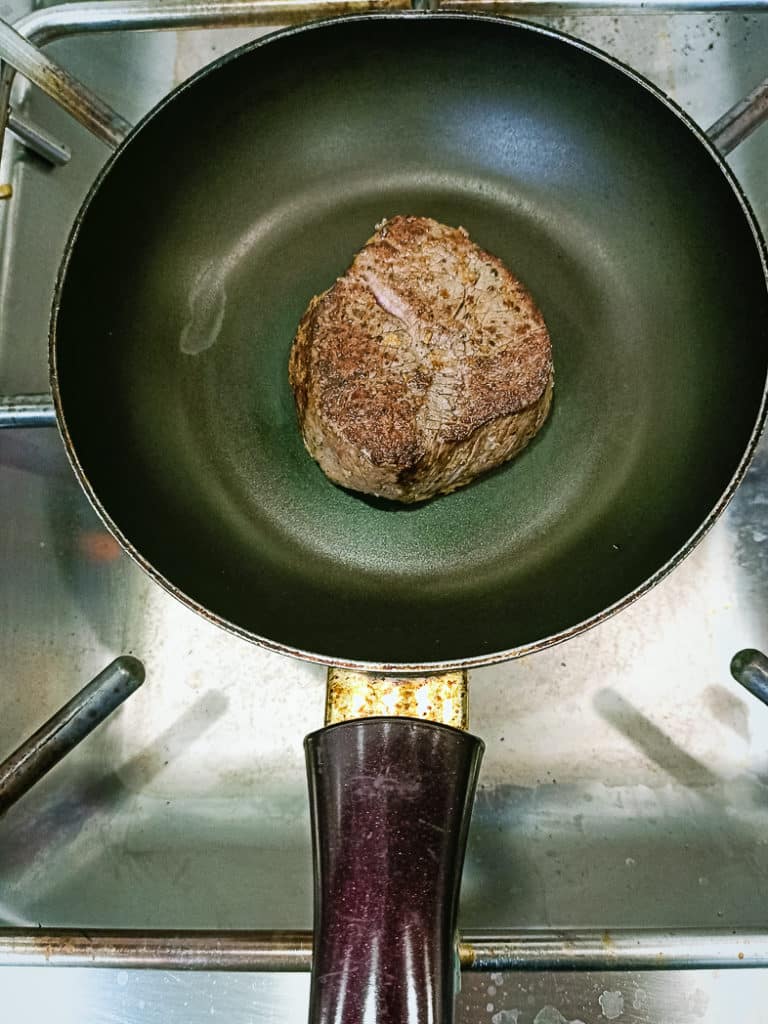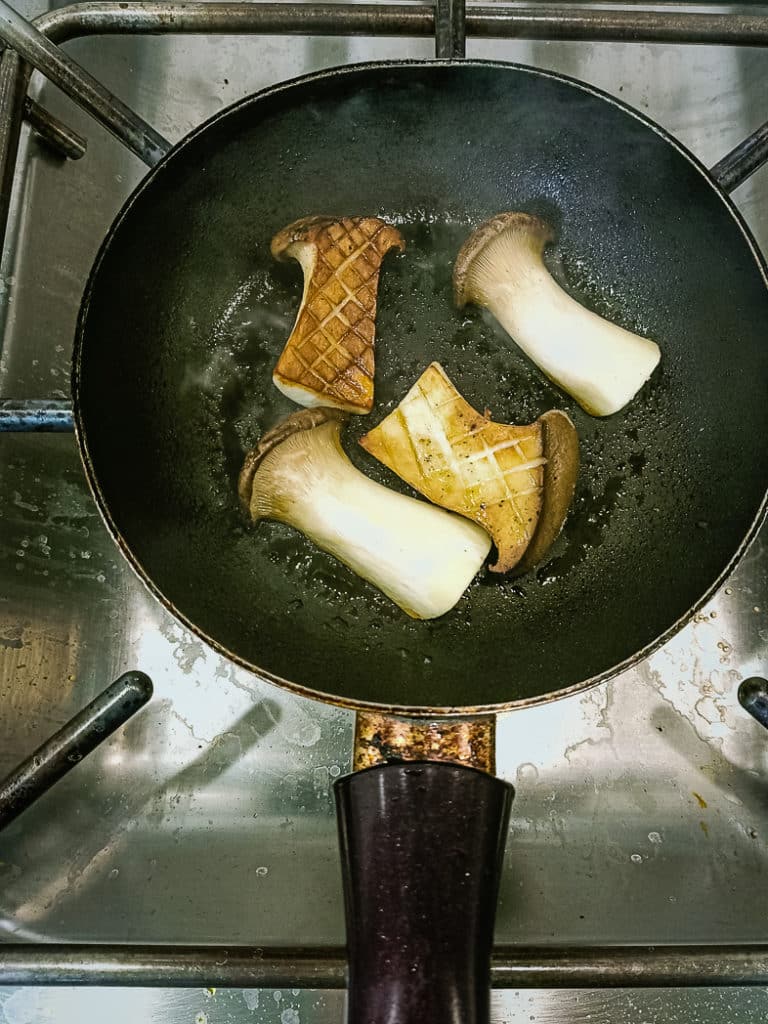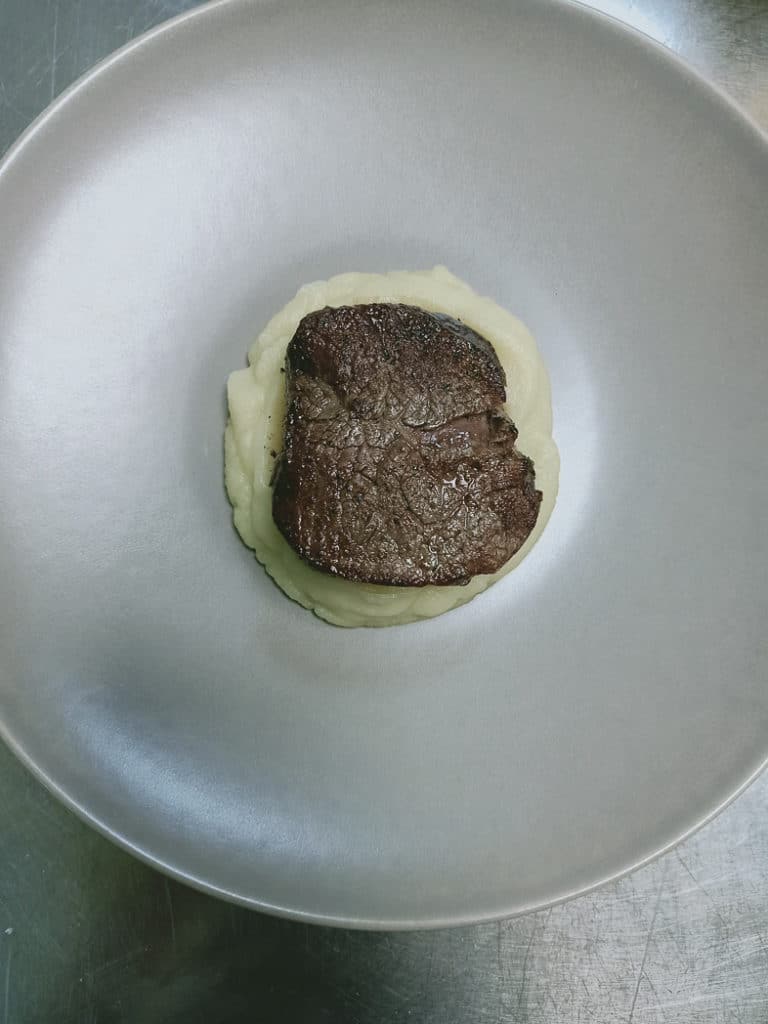 How to plate a beef tenderloin steak dinner
This is my nemesis. I would have never thought to plate this dish this way, but I hope I learned something. You first spoon the puree in the center of the plate, add the meat on top, followed by the chard and the pesto. The mushrooms will be arranged around the rest of the elements.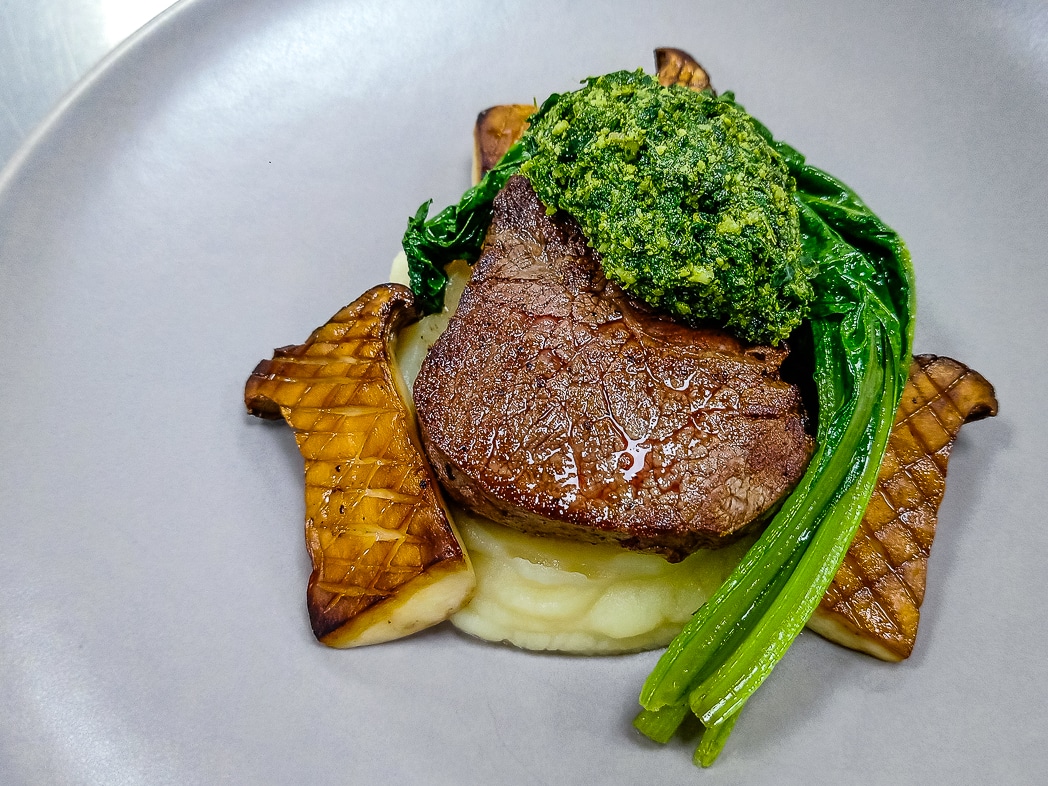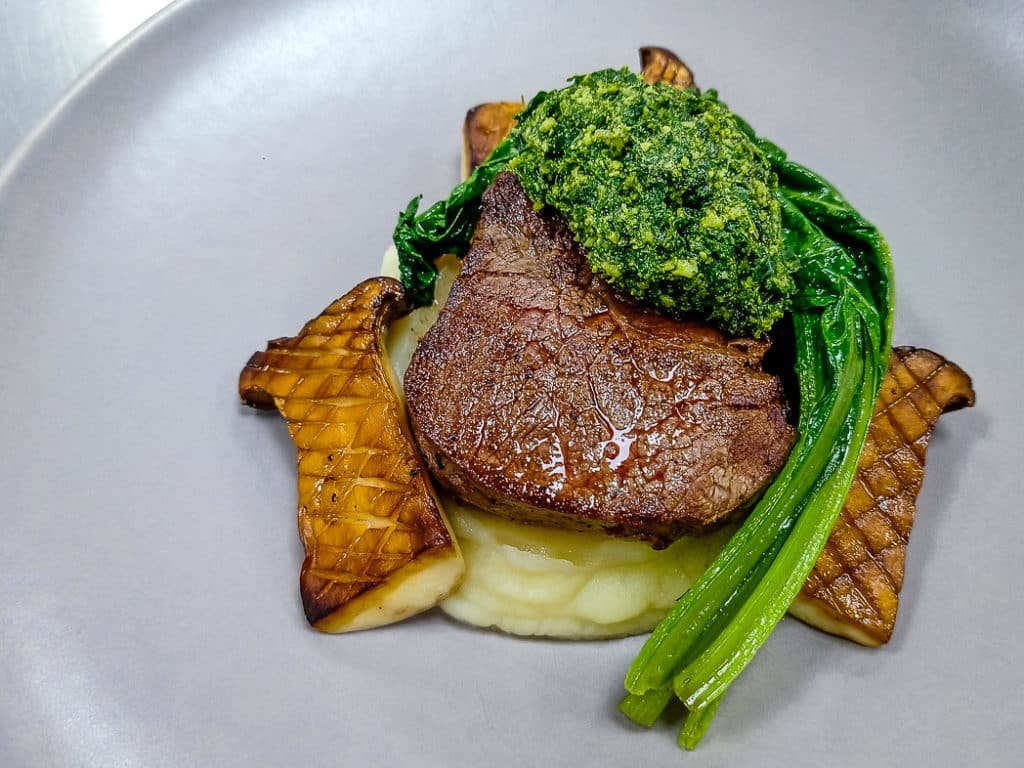 Shopping List for the beef tenderloin steak recipe:
2 grass-fed, grass-finished beef tenderloins (the recipe asks for 6 oz/piece, but you can use the size you would like)
1 bunch Swiss chard
3 King oyster mushrooms, small to medium size (or more for a vegan version)
50 grams raw macadamia nuts
2 bunches Lacinato kale (you need about 5oz, only leaves)
1 big bunch of basil
1 bunch flat parsley
1 bunch mint leaves
1 medium to big celeriac (or about 1.2 lbs/half kg)
1 sprig of fresh thyme
garlic
bay leaves
apple cider vinegar
freshly ground pepper
good quality extra virgin olive oil (I would go with GundryMD Chef's Select Olive Oil)
NOTE FOR VEGAN VERSION: This dish would be absolutely delicious even without the beef, in this case double the quantity of King Oyster Mushrooms. The rest remains exactly the same.
*This post contains affiliated links, which means I get a small commission if you choose to purchase something via one of my links, at no extra cost to you.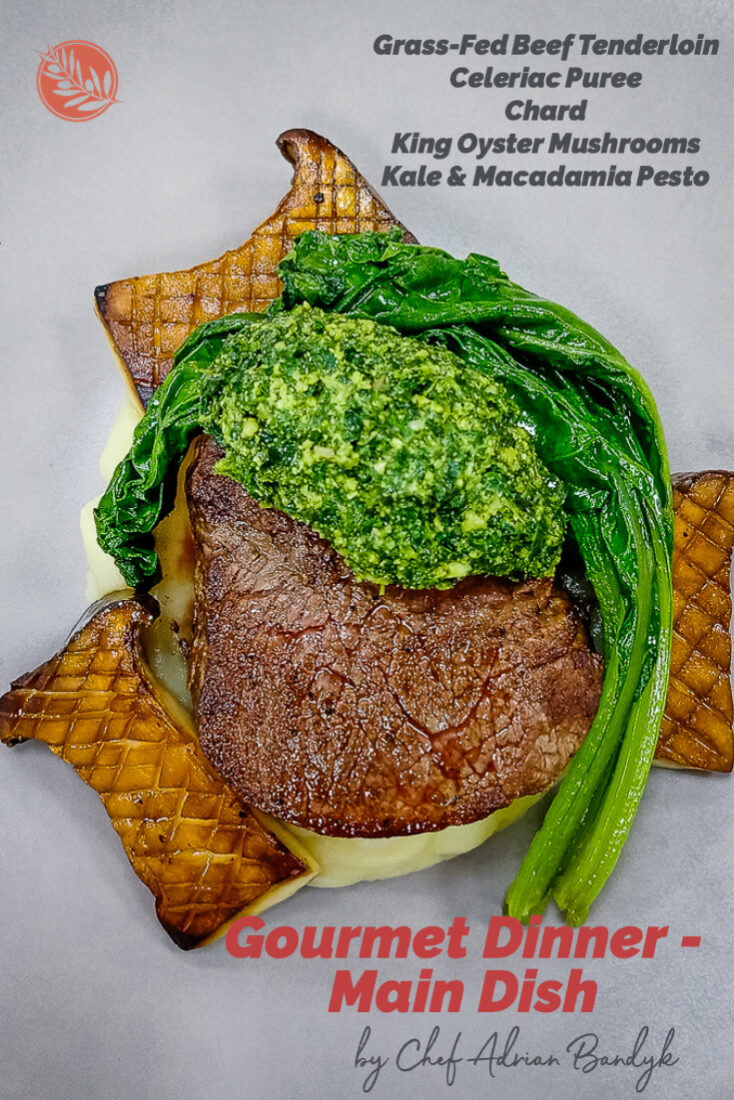 Print Recipe
Grass-Fed Beef Tenderloin with Celeriac Puree, Chard, King Oyster Mushroom, Kale and Macadamia Pesto
A gourmet lectin-free dinner for two created by Chef Adrian Bandyk for the plant paradox community
Ingredients
WHAT YOU NEED:
Grass-fed beef tenderloin: 2x 180 grams each (this is 6 oz/piece, but you can make it as small or big as you need)
Chard: 8 small leaves with stem
King oyster mushrooms: 3 small to medium in size
Celeriac puree (see instructions below)
Kale & macadamia pesto (see instructions below)
Sea salt freshly ground peppers
Good quality extra virgin olive oil
FOR THE KALE AND MACADAMIA PESTO:
Macadamia nuts: 50 grams, lightly roasted
Lacinato kale: 140 grams (about 5 oz) washed, picked and blanched
Fresh basil leaves: 20 grams (1 cup), washed, picked
Fresh flat parsley leaves: 20 grams (2/3 cup) washed, picked
Fresh mint leaves 10 grams: (1/2 cup) washed, picked
Extra virgin olive oil, good quality
Sea salt
FOR THE CELERIAC PUREE
Celeriac 1 small 500gr, peeled, diced
Fresh thyme 1 sprig
Garlic 1 clove, crushed
Bay leaf 1
Apple cider vinegar: 2 tablespoons
Water
Sea salt freshly ground white pepper
Instructions
1

Place macadamia nuts onto a baking tray and roast it at 180C (360F) for 5 min or until lightly browned. Set aside to cool.

2

Bring salty water to boil and briefly blanch the picked kale leaves for about 20 seconds then immediately shock into ice water. Squeeze excess water out of kale through the clean kitchen towel.

3

Put blanched kale and macadamia into mortar and pestle (or use a food processor) and begin to pound it, add fresh herbs and pound it again adding olive oil to desired consistency. Season well and set aside.

4

Peel celeriac and dice into small cubes, add to the saucepan, cover with water and add thyme, garlic, 1 tablespoon apple cider vinegar and sea salt. Cook until tender about 15-20 min. Drain and discard water, garlic, thyme and bay leaf. Put cooked celeriac into a food processor and blend on high speed until smooth, creamy puree. Season with remaining cider vinegar and salt to taste. Set aside.

5

Cut king oyster mushroom in half and gently score each half of the mushroom.

6

Preheat oven at 190C (375F). Season the room temperature steak with sea salt and freshly ground black pepper. Heat a cast-iron skillet until very hot (or use a similar frying pan that is oven-proof). Add olive oil and sear the steaks for 2 minutes on each side until browned. Transfer the skillet to the preheated oven and bake to the desired level of doneness (for best results I recommend using a thermometer, 140-150F for medium doneness but if you don't have one 3-4 minutes in the oven should give you a medium doneness steak).

7

Remove the filets from the oven and transfer to a plate, let the steaks rest for 5 minutes before serving.

8

In the meantime, season the mushrooms with salt and pepper and sear in another hot pan in olive oil until nicely browned. Set aside.

9

In the same pan quickly sauté chard leaves just until wilted. Set aside on kitchen towel to absorb the moisture.

11

TO PLATE: Spoon celeriac puree onto the center of the plate, then place the filet on top of it. Spread around three pieces of mushrooms, chard leaves, and top the steak with a generous spoon of kale and macadamia pesto. Drizzle with good quality extra virgin olive oil.
Notes
Please read everything before you start preparing. I recommend gathering all your ingredients ready to use. If you cook in two, time will be shorter as you can help each other with the steps. For a vegan option of this dish, skip the steak and double up the quantity of mushrooms.