I do not have a problem eating liver and any other organ meat, quite the opposite. I grew up eating pate and liver in different forms. And it has been one of my favorite foods for a long time. It still is, but since I had a hard time finding 100% grass-fed beef liver or pasture-raised chicken liver, I preferred not to consume it.
So when I finally found beef liver that is 100% grass-fed and local, I went for it. Liver is a nutrient dense food, and this beef liver pate recipe is delicious.
How to make beef liver pate
Making beef pate at home might seem intimidating, but it's super easy and fast. You need the liver, ghee and extra virgin olive oil, onion, garlic, fresh rosemary, sage and thyme, salt and pepper, and a shot of bourbon.
When it comes to the recipe I'm sharing below, one thing I'm not sure about is the cooking time. Because it depends on how your liver slices are cut. Some of mine were sliced quite thin, some were bigger, so the idea is to cook them enough, so they are not pink in the center anymore, but the overcooked liver is not good.
So what I did after I put the big pieces in the frying pan, I cooked them for 1, 2 minutes on one side, and then turned them around for another minute, and then started to cut in the middle to see if they were done. The thinner pieces I took our first and the thicker ones needed more time. So this is the only 'sensitive' part of the cooking process.
How to serve the beef pate
Eat it with compliant bread, lectin-free Almond Flax Crackers, or vegetables sticks/slices. It's an excellent addition to a lectin-free tapas platter.
You can serve it as an open sandwich. Apply a layer of the beef liver pate to my Everyday Lectin-Free Bread. Top it off with the homemade sauerkraut with red cabbage and carrots.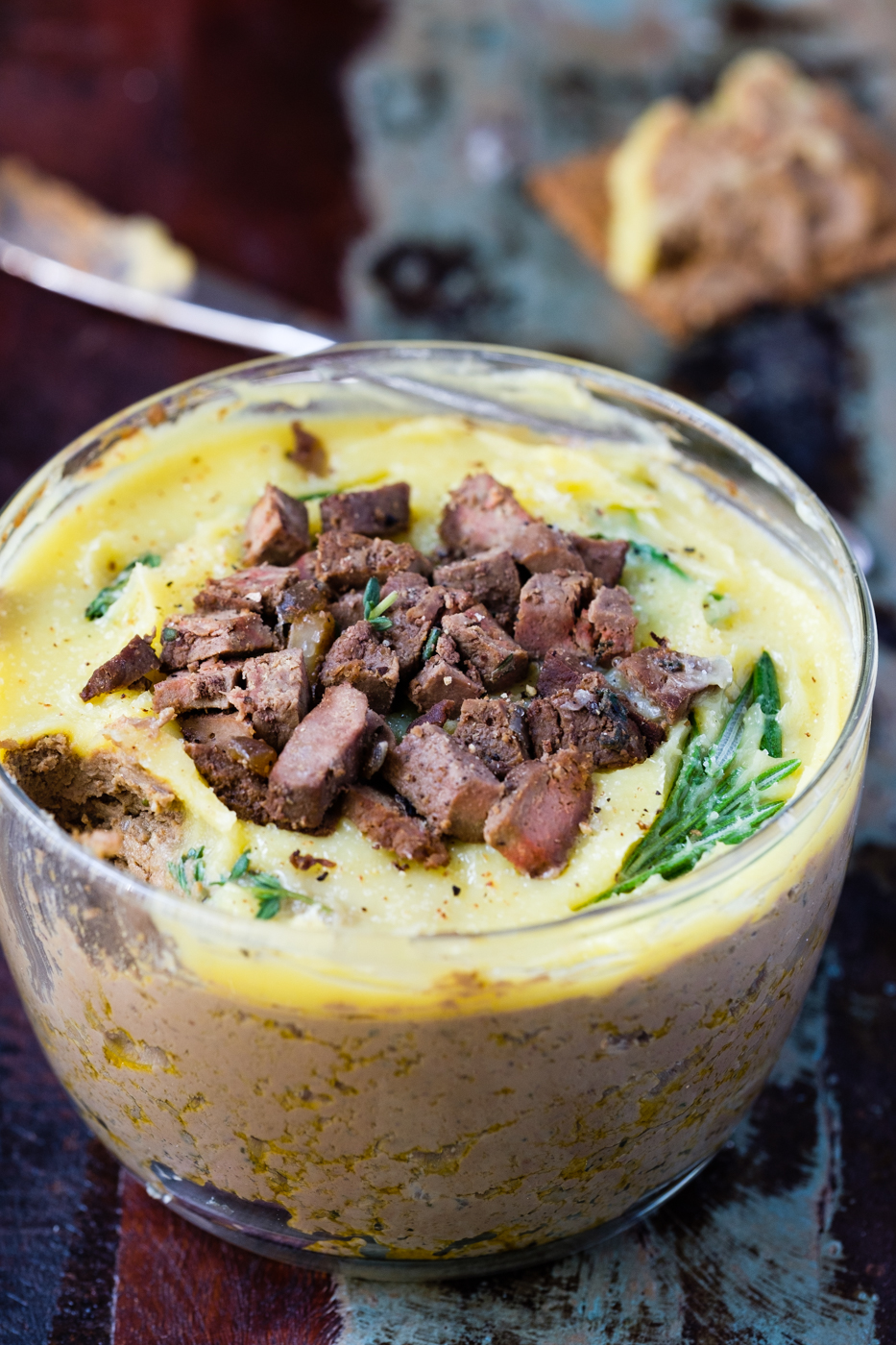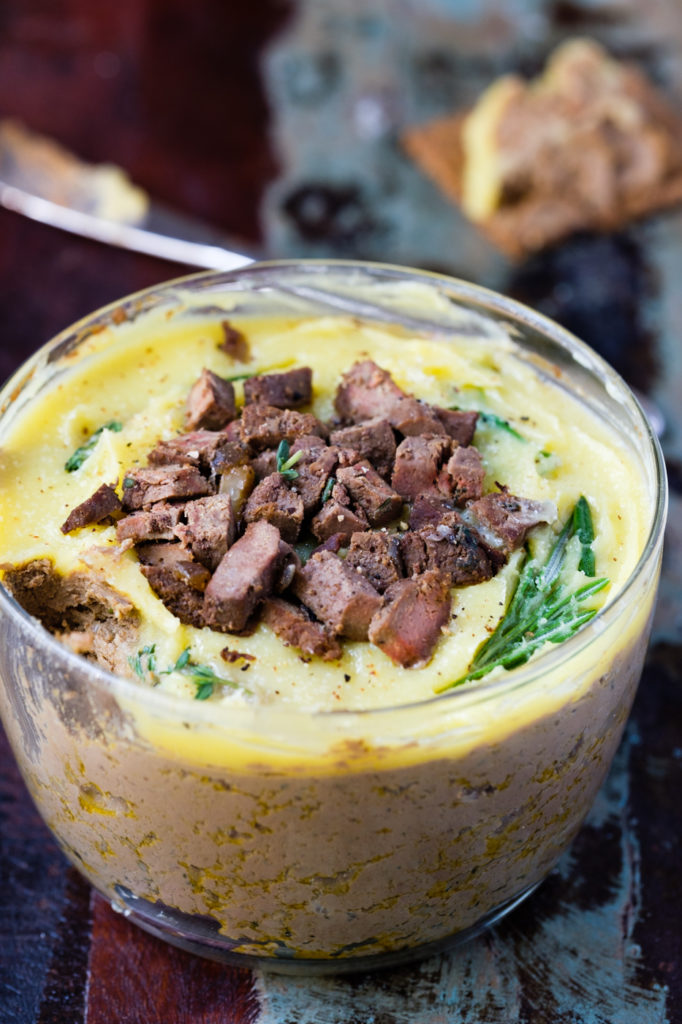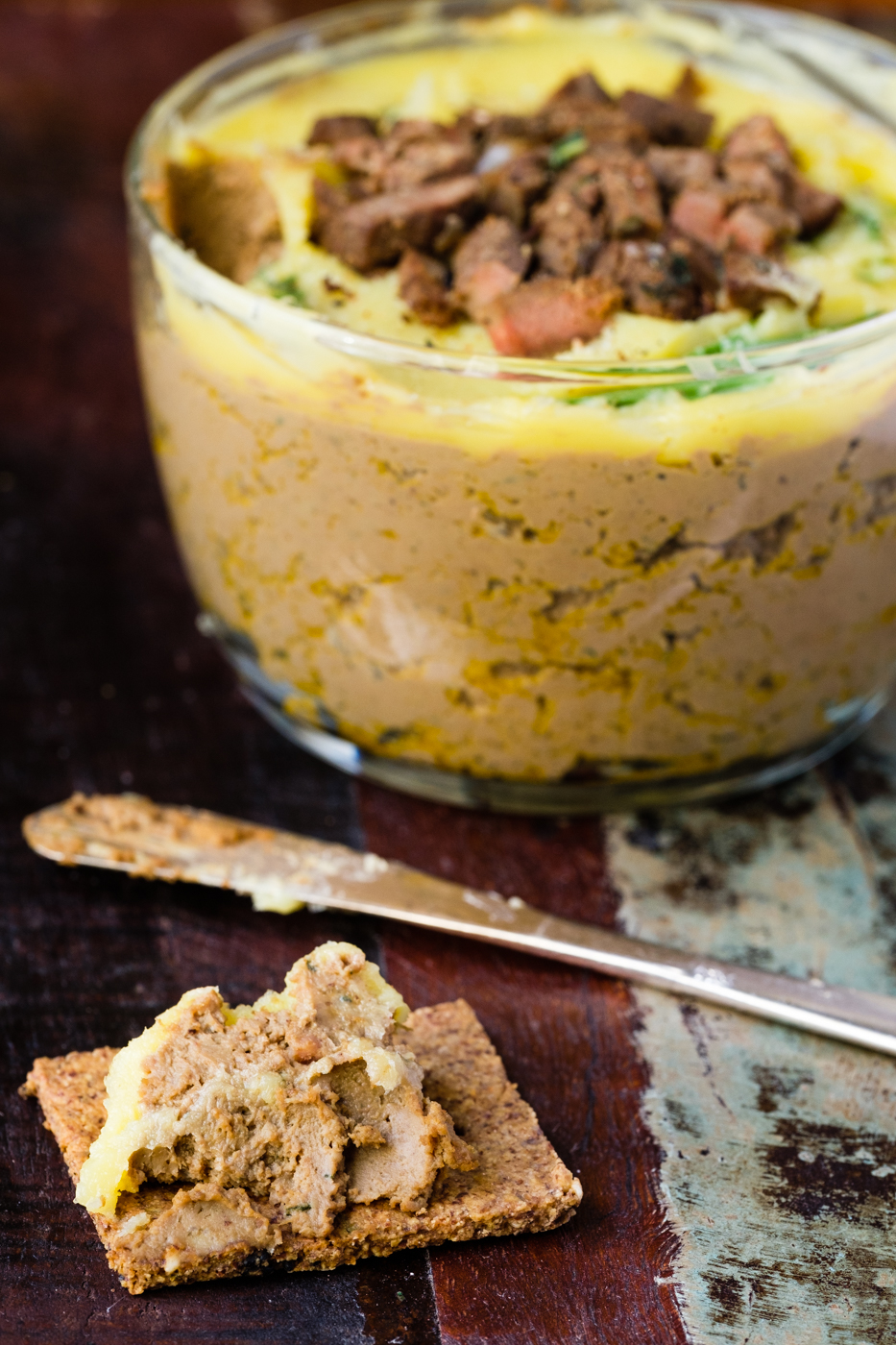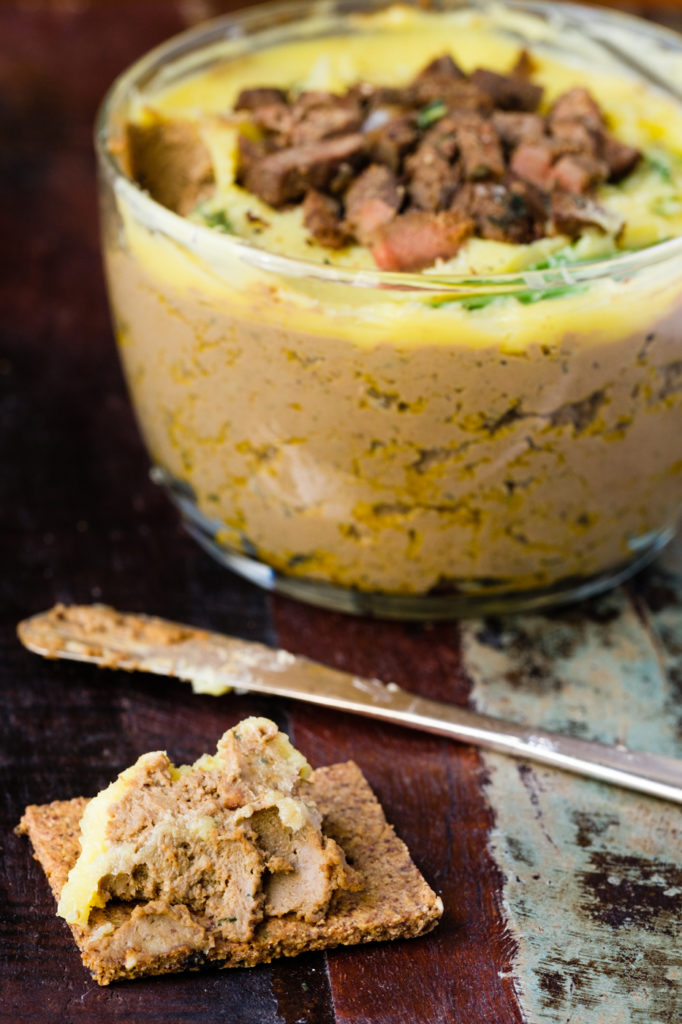 *This post contains affiliated links, which means I get a small commission if you choose to purchase something via one of my links, at no extra cost to you.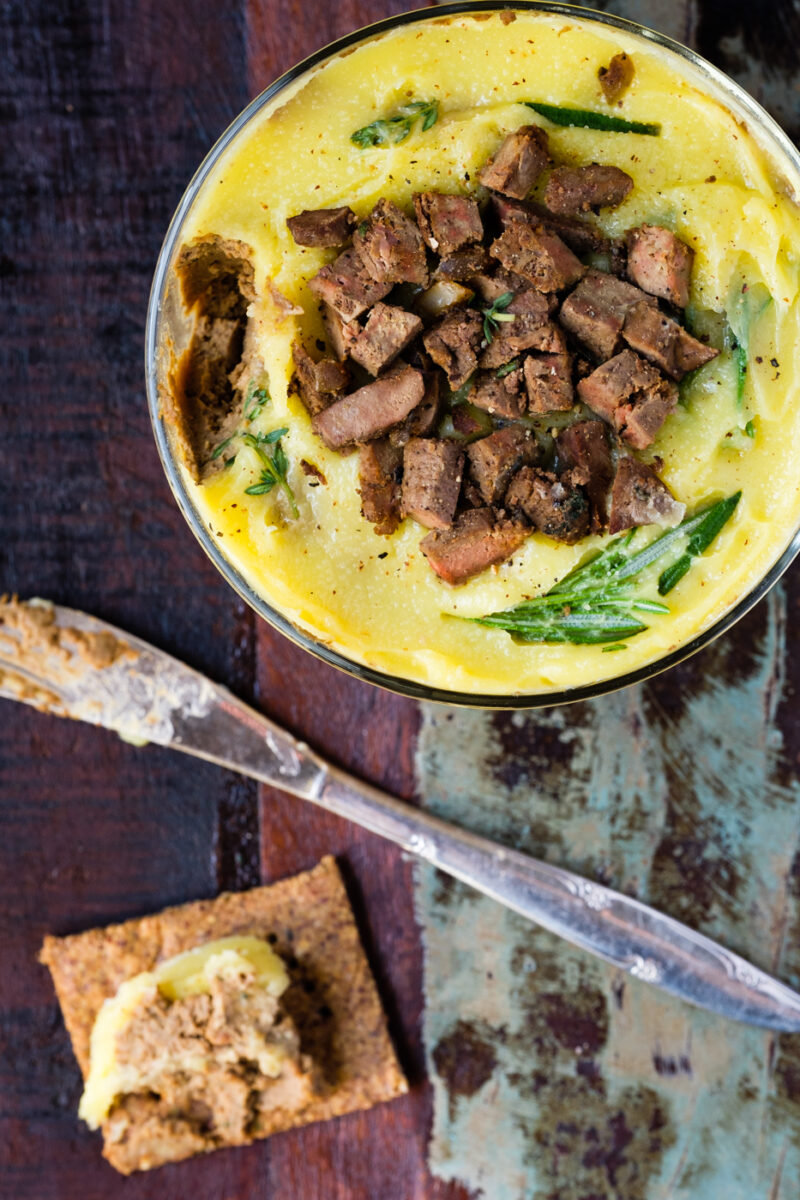 Print Recipe
Beef Liver Pate with Bourbon and Fresh Herbs
Ingredients
1lbs 100% grass-fed beef liver

one small red onion or half of a big one

3 cloves garlic, smashed

extra virgin olive oil

4-5oz ghee

1 shot bourbon (you can also use brandy or another good quality dark liquor you may have around)

3 tbsp of mixed fresh rosemary, fresh thyme, fresh sage, washed, dried and chopped

salt and pepper

pinch of fresh grated nutmeg
Instructions
1
Take the liver out and pat dry. Mine was clean, so depending on how you buy it make sure is all clean. set on the side on paper towels.
2
Make sure your herbs are ready: washed, dried and chopped.
3
Chopped the onion and smash the garlic and add them to a heated pan with olive oil - be generous with the oil. Saute until translucent and fragrant, but not burnt, about 10 minutes. Take out from the pan, set aside.
4
Add about two tsp of ghee to the pan and add the liver (heat to medium to high) and the chopped herbs. Salt and pepper.
5
Cook for 1, 2 minutes on one side, then turn, cook for another minute and add the shot of bourbon (be careful if you have one flame).
6
Start checking if they are done (no more pink in the middle) by cutting the center of each slice with a knife. You don't want to overcook the liver. Take out piece by piece once they are done. Some may take longer than others if they are thicker pieces.
7
Add the liver and everything from the pan to a food processor (I use a blender because I don't have a big enough food processor), add the cooked onions and garlic, more salt and pepper, freshly grated nutmeg, the 2 tsp of ghee and a couple of tbsp of olive oil. Mix well until you get a paste.
8
Taste and adjust to your liking, you can add more oil, salt and pepper if you need.
9
Add to a bowl that can serve also as a storage container (not plastic!), I use a pyrex with a lid. Level and add a layer of ghee on top. You can decorate with more herbs or/and keep some pieces of the cooked liver to add on top (not necessary).
10
Store in the fridge for up to two weeks. (It stores better with the ghee layer on top).
Notes
This is a super easy recipe, but be careful not to overcook the liver. Keep some small pieces of cooked liver for decoration if you want. The ghee layer on top is not necessary but it adds flavor and it helps with the storage.