Never tasted, never made one before. But because I'm such a visual person (it's not for nothing that I wanted to be a photographer) I had to make one when I saw a beautiful picture of one. I had no idea if it will work but the lectin-free Dutch Baby pancake came out quite beautifully. Maybe I'll work more on the flour mix in the future, but I'll still share this first attempt because it works.
Dutch or Deutsch baby pancake, does it matter?
Apparently neither, because this recipe originates in Seattle. For a moment a I really thought it was a Dutch recipe… Makes sense (it's hard to communicate without emoticons, people!). Anyway, this morning I made this baby and I don't regret. I kept it super simple and basic, but there is so much place to freestyle with the toppings, flavors and spices and even the mix of flours. I would had definitely added Cassava flour to the mix (maybe to replace tapioca) but I didn't have any at home, so I used a mix of almond, coconut, tapioca and green banana flours. Lectin free, gluten free, sugar free, but not tasteless. Used ghee instead of butter, hemp milk instead of diary milk and eggs.
If you like this recipe you definitely want to try my Citrus Infused Dutch Baby Pancake with Apples.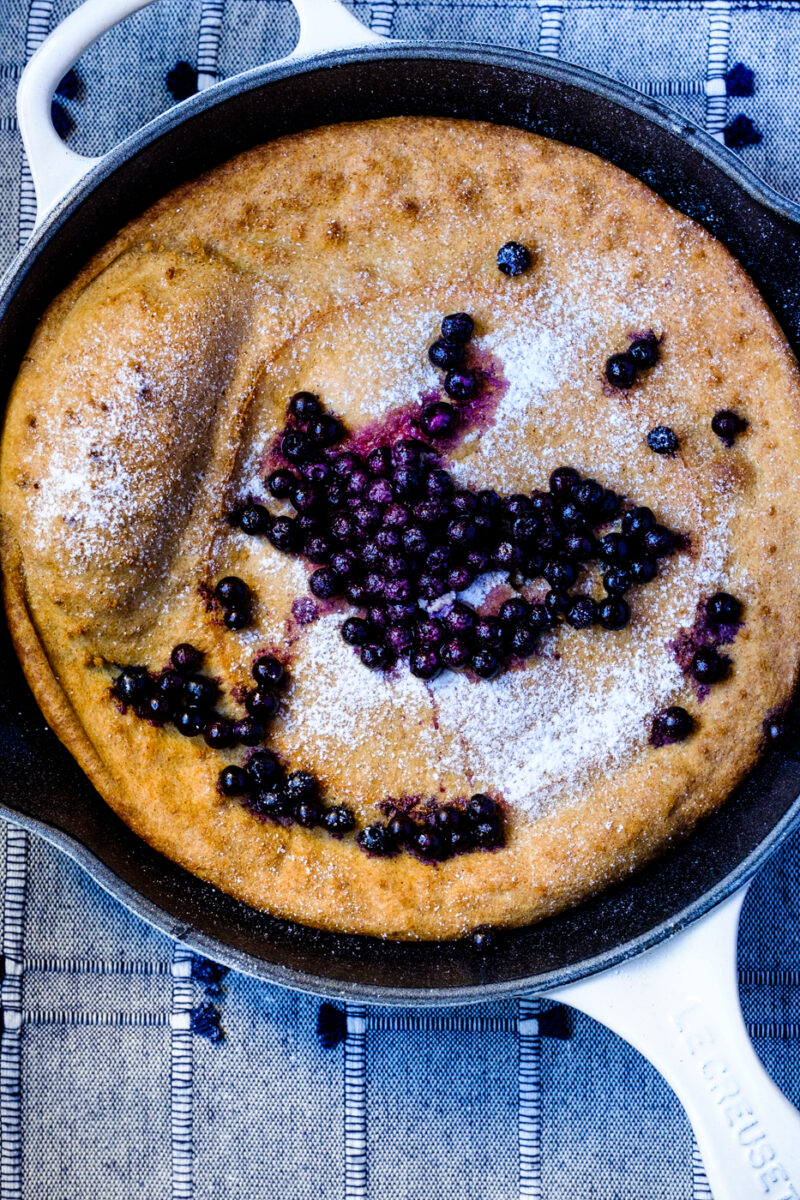 Print Recipe
Lectin Free Dutch Baby Pancake
Ingredients
1/2 cup of flour, made with:

3 tbsp almond flour

2 tbsp coconut flour

1 tbsp tapioca flour

1 tbsp banana powder

2/3 cup hemp milk

2 pasture or omega 3 eggs

1 tsp granulated Swerve

1/2 tsp pure vanilla extract

zest from one organic lemon

3 tbsp grass fed ghee

1/4 - 1/2 cup frozen wild blueberries (you can use fresh too, or any fruits).
Instructions
2
Whisk together the eggs, milk and flour.
3
Add vanilla and lemon zest.
4
Put the ghee in a cast iron skillet, spread the ghee on the entire surface of the skillet, inclusive the walls and put it in the heated oven for few minutes until the ghee is melted and the skillet is hot.
5
Take the skillet out and pour the batter over ghee.
6
Insert in the oven and cook for 20 minutes.
7
Turn heat to 350F and cook for more 5 minutes.
8
Take out, add the berries (I added them frozen, they will warm up from the hot skillet), and some Swerve confectioners.
Notes
You can be more generous with the toppings, I wanted to keep it pretty basic so I can taste the pancake. I think different flour mixed will work as well, if not better. I'll experiment more for sure.